LSU Basketball History
Of all Southeastern Conference athletic programs, Louisiana State University (LSU) may have, historically, had the most balance in the success and popularity of its football and basketball programs. Neither program is an all-time top SEC program in its sport. But, both are traditionally highly competitive and capable of making a run at the conference title, and in some cases, even the national title.
The LSU basketball program came into existence during the 1908-1909 season under Head Coach E.R. Wingard. During that debut season, LSU went 5-2 in its 7 game schedule, with its first ever win coming in a 35-20 win over Dixon Academy. After spending its initial seasons as part of the Southern Intercollegiate Athletic Association (SIAA), LSU moved in 1921 to the newly created Southern Conference where it spent 12 seasons before, in 1933, becoming a charter member of the Southeastern Conference (SEC).

1935 is the year of the first and to date only National Championship for LSU men's basketball. This Harry Rabenhorst coached team went 14-1 in the regular season and 12-0 in conference, one of only 4 undefeated SEC seasons in LSU history, all 4 of which came under the coaching of Rabenhorst.

Through the end of the 2005-2006 season, the LSU basketball program possessed an all-time record of 1,329 wins against only 995 losses, for an all-time winning percentage of .572. LSU also possesses an all-time winning record in conference play, with 672 wins against only 641 losses, for an all-time winning percentage of .512.

LSU has also had an extensive history of success in regards to postseason play, particularly when looking at the past 30 years or so. Most of those years came under the leadership of Head Coach Dale Brown, who coached the team for 25 years, from 1972 through 1997.

In fact, since 1978, LSU has appeared in the NCAA Tournament 17 times, with 2 Sweet Sixteen appearances, one Elite Eight, and 3 Final Four appearances in that stretch. Overall, LSU has appeared in the NCAA Tournament 19 times, with 2 Sweet Sixteen appearances (in 1979 and 2000), one Elite Eight (in 1980), and 4 Final Four appearances (in 1953, 1981, 1986, and 2006), and a 1935 National Championship to the credit.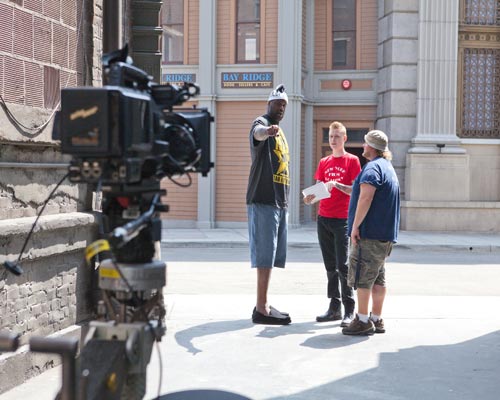 Shaq Directs

LSU has seen a significant number of future NBA players donning the purple and gold in its history. No two were more influential than Hall of Famers Bob Petit and "Pistol" Pete Maravich, for whom the Pete Maravich Assembly Center, the facility in which LSU plays its home games, has been named.

Many college basketball observers have said that "Pistol" Pete was the best college basketball player in history. And, you can make a good case. After all, he is the all-time college basketball scoring leader with 3,667 points in his LSU career. That's an amazing 44.2 points per game average.

Here's a video about Pistol Pete Maravich:

[Note that although Pistol was tremendous, we pick Kentucky's Ralph Beard as the best SEC B-ball player ever. Check out Top All-Time SEC Basketball Player.]

Other future NBA players who have played at LSU include Shaquille O'Neal (the only other LSU Tiger besides Maravich to win National Player of the Year honors), Glen Davis, Chris Jackson, and Stromile Swift.

The LSU Tigers have also experienced their share of championship success in Southeastern Conference play. LSU has won one Southeastern Conference tournament championship (in 1980), and 9 SEC regular season championships (most recently in 2006).

Following the Dale Brown era, John Brady took over the helm at LSU. Brady has had great success at LSU, returning the team to prominence, with 2 SEC titles and one NCAA Final Four coming in his tenure. LSU's 28 wins in the 1999-2000 season represents the highest season win total in LSU history.

Get all your LSU Tigers Merchandise and Apparel, Tickets, and Baseball Caps by clicking on the links.
LSU Basketball History
LSU Basketball History
LSU Basketball History

---
Other LSU Tigers Basketball Pages

What do you think?

We'd love to hear your comments and/or opinions. If you submit them here, other visitors can read them, rate them and comment on them. An e-mail address is not required.

By
Mo Johnson
, Copyright © 2006-2017 SECSportsFan.com