2008-2009 FLORIDA GATORS WOMENS BASKETBALL
---
Looking for our current Florida Gators Womens Basketball page? Check out 2010-2011 Florida Gators Womens Basketball.
---
After a really bad year in '06-'07, the Florida Gators women's basketball team dramatically improved with a 19-14 overall and 6-8 SEC record in 2007-2008. The Lady Gators were selected for the Woman's National Invitational Tournament (WNIT) in the postseason.
This season the Lady Gators have four starters from last year's squad and welcome five talented newcomers. Head Coach Amanda Butler seems to have the squad on the right track as they are currently 15-2 on the season.
Congrats to the Florida Gators women's basketball team. Like their male counterparts, the Lady Gators also made the NIT tournament in 2008. Congrats and good luck!! If you are looking for tickets, check out 2008 March Madness Tickets.
---
---
Prior Discussion:
The Florida Gators womens basketball team has been a strong fixture in college basketball since their start in 1975.
The Lady Gators saw great success under the direction of Carolyn Peck, who has coached for the WNBA and Purdue where she won a national title. Peck was fired during the 2006 season and was replaced by Amanda Butler who will begin her first season with the Gators this year.


The Gators had a tough 2006-2007 season scoring a 9-22 record and only 2-12 in the SEC. The Gators were last in their SEC division and second to last in the SEC overall. The team did make it to the SEC tournament quarterfinals but lost to Vanderbilt 105-77. They spent their last season with Coach Peck, and were unable to find their groove in time to win big.
Groove with the Gators - Merchandise and Apparel, Tickets, and Baseball Caps.
The Florida Gators Womens Basketball team will start off their upcoming season with new head coach Butler, who has already began to form her strategy to take the ladies of Florida to the top. The Lady Gators have the smallest team in the SEC and will only return one starter. This will certainly add pressure to the team and will force them to play hard to avoid the reputation for being the most inexperienced team in the SEC.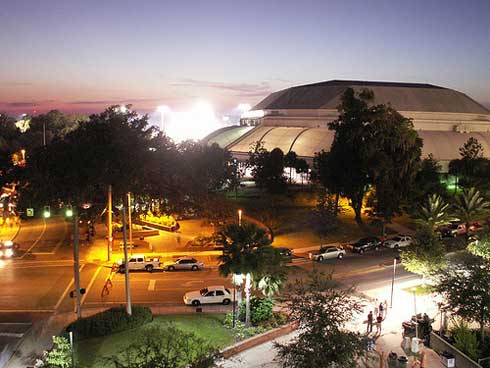 O'Connell Center, the home court of the Florida Gators women's basketball team.
Thanks to wikipedia.org for the picture.
---
Junior guard Sha Brooks, who was a second team All-SEC last season, is the only returning starter this season. She did well last year leading her team in scoring and averaging 13.7 points per game. Marshae Dotson, who led the team in rebounds last year, will return for her junior year as forward, and should be an asset to the team.
The ladies of Florida have had to face many issues and are still adjusting to their new coach. It seems that inexperience and size will hinder the team this season and they aren't looking too promising to score big in the upcoming season.
The Gator gals have had to deal with several changes in coaching and plays and are working hard to overcome various obstacles for the upcoming season. New head coach Butler has added Susan Yenser, who is one of the best three point shooters in the Atlantic Coast Conference, to the team this year. Yenser will come to Florida after playing two years at Clemson University, but will have to sit out this season due to NCAA transfer rules.
Some former Lady Gators have been making headlines, namely Bridget Pettis who recently helped lead her team the Phoenix Mercury to the WNBA Title. DeLisha Milton-Jones was recently selected to the 2007 WNBA All-Star team for her impressive playing for her team the Washington Mystics. The Lady Gators will kick off their 2007-2008 season on November 1 when they play Warner Southern in an exhibition game at home.
---
Check out our:
Florida Gators Womens Basketball 2007-2008 Schedule

Nov 1 Warner Southern (EXH) - DH 5:30PM

Nov 9 Xavier (Doubleheader) 5:30PM

Nov 12 Robert Morris 7:00PM

Nov 17 at Nebraska 6:05PM

Nov 20 Prairie View A&M (DH) 5:30PM

Nov 23 Florida State (DH) 5:30PM

Nov 26 Stetson 7:00PM

Nov 28 at Jacksonville 5:30PM

Dec 2 at Louisville 2:00PM

Dec 4 Florida Gulf Coast University 7:00PM

Dec 16 TCU 2:00PM

Dec 22 Saint Louis 1:00PM

Dec 28 Alabama A&M v. UNC Ashville 4:30PM

Dec 28 Holy Cross 7:00PM

Dec 29 Holy Cross vs. TBA 4:30PM

Dec 29 Alabama A&M or UNC Ashville 7:00PM

Jan 2 Florida A&M (DH) 5:30PM

Jan 5 at Temple 2:00PM

Jan 10 at Kentucky 7:00PM

Jan 13 Alabama 2:00PM

Jan 20 at Arkansas 3:00PM

Jan 24 Georgia 7:00PM

Jan 27 at South Carolina 3:00PM

Jan 31 Vanderbilt 7:00PM

Feb 3 LSU Noon

Feb 7 Auburn 7:00PM

Feb 10 at Mississippi State 2:30PM

Feb 14 at Georgia 7:00PM

Feb 17 Arkansas 2:00PM

Feb 24 South Carolina 1:00PM

Feb 28 at Tennessee 7:00PM

Mar 2 at Ole Miss 3:00PM


Florida Gators Womens Basketball 2007-2008 Roster


0 Susan Yenser G 5'10" Junior Marietta, Georgia

1 Kerri Simpson G 5'7" Freshman Charleston, Tennessee

2 Lonnika Thompson G 5'4" Sophomore New Orleans, Louisiana

3 Sha Brooks G 5'7" Junior Jackson, Tennessee

12 Brittaney Thomas G 5'8" Sophomore Montgomery, Alabama

14 Ndidi Madu F 6'1" Freshman Antioch, Tennessee

15 Kim Critton G 5'7" Junior Memphis, Tennessee

20 Depree Bowden G 5'11" Senior Palmetto, Florida

22 Jennifer Mossor G 5'9" Sophomore Orlando, Florida

24 Sharielle Smith G 5'10" Sophomore Bradenton, Florida

42 Aneika Henry C 6'3" Junior Coconut Grove, Florida

44 Marshae Dotson F 5'11" Junior Columbus, Ohio

50 Ebonie Crawford C 6'3" Freshman Decatur, Georgia


Florida Gators Womens Basketball
Florida Gators Womens Basketball
What do you think?

We'd love to hear your comments and/or opinions. If you submit them here, other visitors can read them, rate them and comment on them. An e-mail address is not required.

Return to Top
---
Alabama Crimson Tide Women's Basketball | Arkansas Razorbacks Women's Basketball | Auburn Tigers Women's Basketball | Georgia Bulldogs Women's Basketball | Kentucky Wildcats Women's Basketball | LSU Tigers Women's Basketball | Mississippi State Bulldogs Women's Basketball | Ole Miss Rebels Women's Basketball | South Carolina Gamecocks Women's Basketball | Tennessee Lady Vols Basketball | Vanderbilt Commodores Women's Basketball |
---
From 2009 Florida Gators Women's Basketball to SEC Women's Basketball | SEC Sports Blog | SEC Football | SEC Football Blog | SEC Basketball | SEC Baseball | SEC Track and Field | SEC Swimming and Diving | SEC Tennis | SEC Golf | SEC Gymnastics | SEC Soccer | SEC Softball | SEC Volleyball | Best College Sports Conference | College Football Bowl History | BCS Controversy | SEC vs Big Ten Debate | SEC Sports News | Current SEC Sports News | SEC Sports Pictures and Videos | SEC Sports Fan Forum | College Sports Blogs | College Football Association | SEC Sports Fan Trips | College Sports Gift | Fathead | College Sports Tailgate Party Shop | College Sports Merchandise | College Sports Apparel | SEC Sports Fan Store | SEC Football Tickets |
---
Home Page

About Us | Contact Us | Site Search | Advertise | Terms of Use |
---