SEC Basketball March 2011 Preview
Well we have entered the final week of conference play. Which means we are in March and just a week away from the SEC Tournament. There is still plenty up in the air going into the final week of league play.
The outright regular season conference title is still on the line. Florida and Alabama are your division leaders both at 11-3 in the SEC. They play Tuesday night in Gainesville, with the winner looking to wrap up the SEC title this weekend.
Second place is still up for grabs going into the final week. In the East there is a log jam between Vanderbilt, Kentucky, Georgia, and Tennessee. The West looks like it will come down to either Mississippi State or Arkansas.
Here's a look at each team and what they have on the line this week.
The Florida Gators have a lot on the line. They have already wrapped up a share of the SEC East title, but can win the SEC regular season title by winning their last two games. They host Alabama on Tuesday and then play at Vanderbilt Saturday. They have probably already locked themselves into a trip to the NCAA Tournament and winning more games only improve their NCAA seeding.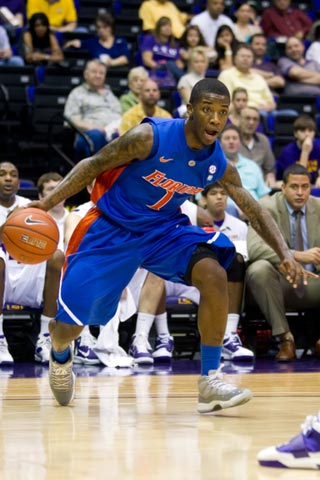 Florida Gators guard Kenny Boynton (1) drives to the basket during the first half of the game; Florida won the game 68-61; Baton Rouge, Louisiana.
---
This week is a big week for the Vanderbilt Commodores to make a claim to second place in the East and receive that all important first round bye in the SEC Tournament. It will be a tough test for them if they want to do it. They will have to go on the road and play at Kentucky on Tuesday night and then host Florida on Saturday. They have the offensivee weapons to wrap up second place, but can they go out and win? At this point, Vanderbilt also appears to be a lock for the NCAA tournament.
My pick to win the SEC this season, Kentucky Wildcats, have been pretty easy to read this year. They are great at Rupp Arena, but not so great away from Rupp Arena. They are only 1-6 on the road in the SEC this year. They have been in every game, but mistakes at the end have cost them. Still they have a chance at second place in the East. They will need to beat Vanderbilt at home Tuesday, and then beat Tennessee in Knoxville on Saturday. Kentucky is another team that appears to be headed to the NCAA.
The Georgia Bulldogs are similar to the rest of the SEC teams that are fighting for position in the SEC and trying to make a case to the NCAA. Mark Fox made a big jump with this team after winning just five games in the SEC last year. They host LSU and then travel to Alabama to close out the season. Winning out could get them to third in the East and help their case to the NCAA. If they can finish with a winning record in the SEC and win a couple of games in the SEC Tournament, that may be enough to get them in.
If you like roller coaster seasons, then you have loved watching the Tennessee Volunteers. After starting out 7-0 by winning the preseason NIT and beating then #3 Pittsburgh on a neutral court in Pittsburgh, things got wild. Now Tennessee is 7-7 in conference play going into the final season and may be fighting for Bruce Pearl's job. They play at South Carolina and then host Kentucky. At this point, they appear to be in the tournament, but a win against Kentucky would probably lock that up.
There is only one chance for the South Carolina Gamecocks to get into the NCAA Tournament, which is winning the SEC Tournament. South Carolina is only 2-8 since starting out 3-1 in league play. They have played hard this year, yet they just do not have the same talent level or experience as other teams in the SEC. Still Darrin Horn's team could play spoiler to end the NCAA dreams of a team they play this week, Tennessee. They will be a long shot to win the SEC Tournament, but crazy things happen in March.
The West has only one team that can really make a case for the NCAA tournament. Teams in the West did not play at a major conference level in the out of conference schedule and, as a result, will miss the NCAA Tournament.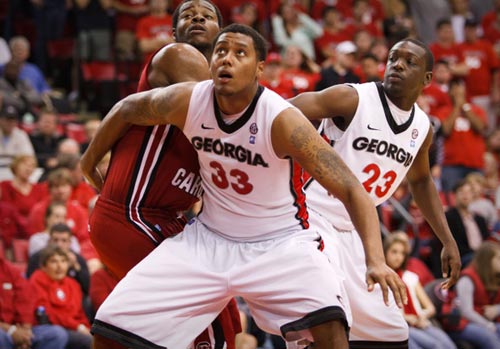 Georgia's Trey Thompkins (33) and Sherrard Brantley (23) are blocking out a South Carolina player in Georgia Bulldogs 64-48 victory over the South Carolina Gamecocks at Stegeman Coliseum in Athens GA.
---
The only real team that can make a run at the NCAA in the West is the Alabama Crimson Tide. They have performed pretty well so far this year, other than losing to the St. Peter Peacocks early in the season and then losing at Ole' Miss in their last game. They can add a great win to their resume by winning at Florida on Tuesday and then win against Georgia on Saturday. I find it hard to believe that the NCAA would leave a team that won a division in a major conference out of the NCAA Tournament, but Alabama has little room for error.
The team I picked to win the SEC West, Arkansas Razorbacks' head coach John Pelphrey made that seat a little cooler with the overtime win over Kentucky last week. Arkansas is now 7-7 in the conference and has a shot to finish in second place in the West. They play host to the other team vying for second place, Mississippi State, on Wednesday. If they can find a way to win out, secure second place, and a bye that should keep Coach Pelphrey around next year. The only way they make the NCAA tournament now is by winning the SEC Tournament.
For the Mississippi State Bulldogs fans it has been an even wilder ride this year than was expected. The Bulldogs just have not been able to be consistent in conference play this year. Other than losing to LSU last week, they have been playing good basketball as of late, including winning at Knoxville. They face the same fate as Arkansas, win out and they get second play and a first round bye and maybe help Rick Stansbury keep his job. The only way to the NCAA Tournament is to win the SEC Tournament.
The Mississippi Rebels had high hopes to start SEC play, but the 0-4 start in the conference really hurt them. They have a chance to finish at 8-8 by winning out. They play at Auburn, which is a winnable game for them, then can play spoiler to Arkansas SEC bye hopes. Like most West teams, the only way they make the NCAA Tournament is to win the SEC Tournament. If they can't do that, they may just be trying to make a case for the NIT.
The LSU Tigers are still in the rebuilding process, but there are signs that things are looking up in Baton Rouge. They started out 2-0 before a 10 game losing streak, but ended it on the road by beating Mississippi State. Now the only thing they want to do is not finish in last place. All they have to do is win one of their last two games, against Georgia or Auburn. There will be no post season for LSU unless they win the SEC Tournament.
Finally we end with the Auburn Tigers. This has been a rough year for Auburn, but I have been impressed with the way they have played this year. First year coach Tony Barbee has gotten his team to play hard every game, even in the blow outs and with a new arena, things will only get better for the Tigers. Outside winning the SEC Tournament, however, there is no chance for post season play. They would need to win their last two games and LSU loses their last two to keep from finishing last.
So there is still plenty for SEC fans to keep an eye on. The last week should provide some great games and then we have the SEC Tournament in Atlanta to look forward to.
What do you think?

We'd love to hear your comments and/or opinions. If you submit them here, other visitors can read them, rate them and comment on them. An e-mail address is not required.

---
SEC Basketball February 2011 Update | All Time SEC Basketball Team | 2011 SEC Basketball Preview | December 5, 2010 SEC Basketball Update | Best All-Time College Basketball Player | Best All-Time College Basketball Coach | Best All-Time College Basketball Program | Best All-Time College Basketball Team | Best All-Time March Madness Conference | Best College Basketball Conference | Best All-Time NCAA Basketball Conference Record | Best All-Time SEC Basketball Team | Best SEC Basketball Arena | Biggest SEC Basketball Rivalry | Top All-Time SEC Basketball Coach | Top All-Time SEC Basketball Player | Top All-Time SEC Basketball Program | Top SEC Basketball Fan Attendance School | Pat Summitt is simply the BEST COACH EVER | Best All-Time Women's College Basketball Program | Best All Time Women's College Basketball Player |
---
From SEC Basketball March 2011 Preview to SEC Basketball Blog | SEC Sports Blog | SEC Football | SEC Football Blog | SEC Basketball | SEC Women's Basketball | SEC Baseball | SEC Track and Field | SEC Swimming and Diving | SEC Tennis | SEC Golf | SEC Gymnastics | SEC Soccer | SEC Softball | SEC Volleyball | Best College Sports Conference | College Football Bowl History | BCS Controversy | SEC vs Big Ten Debate | SEC Sports News | Current SEC Sports News | SEC Sports Pictures and Videos | SEC Sports Fan Forum | College Sports Blogs | College Football Association | SEC Sports Fan Trips | College Sports Gift | Fathead | College Sports Tailgate Party Shop | College Sports Merchandise | College Sports Apparel | SEC Sports Fan Store | SEC Football Tickets |
---
Home Page

About Us | Contact Us | Site Search | Advertise | Terms of Use |
---