SEC Softball 2011 Week 2 Review
SEC EASTERN DIVISION

Georgia Bulldogs (10-0)
Florida Gators (9-0)
Tennessee Volunteers (8-2)
Kentucky Wildcats (8-2)
South Carolina Gamecocks (7-3)
SEC WESTERN DIVISION

Alabama Crimson Tide (10-0)
Auburn Tigers (9-0)
LSU Tigers (9-3)
Arkansas Razorbacks (5-5)
Miss. State Bulldogs (4-5)
Ole Miss Rebels (2-8)
SEC Week #2 Results and Recaps
Alabama - The No. 3 ranked Crimson Tide hosted the Bama Bash in Tuscaloosa this weekend. They easily won their first three games 10-2 against Louisville, 13-5 against UT San Antonio and 9-0 against Syracuse before they found themselves in a dog fight in their second game against Louisville on Saturday. After falling behind early in the third inning, 5-1, the Tide was able to cut the lead down to two by the fifth. Junior Jennifer Fenton hit a deep ball out into center field on an error that scored in Davis in the fourth. In the top half of the fifth, freshman Jackie Traina hit a solo shot over the right field wall to cut it to 5-3. The Cardinals responded with a three-run fifth inning to increase their lead to 8-3. That's when the Tide got the ball rolling. In the sixth inning, Davis hit her first career home run followed by a three-run shot by junior Cassie Reilly-Boccia to make the score 8-7. Senior Kelsi Dunne came in the sixth inning to relieve sophomore Lauren Sewell.
Dunne recorded three strikeouts in two innings. In the seventh inning, freshman Kaila Hunt pinched-hit for freshman Ryan Iamurri, and was able to get on base via walk. That's when Davis decided to hit her second homer of the game to give the Tide the 9-8 lead. Dunne was able to hold off Louisville's bats in the final inning to secure the win. This was the first time the Tide had trailed all season. Alabama bounced back on Sunday and scored a season high 20 runs while beating Syracuse for the second time in five innings.
2011 Bama Bash

Feb 18th #3 Alabama 10, Louisville 2 (5 inn)
Feb 18th #3 Alabama 13, UT San Antonio 5 (6 inn)
Feb 19th #3 Alabama 9, Syracuse 0 (5 inn)
Feb 19th #3 Alabama 9, Louisville 8
Feb 20th #3 Alabama 20, Syracuse 5 (5 inn)
Arkansas - The Arkansas Razorbacks handed the No. 1 Bruins of UCLA a 4-3 loss in the first of two games on Friday and fell to host UNLV 3-2 in the second game at the Louisville Slugger Desert Classic in Las Vegas, Nevada. The Bruins got on the board first with one run in their half of the third inning. The Hogs answered quickly by picking up two runs of their own thanks to a two RBI single to centerfield from Courtney Breault. The lead would not last long as the Bruins were able to plate one run in the top of the fourth inning on an error by Arkansas to even up the score at two. The Bruins would then add one more run to give them the lead 3-2 going into the bottom of the fifth inning. Breault then added another RBI to her resume for the game, tying the contest at three runs each through five.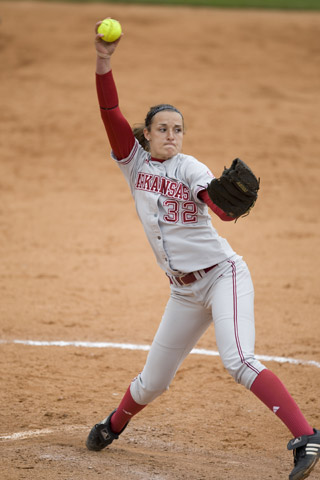 Thanks to Stephanie Taylor from ArkansasRazorbacks.com for this great picture of SEC Softball.
---
The Hogs were able to take the lead after Jones recorded three strikeouts in the top of the sixth inning and they were able to plate the game winning run off a single up the middle from Mort. The win over No. 1 UCLA marks the first time in Arkansas softball history that the Razorbacks have beaten a top-ranked team. On Saturday the Razorbacks fell to No. 14 Oregon 7-8 in 8 innings and lost to Long Beach State 0-11. They were able to finish off the weekend with a win in the finale against Utah 8-4 in 8 innings.
2011 Louisville Slugger Desert Classic

Feb 18th Arkansas 4, #1 UCLA 3
Feb 18th UNLV 3, Arkansas 2 (8 inn)
Feb 19th #14 Oregon 8, Arkansas 7 (8 inn)
Feb 19th Long Beach St 11, Arkansas (5 inn)
Feb 20th Arkansas 8, Utah 4 (8 inn)
Auburn - The Auburn softball team got a pair of strong, complete-game pitching efforts from Jenee Loree and Angel Bunner to lead the Tigers to a pair of wins Friday in the first day of their own 2011 Tiger Invitational. Auburn defeated Southern Miss 3-0 and Campbell 3-1. Day two saw a 8-1 victory over Western Illinois. On Sunday, Caitlin Schultze, Lauren Guzman and Elizabeth Eisterhold each drove in a pair of runs to lead the Auburn softball team to a 7-2 victory over Western Carolina in the final game of the Tiger Invitational. Auburn completed the tournament as the only unbeaten team.
2011 Tiger Invitational

Feb 18th Auburn 3, Southern Miss 0
Feb 18th Auburn 3, Campbell 1
Feb 19th Auburn 8, Western Illinois 1
Feb 20th Auburn 7, Western Carolina 2
Florida - The No. 5 ranked Florida Gators went to Jacksonville on Wednesday to face Jacksonville in non conference play. Senior Aja Paculba fueled a Gator rally in the bottom of the fifth inning, crushing UF's third grand slam of the season over the center-field fence for what would be the final four Florida runs as the No. 5 Gators rallied for a 7-0 shutout win over the host Dolphins. They then returned home for a three game series against North Carolina. They swept the doubleheader on Saturday against the Tar Heels 3-0 and 9-0. On Sunday, Senior righty Stephanie Brombacher earned her sixth win of the season for the Gators and maintained her perfect 0.00 ERA by allowing just four hits, one walk and striking out one in a five inning 10-0 victory over North Carolina. Brombacher has yet to give up a run so far in 2011.
Florida Gators Results

Feb 16th #5 Florida 7, Jacksonville 0
Feb 19th #5 Florida 3, N. Carolina 0
Feb 19th #5 Florida 9, N. Carolina 0 (5 inn)
Feb 20th #5 Florida 10, N. Carolina 0 (5 inn)
Georgia - The No. 4 ranked Georgia Bulldogs won a pair of five-inning run-rule games on Friday evening in the Eighth-Annual Georgia Softball Classic at Jack Turner Stadium defeating Winthrop, 14-0, and Buffalo, 8-0. Between the two games, the Bulldogs combined to record eight extra-base hits led by junior Ashley Razey's outing against Buffalo. Against the Bulls, Razey went 3-for-3 with four RBI as she posted her first-career multi-home run game while adding a two-run double. On Saturday, the Bulldogs picked up two more five-inning wins by defeating North Dakota State, 14-4, and Marshal, 12-2. In Sunday's Classic championship game between Georgia and N.C. State, the Bulldogs plated 13 runs on 12 hits highlighted by an eight-run second inning that erased a one-run Wolfpack lead. The Bulldogs went on to win 13-4, in five innings at Jack Tuner Stadium.
Georgia Softball Classic

Feb 18th #4 Georgia 14, Winthrop 0 (5 inn)
Feb 18th #4 Georgia 8, Buffalo 0 (5 inn)
Feb 19th #4 Georgia 14, N. Dakota St. 4 (5 inn)
Feb 19th #4 Georgia 12, Marshall 2 (5 inn)
Feb 20th #4 Georgia 13, NC State 4 (5 inn)
Kentucky - The No. 24 ranked Wildcats went to Tallahassee, Florida for the Garnet and Gold Tournament over the weekend. Junior pitcher Chanda Bell tossed a near-perfect game in a 7-0 victory over Georgia Southern in the opening game of the Tournament. Bell matched her own single-game record when she struck out 15 batters and allowed just one base runner with a leadoff hit in the top of the seventh inning. The Wildcats beat Middle Tennessee 13-0 in the second game. On satruday, Kentucky fell to the host Seminoles of Florida State 2-0 and recovered to beat Georgia Southern 9-1 to advance to the championship game against Florida State. On Sunday, Junior Brittany Cervantes enjoyed a history-making day at the plate in leading 24th-ranked Kentucky to a 7-2 triumph over Florida State to claim the Garnet and Gold Tournament crown. Cervantes began the day by connecting for her third consecutive home run before charting a career-best four-hit day in pacing the Wildcat offense.
Garnet and Gold Tournament

Feb 18th #24 Kentucky 7, Georgia Southern 0
Feb 18th #24 Kentucky 13, M. Tenn. State 0
Feb 19th Florida State 2, #24 Kentucky 0
Feb 19th #24 Kentucky 9, Georgia Southern 1 (6 inn)
Feb 20th #24 Kentucky 7, Florida State 2
LSU - After a 9-0, five inning win at home against SE Louisiana on Wednesday, the Tigers hit the road for the first time this season. In the third start of her career, Meghan Patterson fired a five-inning no-hitter as the No. 16 ranked Tigers rolled to a 12-0 victory over Southern Friday to open the Houston Hilton Plaza Classic at the Houston Cougar Softball Stadium. In the second game, No. 20 Oklahoma State used a pair of home runs to hand LSU its first defeat of the 2011 season by a 5-3 margin. On Saturday, The No. 18 LSU softball team dropped a 5-4 eight-inning affair to Houston in its opening game of day two. LSU then used an eight-run fifth inning to put a two-game losing streak in the rear view mirror and claim an 11-2 five-inning rout of Nicholls State to conclude day two action.
The LSU Tigers were handed a 1-0 loss by Houston in eight innings for the second straight time Sunday to conclude the Houston Hilton Plaza Classic at the Cougar Softball Stadium. Rachele Fico carried a no-hit bid into the eighth inning for the Tigers before pinch hitter Reina Gaber punched a RBI-single down the left field line to score Ashleigh Jones, who started the frame on second base due to the international tiebreaker rule. Fico fired nine strikeouts to go over the 200-mark for her career, but dropped to 3-3 with the tough-luck loss.
Houston Hilton Plaza Classic

Feb 18th #16 LSU 12, Southern 0 (5 inn)
Feb 18th #20 Oklahoma St. 5, #16 LSU 3
Feb 19th Houston 5, #16 LSU 4 (8 inn)
Feb 19th #16 LSU 11, Nicholls St. 2 (5 inn)
Feb 20th Houston 1, #16 LSU 0 (8 inn)
Miss State - The Bulldogs hosted their very own 2011 Bulldog Round Robin last weekend. On Friday, the Bulldogs defeated Louisiana Tech 3-2 to open play in the Tournament. On Saturday, the Bulldogs defeated the Butler Bulldogs 2-0 and despite battling an illness, Mississippi State freshman Sam Lenahan was feeling great as her pinch-hit, walk-off home run in the bottom of the seventh inning rallied Mississippi State to a 10-8 win against Southern Illinois. The win put the Bulldogs in Sunday's Bulldog Round-Robin championship game at the MSU Softball Field. Junior Ka'ili Smith hit her first home run of the season and drove in all four of Mississippi State's runs as the Bulldogs fell 9-4 to Southern Illinois in Sunday's championship game of the Bulldog Round-Robin. In addition to her home run, the Kapolei, Hawaii, native also had a two-run base hit in the fifth en route to earning all-tournament accolades along with fellow MSU players Kylie Vry, Sam Lenahan and Courtney Nesbit.
2011 Bulldog Round Robin

Feb 18th MSU 3, Louisiana Tech 2
Feb 19th MSU 2, Butler 0
Feb 19th MSU 10, Southern Illinois 8
Feb 20th Southern Illinois 9, MSU 4
Ole Miss - The Rebels made the trip to Clearwater, Florida to compete in the USF-Fairfield Inn & Suites Tournament over the weekend. In the Rebels first game of the day, Brittany Barnhill pitched 6.2 scoreless innings and smashed an RBI single to help lead Ole Miss to a 5-3 win over Fordham on Friday. Barnhill allowed just two runs in the second game, but No. 25 DePaul used an extra-inning run to defeat the Rebels 3-2 in eight innings. Senior Lindsey Perry allowed just two hits and two unearned runs in five innings of work, but UAB took advantage of Ole Miss miscues to claim a 3-0 win over the Rebels on day two at the USF-Fairfield Inn & Suites Tournament on Saturday. Ole Miss also dropped the nightcap 8-0 to host South Florida. Five Rebel errors led to four unearned runs as Indiana knocked off Ole Miss 7-3 on the final day of the tournament on Sunday.
2011 USF-Fairfield Inn & Suites Tournament

Feb 18th Ole Miss 5, Fordham 3
Feb 18th #25 DePaul 3, Ole Miss 2 (8 inn)
Feb 19th UAB 3, Ole Miss 0
Feb 19th S. Florida 8, Ole Miss 0 (6 inn)
Feb 20th Indiana 7, Ole Miss 3
S. Carolina - The Gamecocks headed to Fort Myers, Florida for tournament action over the weekend. It was the Villanova Wildcats who took advantage of a tough defensive second inning for South Carolina to take a 2-1 win over the Gamecocks on Friday during the Homewood Suites/Hilton Garden Inn Florida Gulf Coast University Tournament. South Carolina bounced back in the second game for a five inning 10-2 win against Georgetown. With a stunning comeback that included five unanswered runs, South Carolina defeated Villanova, 5-4, in the Gamecocks' first game on Saturday afternoon. The Gamecocks started the comeback in the sixth as Lauren Lackey led off the inning with a triple and scored on senior designated player Laura Mendes' groundout.
Behind freshman Julie Sarratt's second career shutout and sophomore shortstop Samie Garcia's first home run propelled South Carolina past host Florida Gulf Coast, 2-0, in the final game of Saturday's slate. On Sunday, South Carolina defeated Michigan State, 11-3 in six innings in the Championship game of the Homewood Suites/Hilton Garden Inn Florida Gulf Coast Tournament. Sophomore rightfielder Hannah Milks had a double and an RBI in the contest as well, while junior leftfielder Kaitlin Westfall went 2-for-4 with an RBI. Junior first baseman Molly Brossart added a double and two RBI. Freshman Julie Sarratt added her first career home run while also getting the win in relief.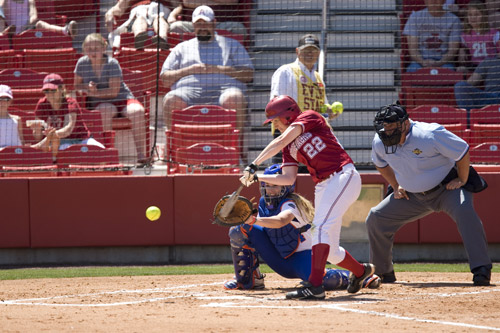 Thanks to Stephanie Taylor from ArkansasRazorbacks.com for this great picture of SEC Softball.
---
Homewood Suites/Hilton Garden Inn Tournament

Feb 18th Villanova 2, S. Carolina 1
Feb 18th S. Carolina 10, Georgetown 2 (5 inn)
Feb 19th S. Carolina 5, Villanova 4
Feb 19th S. Carolina 2, FGCU 0
Feb 20th S. Carolina 11, Michigan St. 3 (6 inn)
Tennessee - The Vols blew by East Tennessee State at home on Tuesday 18-0 in five innings before they went out west for s prolonged trip which started with the Louisville Slugger Desert Classic in Las Vegas, Nevada. Tennessee junior first baseman Shelby Burchell's second home run of the contest, a walk-off grand slam, finished off UT's sixth-consecutive run-rule victory as the No. 7 Lady Vols rolled past Cal Poly, 11-2, on a windy and brisk Friday in Las Vegas. In the second game, the offensive onslaught continued for No. 7 Tennessee on Friday night at Stephanie Lynn Craig Park, as the Lady Vols banged out 15 hits and blasted three more home runs in routing Boise State, 15-1 in five innings. A four-run second inning outburst by host UNLV proved to be just enough on Saturday afternoon at the Eller Media Stadium in Las Vegas, Nev., as the Rebels held off a late rally by No. 7 Tennessee, 4-3, to hand the Lady Vols softball team its first defeat of the season. In the second game on Saturday night, The Lady Vols got back on track after suffering its first loss of the season by hammering Southern Illinois-Edwardsville, 12-2 in five innings.
Lady Vol freshman hurler Ellen Renfroe (5.0 IP, 2 H, 2 R) made personal history by striking out a career-high eight during a complete-game two-hitter against SIUE. In the finale on Sunday, Tennesse dropped a tough 5-0 setback to No. 18 Stanford at Stephanie Lynn Craig Park in Las Vegas, Nev. The Lady Vols offense never got untracked against Cardinal pitcher Ashley Chinn as the hurler limited UT to just one hit and retired the last 17 batters she faced during a six-strikeout, complete-game effort.
2011 Louisville Slugger Desert Classic

Feb 18th #7 Tennessee 11, Cal Poly 2 (6 inn)
Feb 18th #7 Tennessee 15, Boise State 1 (5 inn)
Feb 19th UNLV 4, #7 Tennessee 3
Feb 19th #7 Tennessee 12, SIUE 2 (5 inn)
Feb 10th #18 Stanford 5, #7 Tennessee 0
What do you think?

We'd love to hear your comments and/or opinions. If you submit them here, other visitors can read them, rate them and comment on them. An e-mail address is not required.

---
SEC Softball Power Rankings | SEC Softball 2011 Week 1 Review | SEC Softball 2011 Power Rankings Week 2 | 2011 SEC Softball Preview | SEC Softball 2011 Week 3 Recap |
---
From SEC Softball 2011 Week 2 Review to SEC Softball Blog | SEC Sports Blog | SEC Football | SEC Football Blog | SEC Basketball | SEC Basketball Blog | SEC Women's Basketball | SEC Baseball | SEC Track and Field | SEC Swimming and Diving | SEC Tennis | SEC Golf | SEC Gymnastics | SEC Soccer | SEC Softball | SEC Volleyball | Best College Sports Conference | College Football Bowl History | BCS Controversy | SEC vs Big Ten Debate | SEC Sports News | Current SEC Sports News | SEC Sports Pictures and Videos | SEC Sports Fan Forum | College Sports Blogs | College Football Association | SEC Sports Fan Trips | College Sports Gift | Fathead | College Sports Tailgate Party Shop | College Sports Merchandise | College Sports Apparel | SEC Sports Fan Store | SEC Football Tickets |
---
Home Page

About Us | Contact Us | Site Search | Advertise | Terms of Use |
---