SEC Softball 2011 Week 1 Review
SEC EASTERN DIVISION

Florida Gators (5-0)
Georgia Bulldogs (5-0)
Tennessee Volunteers (4-0)
Kentucky Wildcats (4-1)
South Carolina Gamecocks (3-1)
SEC WESTERN DIVISION

LSU Tigers (6-0)
Alabama Crimson Tide (5-0)
Auburn Tigers (4-0)
Arkansas Razorbacks (3-2)
Ole Miss Rebels (1-4)
Miss. State Bulldogs (1-4)
SEC Week #1 Results and Recaps
Ole Miss- The Rebels traveled out west to start the 2011 season where they faced two top twenty clubs among the five games they played in Arizona. The dropped both opening day games. Three Ole Miss errors allowed Utah to score six unearned runs in a 10-0 loss and San Jose State squeaked out a 3-2 win despite the complete game effort of Ole Miss junior pitcher Kendall Bruning, who struck out nine Spartans. On day two, Ole Miss jumped out to an early 5-0 lead over BYU, but then allowed nine unanswered runs to fall 9-5 to the 20th ranked Cougars. Against 14th ranked Oregon, the Rebs fell behind 2-0 after the first and never were able to catch back up despite senior Brittany Barnhill striking out eight Ducks and only allowing one earned run in a 4-1 loss. On day three, Ole Miss's Erin Jayjohn smashed her first career grand slam in a 9-1 rout of the RoadRunners. Lindsay Perry struck out four batters in five innings for her first win of the season.
Kajikawa Classic (@Tempe,Az.)
2/10 Utah 10, Ole Miss 0 (5 inn)
2/10 San Jose State 3, Ole Miss 2
2/11 (#20)BYU 9, Ole Miss 5
2/11 (#14)Oregon 4, Ole Miss 1
2/12 Ole Miss 9, Cal.St.Bakersfield 1 (5 inn)
Arkansas- The Razorbacks played in the Louisiana Classic in Lafayette last weekend. Arkansas was able to sweep their opening games against Prarie View and Sam Houston State. Shortstop Chloe Oprzedek drove in two runs and scored two runs in a 10-0 rout of Prarie View. In the second game, Sam Houston State jumped to a 5-2 lead after 5 innings, but pitcher Hope McLemore came in to relief with 4 shutout innings as the Razorbacks rallied to beat the BearKats 6-5 in 9 innings. Day two was the complete opposite for Arkansas as they saw themselves drop both games on the day. In the first game the were completely routed by home standing Lafayette 14-1 as nothing went the Razorbacks way. In the rematch with Sam Houston State, the leade went back and forth until the BearKats scored 3 runs in the bottom of the eigth to steal the win 9-6. It was pitcher Hope McLemore's first loss of the season as she fell to (2-1) on the season. In the closing game of the weekend, Arkansas pitcher Kim Jones pitched 5 innings of 2 hit ball as the Razorbacks beat the Rhode Island Rams 8-0. Becca Carden drove in two runs in the win.
Louisiana Classic (@Lafayette,La.)
2/11 Arkansas 16, Prarie View 0 (5 inn)
2/11 Arkansas 6, Sam Houston St. 5 (9 inn)
2/12 La. Lafayette 14, Arkansas 1 (5 inn)
2/12 Sam Houston St. 9, Arkansas 6 (8 inn)
2/13 Arkansas 8, Rhode Island 0 (5 inn)
Miss. State - The Bulldogs kicked off their 2011 season in the Sportco Classic hosted by the University of Nevada Las Vegas. The Dogs lost their first four games of the weekend, three of which were by only one run apiece. Senior Courtney Nesbit had four hits, including a double, triple and homerun in the day #2 games, but the Dogs still came up short falling 18-5 in 5 innings to the #11 ranked Washington Huskies and dropping a heartbreaker 7-6 against UC Riverside. The Bulldogs were able to save face for the weekend by taking the finale match-up against Illinois Chicago 5-2. Freshman Heidi Shape drove in three runs and junior Misty Flesher tossed four shutout innings in the victory over the Flames.
Sportco Kick-off Classic (@Las Vegas,Nev.)
2/11 Ill.-Chicago 5, Miss State 4
2/11 UNLV 10, Miss State 9 (9 inn)
2/12 (#11) Washington 18, Miss State 5 (5 inn)
2/12 Cal. Riverside 7, Miss State 6
2/13 Miss State 5, Ill.-Chicago 2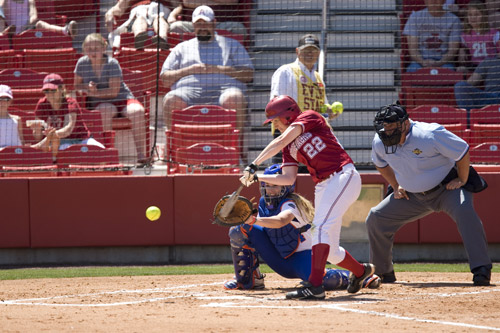 Thanks to Stephanie Taylor from ArkansasRazorbacks.com for this great picture of SEC Softball.
---
South Carolina- A new chapter started the Gamecocks' 2011 season off on the right foot, as South Carolina downed Charleston Southern, 10-6, in the season opener for both squads at Beckham Field. The win started off head coach Beverly Smith's tenure on the right foot, joining six of her predecessors in winning their first game at the helm. Freshman Julie Sarratt stunned Coastal Carolina in her collegiate debut, tossing the 44th no-hitter in South Carolina history in a 5-0 Gamecock win in the second game on Saturday afternoon at Beckham Field. Despite a three-hit outing from sophomore shortstop Samie Garcia, South Carolina could not solve USC Upstate's Morgan Childers, as the Spartans took home a 3-2 win over the Gamecocks, claiming the 2011 Palmetto State Showdown title.
Palmetto State Showdown (@Columbia,SC)
2/11 USC 10, Charleston Sou. 6
2/12 USC 5, Furman 1
2/12 USC 5, Coastal Carolina 0
2/13 USC Upstate 3, USC 2
Alabama- Crimson Tide freshman Jackie Traina got her first start on the mound for the shutout victory. She went 4 2/3 innings allowing five hits and stirking out five. She also had a two-run home run in the 8-0 win against Samford to kickoff the weekend matchups. The No. 3 ranked Alabama softball team erupted for a total of 24 runs and only allowed a single hit, including a no-hitter, in two games on day two of the All-Alabama Classic. The Crimson Tide downed Alabama A&M, 18-0 behind sophomore hurler Lauren Sewell and then Kelsi Dunne blanked Jacksonville State with her seventh career no-hitter, to lead the Tide to a 6-0 win. Alabama continued its winning ways as it downed South Alabama, 6-0 to open the final day of the tournament. Freshman Jackie Traina earned the win in the circle. Alabama then downed Troy by the score of 9-1, in six innings. Senior Kelsi Dunne went the distance, allowing an unearned run on three hits while striking out nine Titans.
Auburn- The Auburn softball team hit five home runs in a 12-1 win over Alabama State and got a career-best 11 strikeouts from pitcher Lauren Schmalz to defeat Troy 2-1 in the opening day of the All-Alabama Classic tournament Saturday. Auburn freshman Morgan Estell went a combined 5-for-7 with five runs, two RBI with a home run to help the Tigers defeat Jacksonville State 6-3 and Samford 5-0 on the final day of the All-Alabama Classic. The Tigers won all 4 of their games during the weekend matchups among all nine Alabama softball playing colleges.
All Alabama Classic (@Birmingham,Ala.)
2/11 (#3)Alabama 8, Samford 0 (5 inn)
2/12 Auburn 12, Alabama St. 1 (5 inn)
2/12 (#3)Alabama 18, Alabama A&M 0 (5 inn)
2/12 Auburn 2, Troy 1
2/12 (#3)Alabama 6, Jacksonville St. 0
2/13 Auburn 6, Jacksonville St. 3
2/13 (#3)Alabama 6, S. Alabama 0
2/13 Auburn 5, Samford 0
2/13 (#3)Alabama 9, Troy 1 (6 inn)
Kentucky- Three different Kentucky batters blasted a home run to ignite a 9-0 five-inning upset of No. 24 Ohio State on the opening night of action at the FIU Combat Classic in Miami. Junior ace right hander Chanda Bell earned her first win and shutout of the season with a complete-game shutout effort. Seniors Meagan Aull and Samantha DeMartine and junior Erika Silence all notched a round tripper against the Buckeyes. Junior Brittany Cervantes matched a career high with four RBI on a pair of extra base hits to lead Kentucky to a 5-0 victory over the host FIU Golden Panthers to conclude the first day of games. The Kentucky offense found its rhythm for five runs over the final two innings in a dramatic comeback 6-3 victory over DePaul in extra innings to preserve its perfect record on day #2 in Miami. Junior Chanda Bell earns her second victory in as many starts with the complete game effort. The Kentucky softball team provided another thrilling finish, but could not repeat its comeback effort from a day earlier falling 3-2 to Memphis. Freshman pitcher Ellen Weaver earned her first career victory in the finale in leading Kentucky to a 5-2 victory over North Florida. The left hander tossed a complete-game effort, allowing four hits and just one earned run.
Combat Classic (@Miami,Fl.)
2/11 Kentucky 9, (#24) Ohio St. 0 (5 inn)
2/11 Kentucky 5, Fl. International 0
2/12 Kentucky 6, DePaul 3 (8 inn)
2/13 Memphis 3, Kentucky 2
2/13 Kentucky 5, North Florida 2
LSU- Freshman Simone Heyward provided a spark from the top of the lineup with four hits, five runs and three stolen bases as the No. 16 LSU softball team picked up a 9-1 six-inning victory over Louisiana Tech followed by a 5-0 shutout of Bowling Green to open the 2011 season on Friday. The LSU softball team notched a 6-0 victory over Bowling Green coupled with a 5-3 triumph over Purdue on Saturday during day two of the Tiger Classic in-front of 1,189 fans at Tiger Park. LSU cranked out a 6-2 victory over Purdue followed by a dominant 10-2 five-inning rout of Louisiana Tech to complete an undefeated weekend during day three of the Tiger Classic at Tiger Park. LSU placed Simone Heyward, Ashley Langoni, Meghan Patterson, Juliana Santos and Anissa Young on the All-Tournament Team with Heyward securing the MVP honors.
2011 Tiger Classic (@Baton Rouge,La.)
2/11 (#16)LSU 9, La.Tech 1 (6 inn)
2/11 (#16)LSU 5, Bowling Green 0
2/12 (#16)LSU 6, Bowling Green 0
2/12 (#16)LSU 5, Purdue 3
2/13 (#16)LSU 6, Purdue 2
2/13 (#16)LSU 10, La. Tech 2 (5 inn)
Tennessee- A seven-run Big Orange first inning set a powerful tone as No. 7 Tennessee resoundingly opened its 2011 campaign by defeating Michigan State (2-1), 11-2 (5 inn.), at the Stetson Leadoff Classic in DeLand, Fla. The big blow of the contest for UT came off the bat of sophomore 2nd baseman Lauren Gibson who blasted a three-run homer to left in the first frame. Freshman pitcher Ellen Renfroe picked up a triumph in her collegiate debut as the Vols routed homestanding Stetson, 11-0 ( 5 inn.), in the 2nd game of the opening day. Three home runs, including a walk-off blast from junior catcher Shelby Burchell, powered Tennessee past Boston College, 8-0 (5 inn.). UT junior pitcher Cat Hosfield picked up her first victory by firing a two-hit, complete-game shutout with four strikeouts. Behind a season-high 14-hit assault, Tennessee completed its perfect opening weekend at the Stetson Leadoff Classic on Sunday with a dominating 14-0 (5 inn.) rout of Michigan State.
Stetson Lead-off Classic (@DeLand,Fl.)
2/11 (#7)Tennessee 11, Michigan St. 2 (5 inn)
2/12 (#7)Tennessee 11, Stetson 0 (5 inn)
2/13 (#7)Tennessee 8, Boston College 0 (5 inn)
2/13 (#7)Tennessee 14, Michigan St. 0 (5 inn)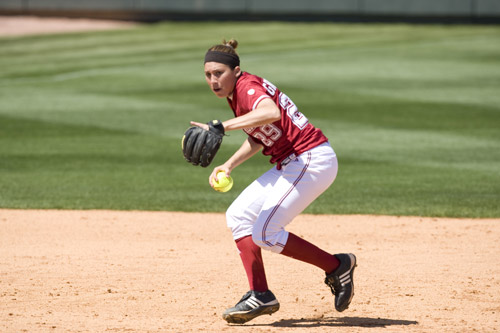 Thanks to Stephanie Taylor from ArkansasRazorbacks.com for this great picture of SEC Softball.
---
Florida- The Gators hit seven home runs, including two grand slams, one each from seniors Tiffany DeFelice and Megan Bush as the No. 5 Gators cruised to 17-1 (5 inn) and 6-0 wins over Marshall and Florida Gulf Coast, respectively, at the USF-hosted Wilson DeMarini Tournament to kick off the 2011 season. Senior righty Stephanie Brombache threw the second perfect game of her career Saturday as the hot-hitting Gators racked up two more wins in the Wilson DeMarini Tournament, first against Long Island, 9-2, and then a 9-0 shutout over NC State. With the Gators up 7-0 against NC State in the bottom of the fifth and freshman Chelsea Howell on second as a pinch runner after a Tiffany DeFelice double, freshman shortstop Cheyenne Coyle smashed her third homer this season. Coyle's bomb sailed over the center-field fence, giving the Gators a 9-0 advantage over the Wolfpack to enforce the mercy rule and handing Brombacher just the fifth perfect game in UF history. The Gators closed out their season-opening weekend with a 12-0 victory over the homestanding USF Bulls in the final game of the 2011 Wilson DeMarini Tournament. The Gators opened the season with a bang, racking up 53 runs,14 home runs, a .394 batting clip, .478 on-base percentage and a .803 slugging percentage as a team.
Wilson DeMarini Tournament (@Clearwater,Fl.) 2/11 (#5)Florida 17, Marshall 1 (5 inn)
2/11 (#5)Florida 6, Florida Gulf Coast 0
2/12 (#5)Florida 9, Long Island 2
2/12 (#5)Florida 9, NC State 0
2/13 (#5)Florida 12, USF 0 (5 inn)
Georgia - 4th ranked Georgia won its season-opening contest, defeating Illinois State, 2-1, in the Fourth-Annual Red & Black Showcase at Jack Turner Softball Stadium behind senior Brianna Hesson's sixth-inning home run and freshman Morgan Montemayor's complete game. The University of Georgia softball team posted two more wins on Saturday defeating Iowa, 8-1, and East Carolina, 1-0. In the first game, seniors Sarah McCloud and Katie Murphy led the Bulldogs from the circle combining to allow just one Iowa run on four hits. McCloud started and tossed the first three frames allowing Iowa to just one run in the second, and Murphy (1-0) took over to start the fourth and worked the final four innings scoreless while giving up just one hit, striking out seven and walking none. The Bulldogs' second contest featured a pitcher's duel between Georgia's Erin Arevalo and East Carolina's Faith Sutton with Arevalo getting the edge for her first victory of the season. The Georgia Bulldogs defeated Maryland, 8-2, and Lipscomb, 7-4, on Sunday to complete the opening weekend of the season and win the Fourth-Annual Red & Black Showcase. Georgia won its home tournament by playing and winning against each visiting team once. Illinois State finished second with a 4-1 mark only losing to the Bulldogs.
Red and Black Showcase (@Athens,Ga.)
2/11 (#4)Georgia 2, Illinois St. 1
2/12 (#4)Georgia 8, Iowa 1
2/12 (#4)Georgia 1, E. Carolina 0
2/13 (#4)Georgia 8, Maryland 2
2/13 (#4)Georgia 7, Lipscomb 4
What do you think?

We'd love to hear your comments and/or opinions. If you submit them here, other visitors can read them, rate them and comment on them. An e-mail address is not required.

---
SEC Softball Power Rankings | SEC Softball 2011 Week 2 Review | SEC Softball 2011 Power Rankings Week 2 | 2011 SEC Softball Preview | SEC Softball 2011 Week 3 Recap |
---
From SEC Softball 2011 Week 1 Review to SEC Softball Blog | SEC Sports Blog | SEC Football | SEC Football Blog | SEC Basketball | SEC Basketball Blog | SEC Women's Basketball | SEC Baseball | SEC Track and Field | SEC Swimming and Diving | SEC Tennis | SEC Golf | SEC Gymnastics | SEC Soccer | SEC Softball | SEC Volleyball | Best College Sports Conference | College Football Bowl History | BCS Controversy | SEC vs Big Ten Debate | SEC Sports News | Current SEC Sports News | SEC Sports Pictures and Videos | SEC Sports Fan Forum | College Sports Blogs | College Football Association | SEC Sports Fan Trips | College Sports Gift | Fathead | College Sports Tailgate Party Shop | College Sports Merchandise | College Sports Apparel | SEC Sports Fan Store | SEC Football Tickets |
---
Home Page

About Us | Contact Us | Site Search | Advertise | Terms of Use |
---