SEC Basketball February 2012 Update
We are entering that last full month of regular season college basketball. The SEC is at the midpoint of conference play and February will be the month that the conference will sort itself out.
This is the month where most teams can make a move to improve their standing for the SEC Tournament in March. Right now there are at least six teams that can make a case for the NCAA Tournament.
Let's take a look at the SEC and go through the standings as of January 31 to look at each team.
Kentucky Wildcats: 22-1, 8-0 SEC
As many expected Kentucky has been one of the top teams in the country. If the season ended today, then Kentucky would easily be a number one seed in the NCAA Tournament.
The key to the Wildcats' success this year is the balance of the team. Throughout most of the season Kentucky has had six players average double figure points. They only play 7-8 guys, but the team shares the ball and really could not care who scores the most points. Once again, the freshmen have played a huge role. Michael Kidd-Gilchrist and Anthony Davis have played their way into National Player of the Year discussion. Marquis Teague has been up and down, but appears to be starting to understand his role in the offense.
If Kentucky wants to win a national title, the upper classmen have to match the freshmen. Doron Lamb has been one of the top shooters in the SEC again, hitting 46% from the three point line. Darius Miller struggled shooting early this year, but appears to have regained his stroke of the past few games. Terrence Jones started out hot this year, but disappeared during the loss to Indiana and then injured a finger on his shooting hand. His play has improved in conference games, but he has to be consistent for UK to have a shot in March.
We will learn a lot about Kentucky in February as their SEC schedule gets tougher than it was in January. If the Wildcats continue to improve, this may be John Calipari's best shot at winning a national title.
Florida Gators: 17-4, 5-1 SEC
Florida is once again one of the best teams in the SEC. They also appear to be headed to the NCAA Tournament for the 12th time under Billy Donovan.
The Gators stumbled to start SEC play by losing at Tennessee in their first conference game. Since then, they have won five games in a row and have climbed back towards the top of the SEC. They are also a balanced scoring team, with five players averaging double figure in points. Florida is one of the top scoring teams in the country, averaging over 80 points a game. Most of their scoring comes from the wings with Brad Beal, Erving Walker, and Kenny Boynton leading the way.
If they want to make a run in the NCAA, they need to improve their scoring from the post. Patrick Young is a force for the Gators, but most of his points come from cleaning up missed shots. Like last year, the Gators are better when their offense goes inside out and not just having guards jack up wild three pointers.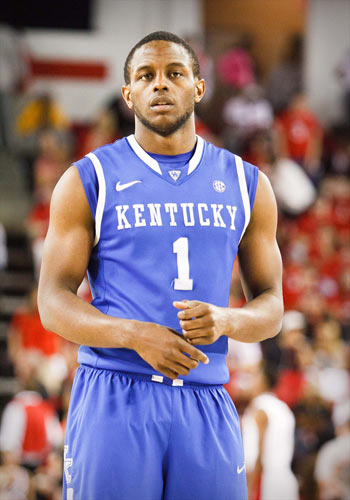 Kentucky's Darius Miller in Kentucky Wildcats 57-44 victory over the Georgia Bulldogs at Stegeman Coliseum in Athens, GA.
---
Vanderbilt Commodores: 16-6, 5-2 SEC
Vanderbilt was a hot pick in the preseason to win the SEC. They had all five starters returning from last year's NCAA team, making them the most experienced team in the SEC.
The season did not start out like Vanderbilt thought it would. They lost center Festus Ezeli to an injury and experienced NCAA trouble as he missed 10 of 12 games to start the season. Since his return they have played better. John Jenkins and Jeffery Taylor are the only players to average double figures in points so far. Outside of their starters, Vandy gets little help from their bench. No bench player is averaging over five points a game, even though four of the players off the bench average over 10 minutes a game.
After the Commodores lost to Cleveland State and Indiana State, many people got down on the Commodores and wrote them off. Since the loss to Indiana State, Vanderbilt has gone 10-1. They are probably a NCAA team right now, but it is hard to see this group getting out of the first weekend.
Mississippi Rebels: 14-7, 4-3 in the SEC
So far Mississippi is one of the more interesting teams in the SEC. After losing Chris Warren and Zach Graham from last year's team, not a lot was expected from the Rebels. So far, though, Andy Kennedy has the Rebels fighting for a first round bye in the SEC Tournament.
It has not been an easy job for Kennedy either. As the Rebels were about to start SEC play, Dundrecous Nelson and little used Jamal Jones were kicked off the team following an arrest for drug paraphernalia. Ole Miss was 10-4 before the arrest and 4-3 since. They have lost to Auburn and LSU on the road, but have beaten then #15 Mississippi State and Arkansas at home.
If the Rebels want to make a run for a NCAA tournament bid, they have to finish with a winning record in the SEC. In order to do that, the Rebels need Terrance Henry to step up as a constant scorer. Since scoring only 5 points in the loss to Auburn, he has averaged 18 points the last four games, and Ole Miss is 3-1in those games.
Mississippi State Bulldogs 17-5, 4-3 SEC
Last year was a pretty forgettable year for Mississippi State fans. A 17-13 record surrounded by fights and controversy left Rick Stansbury's coaching seat feeling warm at the start of the year.
A loss in the second game of the year to Akron did not sit well with fans. The Bulldogs were able to turn it around by beating Texas A&M and Arizona to win the 2K Classic in New York though. They would finish 13-2 in the non conference part of their schedule.
We all knew about Dee Bost and Renardo Sidney returning for the Bulldogs, but junior transfer Arnett Moultrie has been a huge addition. The former Texas-El Paso player has 13 double-doubles so far this year and leads the team in scoring and rebounding. Freshmen Rodney Hood has also come in and been a top scorer for Mississippi State.
Dee Bost has played like one of the best point guards in the SEC and is in the top five in scoring and assists. If the Bulldogs make the NCAA, they need Renardo Sidney to step and make his presence felt more.
Arkansas Razorbacks 16-6, 4-3 SEC
Arkansas wants to return to "40 Minutes of Hell" that brought them success in the early 90's. They have the right coach to do it, Mike Anderson, and you can see the positive results so far.
The Razorbacks' season took a big hit when junior Marshawn Powell was lost for the year to a knee injury. That meant Arkansas would put a team of mostly freshmen and sophomores on the floor in their first year in a new system. BJ Young, a freshman, leads the team in scoring and he is their sixth man. Mardracus Wade and Rickey Scott are the only other players that average double figure in points. The Razorbacks have nine guys who average at least 10 minutes a game.
Right now it would be hard to consider Arkansas as a NCAA Tournament team. They took a big step towards making the NCAA Tournament when they beat Vanderbilt at home. It was there second win over a ranked team in 10 days, they also beat then #19 Michigan at home. If they want to be taken seriously, they need to win a game on the road. If they do that and find a way to finish with a winning record in conference play, they will have a great case for an NCAA bid.
Alabama Crimson Tide: 14-7, 3-4 SEC
There were high expectations for the Crimson Tide this year. The third year of the Anthony Grant era began with Alabama being ranked in the Top 20. Fans expected to not only make the NCAA Tournament, but compete for a SEC Championship.
The Tide started by winning their first seven games of the year. Then they lost three of four when their poor shooting began to be exposed. They would recover by winning their next five, but then lost four in a row in conference play.
The main problem with Alabama is the fact that they are a poor shooting team. The make 46% of their field goals, but only shot 27% from the three point line, ranking them 339 in the country. The Tide score by attacking the basket, something that JaMychal Green and Tony Mitchell do very well.
Alabama is still one of the best defensive teams in the country. They only give up 57.9 points a game to opponents, while only allowing them to shoot 37% from the floor and 27% from three.
If Alabama wants to be a NCAA team, they are going to have to find more offense to go with their outstanding defense.
Tennessee Volunteers: 10-12, 2-5 SEC
Even though their record might not show it, Tennessee is one of the tougher match ups in the SEC. They have beaten Florida and Connecticut at home and gave Kentucky a scare in Knoxville too. Things are looking up for Tennessee with Cuonzo Martin at the helm.
The biggest addition was when Jarnell Stokes joined the team early in January after reclassifying to be able to play this year. Stokes gives Tennessee a post player who can score, defend, and rebound. He made his impact felt in his first game against Kentucky and has moved into the starting lineup.
Tennessee will not be a NCAA team, but if the Vols can finish around .500 in the SEC they may make the NIT. That would give Tennessee more practice and more exposure as Martin rebuilds the program.
Auburn Tigers: 12-9, 2-5 SEC
Year two of Tony Barbee's rebuilding effort started out strong. They went 10-4 in the non-conference part of their schedule. They really did not beat any name team and went 0-4 against UTEP, Seton Hall, Long Beach State, and Florida State.
The Tigers are led by Frankie Sullivan and Kenny Gabrial. The duo is the only two players to average double figure in points and Gabrial leads the team in rebounding. Barbee does play a lot of players with 10 players getting at least 10 minutes a game. That comes with trying to get young players experience and find something that works offensively.
There will be no postseason this year for the Tigers, but that was expected. Right now it is just a rebuilding job that is still a couple of years away.
LSU Tigers: 12-9, 2-5 SEC
LSU fans wanted to see some signs of growth with the basketball program after back to back 11-20 seasons. If not Trent Johnson would be on the hot seat.
Well the Tigers have already won 12 games this year, the biggest being an upset of then #10 Marquette in Baton Rouge. Since that win LSU has regressed and only be 4-6 in their last 10 games. So it will take a big second off of SEC play to keep Johnson's coaching seat cool.
Luckily the back half of LSU's schedule is not as hard. Still the young Tigers need to play better to win those games. Ralston Turner and Johnny O'Bryant were expected to be a big part of the team's offense; neither is averaging more than nine points a game. If the Tigers want to win, they need those players to make a bigger impact on the court.
The Tigers will miss postseason play, so they need to make the most of the rest of their schedule to build towards next season.
South Carolina Gamecocks: 9-11, 1-5 SEC
Things are bad in Columbia. The Gamecocks' record has gotten worse the past three seasons and it looks like that trend will continue in 2011-12.
The year got off to a bad start when they lost to Elon from the Southern Conference and a home game to Tennessee State from the Ohio Valley. They did rebound to beat rival Clemson on the road and entered SEC play at 8-6.
The early season struggle can be connected to Bruce Ellington's decision to play football this year. His absence left the team without its best player and they did not get him back full time until after South Carolina's bowl game. Ellington has slowly worked his way back into basketball mode again. Malik Cook, the lone senior, is the only other player besides Ellington to average double figure in points.
South Carolina will likely finish last in the SEC this season. It only remains to be seen if Darrin Horn will survive after this year.
Georgia Bulldogs: 10-10, 1-5 SEC
When Trey Thompkins and Travis Leslie left early, Mark Fox knew he had a lot to replace. Few expected the Bulldogs to struggle like they have so far in the SEC.
After going 9-5 in non-conference play, Georgia has not been very competitive so far in league play. They are only averaging 58.3 points in their six SEC games. Only two Bulldogs are averaging double figures in points, Kentavious Caldwell-Pope and Gerald Robinson. The team is shooting less than 40% from the field as team and only 32% from the three point line.
If Georgia can turn it around in the second half of conference play and find a way to get close to .500, it would not be surprising to see the Dawgs get an NIT invite.
Thanks to Dennis Berry / @thedennisberry for writing this article for SEC Sports Fan.
What do you think?

We'd love to hear your comments and/or opinions. If you submit them here, other visitors can read them, rate them and comment on them. An e-mail address is not required.

---
2010 - 2011 SEC Basketball Review | Bruce Pearl Axed at Tennessee | Florida - BYU and Kentucky - Ohio State NCAA Basketball Previews | Preview of SEC Teams in 2011 NIT | 2011 SEC Basketball Awards | 2011 NCAA Tournament Predictions for SEC Teams | SEC Basketball March 2011 Preview | SEC Basketball February 2011 Update | 2011 SEC Basketball Tournament Preview |
---
From SEC Basketball February 2012 Update to SEC Basketball | SEC Basketball Blog | SEC Sports Blog | SEC Football | SEC Football Blog | SEC Women's Basketball | SEC Baseball | SEC Track and Field | SEC Swimming and Diving | SEC Tennis | SEC Golf | SEC Gymnastics | SEC Soccer | SEC Softball | SEC Volleyball | Best College Sports Conference | College Football Bowl History | BCS Controversy | SEC vs Big Ten Debate | SEC Sports News | Current SEC Sports News | SEC Sports Pictures and Videos | SEC Sports Fan Forum | College Sports Blogs | College Football Association | SEC Sports Fan Trips | College Sports Gift | Fathead | College Sports Tailgate Party Shop | College Sports Merchandise | College Sports Apparel | SEC Sports Fan Store | SEC Football Tickets |
---
Home Page

About Us | Contact Us | Site Search | Advertise | Terms of Use |
---