Although South Carolina football coach Steve Spurrier's record has established him as one of the top football coaches in the country during his nineteen years as a collegiate head coach, author Richard Sikes' book Laughing With the Head Ball Coach takes a humorous look at Spurrier's colorful personality rather than his many victories on the gridiron. While most coaches go to great lengths to keep their comments regarding their opponents bland so as not to give the opposition any motivation in upcoming games, Spurrier loves to needle opposing coaches and fans.
While other coaches put great emphasis on their team's shortcomings and extol the virtues of their opponents, Spurrier has never been known for false modesty. Early in his career, he protested to a sportswriter that he was tired of being called an "offensive genius". When the sportswriter asked Spurrier what he wanted to be called, the coach said "offensive mastermind" would be OK.
When former rival Florida State University violated NCAA regulations by treating football players to a free shopping spree at a Foot Locker store, the "Head Ball Coach" speculated that FSU might actually be an acronym for Free Shoes University. When Spurrier reported that there had been a fire on the Auburn campus, the coach sadly observed that twenty books had been burned (including fifteen that had not even been colored yet). When brothers Watson and Mack Brown were struggling to win games early in their careers at Vanderbilt and North Carolina respectively, Spurrier could not resist labeling them "the lose brothers". Spurrier's Florida Gators had a perfect 4-0 record against Peyton Manning's University of Tennessee teams, and the Spurrier-led Washington Redskins defeated Manning's Indianapolis Colts in their only encounter during the "Ball Coach's" brief NFL career.
When the Tennessee Volunteers retired Manning's jersey during the 2005 season, Spurrier ruined the quarterback's special day by leading the South Carolina Gamecocks to an upset of the Vols who were rated third in the nation in that year's pre-season poll. The highly regarded Volunteers finished the 2005 season with a less than spectacular 5-6 won/loss record which included losses to traditional SEC doormat Vanderbilt and Spurrier's South Carolina Gamecocks. When Spurrier was asked prior to the 2006 season how his lightly regarded Gamecocks had vanquished the highly touted Vols, he replied "I don't know - I guess the same way Vanderbilt did."
Author Sikes credits Coach Spurrier himself with naming the book. After the author proposed the title of Laughing With the Ol' Ball Coach to Spurrier, the coach replied to Sikes that "I prefer, and my friends often refer to me as the HBC or Head Ball Coach. I would appreciate it if you would use Head Ball Coach." The author chronicles the colorful coach's career from childhood through his days as Head Ball Coach of the South Carolina Gamecocks.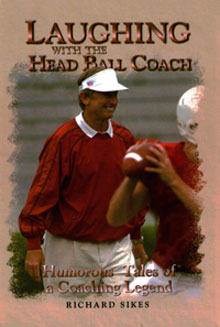 Steve Spurrier Book
---
The book, which features 27 humorous tales about Coach Spurrier and a great cover photo of the coach, is a 126 page hardback which sells for $14.95. This is the author's second book - his first was Laughing With the Bear which takes a humorous look at legendary Alabama coach Bear Bryant. Below is a link to buy Laughing with the Head Ball Coach
What do you think?

We'd love to hear your comments and/or opinions. If you submit them here, other visitors can read them, rate them and comment on them. An e-mail address is not required.

---
From Steve Spurrier Book to SEC Sports Fan Store
|
SEC Sports Blog
|
SEC Football
|
SEC Basketball
|
SEC Women's Basketball
|
SEC Baseball
|
SEC Track and Field
|
SEC Swimming and Diving
|
SEC Tennis
|
SEC Golf
|
SEC Gymnastics
|
SEC Soccer
|
SEC Softball
|
SEC Volleyball
|
Best College Sports Conference
|
BCS Controversy
|
SEC vs Big Ten Debate
|
SEC Sports News
|
Current SEC Sports News
|
SEC Sports Pictures and Videos
|
SEC Sports Fan Forum
|
College Football Association
|
SEC Sports Fan Trips
|
College Sports Tickets
|
Fathead
|
College Sports Tailgate Party Shop
|
College Sports Merchandise
|
College Sports Apparel
|
SEC Sports Fan Store
|
---
Return to Home Page
About Us | Contact Us | Site Search |
---