Paul "Bear" Bryant was the greatest college football coach to ever stride a sideline. When he retired from the University of Alabama in 1982, his 323 victories were the most ever achieved by a college coach. Although his record number of victories has been surpassed since his death, no coach has ever surpassed the Bear as a true American sports legend. From the time he earned his nickname of "Bear" by wrestling a carnival bear in his Arkansas hometown until he died a month after his retirement, Bryant's exploits took on a larger than life quality. One of Bryant's favorite sayings about himself was the observation of former Michigan State coach Duffy Daugherty who said "I don't know if the Bear is the best coach among us, but he sure causes the most commotion."
When Bryant had tremendous success using quick, undersized linemen to manhandle much larger opponents, a football official told a colleague that he reckoned that the Bear could teach a pygmy to guard Wilt Chamberlain, the seven foot basketball star. Bryant's success on the gridiron so impressed Alabama followers, that even devout fans claimed that the Bear could walk on water.
Coach Bryant's weekly television show was sponsored by Coca Cola and Golden Flake potato chips, and an apocryphal story made the rounds in Alabama that the coach had once fed a crowd of seven thousand Crimson Tide fans with 2 cokes and seven bags of potato chips. Bama practice sessions were not for the faint of heart, and long-time Tide trainer Jim Gostree said that if he ever wrote a book about the Bryant era he would call it "You Can't Make An Omelet Without Breaking A Few Eggs."
One of the secrets of Bryant's success was his ability to surround himself with outstanding young assistants. An unusually large number of his assistants went on to become head coaches at other schools, and former Georgia coach Vince Dooley once remarked that "Coach Bryant has put a lot of people into coaching, but he's put a lot of people out of coaching too." Bryant was extremely competitive in everything he did.
After the coach published his autobiography in 1974, he was introduced to best-selling novelist James A. Michener at a Birmingham function. The novelist paid Bryant a compliment when he said "Coach, you don't know what it does to an author's ego to come into a town with a book and find that another author is outselling him three to one.' When Michener drifted away, the ultra-competitive Bryant digested the author's comment and remarked to a colleague "hell, it ought to have been fifteen to one." The front cover of the book, which consists of a great picture of Coach Bryant laughing, is one of only two pictures in the Paul W. Bryant Museum of him laughing.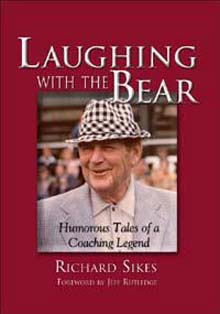 Bear Bryant Book
---
Laughing With the Bear has been praised by Bear Bryant admirers, Alabama football fans, and college football fans. With a price of $14.95 it has proven to be a very popular gift item.
You can purchase the book at Laughing With Bear. You'll love it.
If you like Laughing with the Bear you should check out Richard Sikes' second book (about Steve Spurrier): Laughing with the Head Ball Coach.
Share Your Bear Bryant Story Or Opinion Here

We'd love to hear your story (or opinion) about Bear Bryant. If you submit it here, other visitors can read it, rate it and comment on it. An e-mail address is not required. You can submit a picture too.

---
From Bear Bryant Book to SEC Sports Fan Store
|
SEC Sports Blog
|
SEC Football
|
SEC Basketball
|
SEC Women's Basketball
|
SEC Baseball
|
SEC Track and Field
|
SEC Swimming and Diving
|
SEC Tennis
|
SEC Golf
|
SEC Gymnastics
|
SEC Soccer
|
SEC Softball
|
SEC Volleyball
|
Best College Sports Conference
|
BCS Controversy
|
SEC vs Big Ten Debate
|
SEC Sports News
|
Current SEC Sports News
|
SEC Sports Pictures and Videos
|
SEC Sports Fan Forum
|
College Football Association
|
SEC Sports Fan Trips
|
College Sports Tickets
|
Fathead
|
College Sports Tailgate Party Shop
|
College Sports Merchandise
|
College Sports Apparel
|
SEC Sports Fan Store
|
---
Return to Home Page
About Us | Contact Us | Site Search |
---