SEC in 2013 NIT
By Dennis Berry

After the NCAA brackets were released, the National Innovational Tournament brackets were announced a few hours later. This year there will be three SEC teams looking to make it to New York. The Kentucky Wildcats, Alabama Crimson Tide, and Tennessee Volunteers all will compete to try and make it to Madison Square Garden.
This was a down year for the SEC. While these teams all had good years, they were left out of the big dance. Too many bad losses and not being able to win games on the road really cost these teams.

The Tennessee Volunteers are a two seed in Southern Miss brackets. Tennessee's NCAA fate was sealed after losing to Alabama in the Quaterfinals of the SEC Tournament. After a slow start to the season, Tennessee really started playing well at the end of the year.  By then, it was too late.

They will open up the NIT by hosting Mercer. While Mercer has experience winning at a SEC school – they beat Alabama earlier this year – it would take a great effort to get a win at Tennessee. The Vols are on a five game winning streak at home and they play really tough on their home court.

After that a match up with either BYU or Washington would be next. Again, Tennessee would be favored on their home court and should be able to win against either team.

The toughest road block that would keep Tennessee out of Madison Square Garden would be a road game against one seed Southern Miss. The Eagles have lost twice at home, to Memphis and Wichita State, both NCAA teams. It would be a tough game and Southern Miss would probably be favored, but Tennessee should win that game.

The Alabama Crimson Tide drew a one seed and open play against Northeastern. This will be the Tide's second appearance in three years in the NIT. They were the runner ups in 2011.

After defeating Tennessee in the SEC Tournament, it appeared that Alabama needed a win against Florida to have a chance to make it to the NCAA. They lost that game and were NIT bound.

The Tide should have no problem defeating Northeastern. If Alabama can control the paint and the boards, they should be able to get the win.

After that it will get tougher for the Tide. A likely second round match-up with Stanford looms after that. If the Tide makes it to the regional final, they will most likely face a Maryland team that will likely beat them.

For Kentucky it has been a really down season. What started out as a season ranked in the preseason Top 5 quickly went south. The Wildcats lost at home for the first time under John Calipari. Then they lost their best player in Nerlens Noel to an ACL injury at Florida. Losses on the road to Arkansas and Georgia really hurt them as well. The final nail in their NCAA coffin was a loss to Vanderbilt in the SEC Tournament.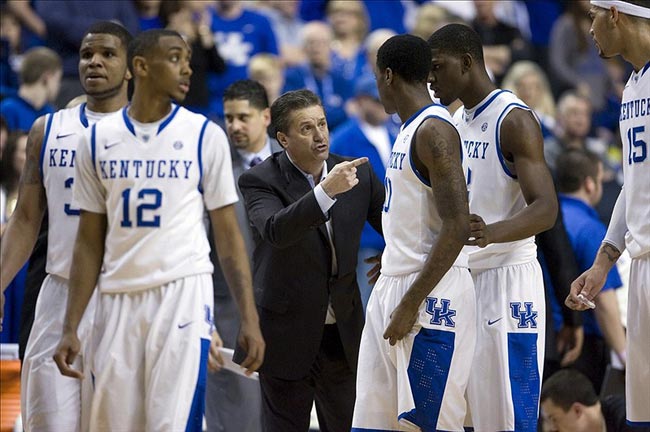 Feb 23, 2013; Lexington, KY, USA; Kentucky Wildcats head coach John Calipari coaches his players in a time out during the game against the Missouri Tigers at Rupp Arena. Kentucky defeated Missouri 90-83. Photo Credit: Mark Zerof-USA TODAY Sports.

Kentucky is a one seed in the NIT. In an unfavorable twist, they will have to play on the road in the first game at eight seed Robert Morris. This is because Rupp Arena is not available because it is hosting second and third round games in the NCAA Tournament.
So Kentucky will have to go on the road in what will surely be a very crazy environment. This is no doubt the biggest game Robert Morris has hosted. Kentucky is 0-3 on the road since losing Noel and they will have to find a way to get up to avoid being 0-4.

If they get past Robert Morris, they will be back in Rupp for their next two games. Their next game would probably be Charlotte and then most likely Baylor will come back to Rupp. Baylor was the first team to beat Kentucky at Rupp under John Calipari. It is very hard to see Kentucky being able to get past them for a trip to New York.

Kentucky fans are not looking forward to this game and are ready to put this season behind them as they look towards next season.

It is hard to see any SEC team playing in New York. The one team that has the best shot would be Tennessee.
What do you think?

We'd love to hear your comments and/or opinions. If you submit them here, other visitors can read them, rate them and comment on them. An e-mail address is not required.

By
Mo Johnson
, Copyright © 2006-2017 SECSportsFan.com