SEC Football 2013-2014 Bowl Schedule, Preview and Predictions

(Sorry, Not Good News For BCS Title Game)
First, the caveats:  don't bet the house on these predictions and know that I haven't even taken a look yet at the college football odds for these games.  Still, here's my best shot, and if you are an SEC fan, you won't like the last one on this list:   
Franklin American Mortgage Music City Bowl

Georgia Tech (7-5) vs. Ole Miss (7-5)

Back in the 1953 Sugar Bowl, these teams met when only the best teams went bowling since there were only a few bowls.  Ole Miss would score first, but 24 unanswered points gave the Jackets the victory 24-7.
These teams will have a home and home in 2017-18 so this will be a nice way to get the ball rolling.

GT found a little extra offense in their game against Georgia, and I think Coach Johnson might have a few new wrinkles to add to the deception of his option offense.

After seeing Ole Miss play against Mississippi State, I think Coach Freeze should take some notes.  Unfortunately, he will see them firsthand and it will be too late.

Georgia Tech 38 Ole Miss 28


AutoZone Liberty Bowl

Rice (10-3) vs. Mississippi State (6-6)

Speaking of the Bulldogs, they get Rice in the Liberty Bowl, and Rice is coming of their first undisputed conference championship since 1957.

It's crazy to see a ten-win team playing a team with six losses in a bowl game, but you have it here.

If I were Coach Mullen, I would call the guys over at Bendini, Lambert and Locke and see if they can get Bill Devasher and his henchmen to spy on the Owls practices since that is the only way they are going to win in Memphis.

Rice 27 – Mississippi State 10


Chick-Fil-A Bowl

Duke (10-3) vs. Texas A&M (8-4)

In what will be Johnny Punkball's last game (Good riddance), I will make sure to celebrate the passing on of this moron with lots of good bourbon and a huge bowl of my private stock of Funions.

Even though A&M will win by about 30 points on the field, I am picking Duke to win if we are counting the number of punks on the field.  If that is the criteria, the Devils win easily.

Texas A&M 1 – Duke 0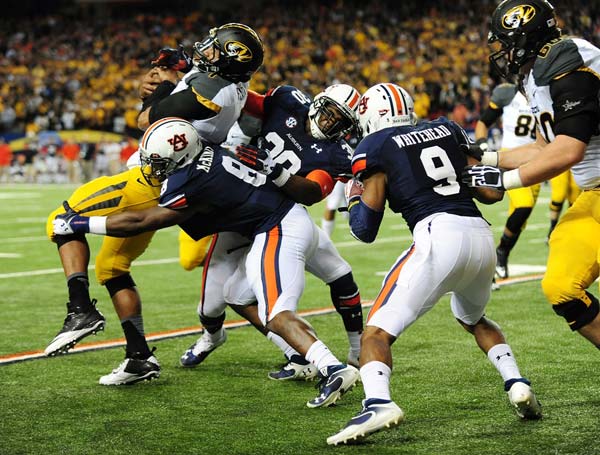 TaxSlayer.com Gator Bowl

Nebraska (8-4) vs. Georgia (8-4)

A rematch of last year's Capitol One Bowl will see fireworks a plenty, just like last year.

This year, both teams did not have as successful seasons as they did in 2012, but still managed to get to a New Year's Day Bowl game.

Georgia finished on a high note, even though they lost Aaron Murray, and were able to win their last two games.  It should have been five in a row, but a fluke play denied the Dawgs the win and was the springboard to an Auburn run to the SEC Championship and a date for the National Championship.

Nebraska finished with two losses in their final three games, which had their embattled coach, Bo Pelini, daring his school to can him after a blowout loss to Iowa.

With both teams headed in different directions, there can only be one choice here.

Georgia 41 - Nebraska 21


Outback Bowl

Iowa (8-4) vs. LSU (9-3)

Another bowl rematch, but this one was from the 2005 Capitol One Bowl.

Iowa stunned Nick Saban and LSU with a 56-yard TD pass as time expired to win the game 30-25.

This time, it won't come down to the last play since LSU is a much better team.  And get this, the Hawkeyes lost to Northern Illinois.  Granted, the Huskies are a really good football team, but a Big Ten school should never lose a game like that.

I am pretty sure they will lose this one.

LSU 35 – Iowa 14


Capital One Bowl

Wisconsin (9-3) vs. South Carolina (10-2)

I think this is going to be one of the most exciting of all the bowl matchups.

You have a South Carolina team that is fresh off another beating of Clemson, and a Wisconsin squad that really is not your prototypical Big Ten team.

USC can pass the ball with Connor Shaw, who can also tuck it and run which makes their offense even more dangerous.

The Badgers let one slip away in Tempe and a pair of touchdown losses to Ohio State and Penn State was the only other blemishes on their record.  They can also run the ball.

South Carolina lost to Tennessee and Georgia.
 
On Wisconsin!

Wisconsin 24 – South Carolina 21


Allstate Sugar Bowl

Oklahoma (10-2) vs. Alabama (11-1)

Let's go back to the 1963 Orange Bowl as Bear Bryant and Alabama knocked off Oklahoma and Bud Wilkinson 17-0 in Wilkinson's last game.

This year, if Bama wins again, could this be Bob Stoops last game?  Big game Bob hasn't won very many big games the last few years, and don't give me the win last week over the overrated Cowboys.

I think Bama has learned their lesson after mailing it in a few years ago at the Sugar Bowl when they got it handed to them by Utah, so it won't happen again.

And with Oklahoma as their opponent, that should pretty much make it an impossibility.

Alabama 35 – Oklahoma 17


AT&T Cotton Bowl

Oklahoma State (10-2) vs. Missouri (11-2)

I think Auburn just scored again, Missouri….

After giving up a season's worth of points in one game, the Tigers revisit one of their old Big 12 conference foes as they meet the Cowboys in Dallas.

Both teams are coming off games they lost which would have given them a conference title, so the question is which team will be able to rebound?

I think it is Missouri, who has more weapons on offense and a defense that is eager to redeem themselves.

Missouri 31 – Oklahoma State 21


BBVA Compass Bowl

Houston (8-4) vs. Vanderbilt (8-4)

Vandy is in a bowl for their third straight year and has eight wins in back-to-back regular seasons for the first time since 1927-28.

In 120 years, the 'Doores had been to a total of four bowl games.  That guy Franklin knows what he is doing…

After comeback wins over Tennessee and Wake Forest, the Compass tells me the Anchor will be heading to another victory in this one.

Vanderbilt 38 – Houston 14


Vizio BCS National Championship

Florida State (13-0) vs. Auburn (12-1)

What a game we have to determine the national champions in the final season, and game, of the BCS era.

Florida State has rolled over everyone and has been unchallenged all year long.  Usually you have a week when you come out and just don't have it.  Well, that has not been the case in Tallahassee in 2013.

Auburn is a surprise entry into this game.  After barley getting by Washington State and Mississippi State early (Yeah, that sounds pretty funny now), a fluky tipped pass to beat Georgia and a 109 yard missed FG return against Alabama sandwiched around a beat down in Baton Rouge, the Tigers road to the BCS Championship is far different than the 'Noles has been.

As much as I hate to predict it, since I would love to see the SEC's run of titles continue, I have a feeling this time Auburn will face a team that can match up against them on both sides of the ball.  And when a game is close like this, usually you need a little luck to get by.

I think the Tigers have used up all their nine lives in 2013.

The King is dead.  Hello ACC, you now have one win in a long streak you will need to maintain.
Florida State 35 – Auburn 31



Read Scott Sergent's outstanding new book:
What do you think?

We'd love to hear your comments and/or opinions. If you submit them here, other visitors can read them, rate them and comment on them. An e-mail address is not required.

What Other Visitors Have Said
Click below to see contributions from other visitors to this page...

You're Predictions -- Not Good! Not rated yet
Wow your SEC predictions are going well! NOT! It is more than obvious you don't know anything about these teams! I could have told you Miss State and Old …
SEC bowl season Not rated yet
There will undoubtedly be some big wins for the SEC this bowl season. I also see some teams in for a big disappointment. Georgia should beat Nebraska. …
From SEC Football 2013-2014 Bowl Schedule, Preview and Predictions to SEC Football Blog

By
Mo Johnson
, Copyright © 2006-2017 SECSportsFan.com