2010 LSU TIGERS BASEBALL
---
Looking for our current LSU Tigers Baseball page? Check out 2011 LSU Tigers Baseball.
---
What else is there to say about the season that the LSU Tigers had in 2009 other than, quite simply, spectacular. For the 2nd consecutive season, this was the best team in the nation, and the Tigers pretty much steamrolled the competition from the first pitch of the season until the final out was made in the national championship game. And despite the level of talent demonstrated in the SEC last season, there was never really any doubt who the team to beat was.
There isn't much not to like about the Tigers performance last season. The team won in the conference, the team won outside of the conference, and the team won in the postseason. The team finished the 2009 season with an overall record of 56-17. In addition to a good record overall, the team performed well in the challenging SEC, where it amassed a record of 20-10. And, of course, the team carried its dominance straight through the postseason, where it won the College World Series for the 2nd straight season.
Key Departing Players:
The inevitable downside to winning two consecutive national titles is that there is going to be a lot of talent constantly in and out of the lineup. And the players that are going to be gone from the 2010 that were key contributors in 2009 are significant. Multipositional talent Ryan Schimpf, who spent time over the course of the season at 1st base, 2nd base, and in the outfield, is gone, and he takes with him his .336 batting average, 22 home runs, and 70 runs driven in. Also gone is middle infielder DJ LeMahieu (.350 batting average, 5 home runs, 43 runs batted in), as well as Sean Ochinko and Jared Mitchell, both of whom played key roles in the 2009 season.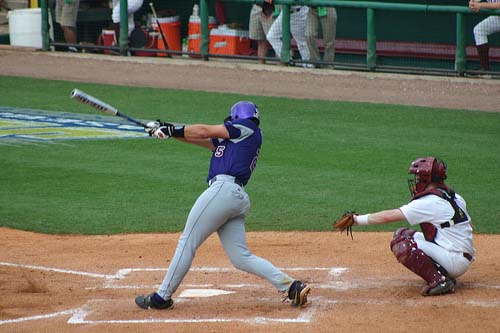 LSU Baseball Hit.
Thanks to bjmillican at flickr.com for the picture.
---
When it comes to the pitching staff, 2010 comes with a dose of good news and bad news. The good news is that only 2 pitchers of a any significance leaving the roster. The bad news is that one of them is Louis Coleman, one of the best pitchers in the nation in 2009. Coleman, who was drafted by the Kansas City Royals in the 2009 MLB Entry Draft, went 14-2 last season with a 2.93 ERA. He will be extremely difficult to replace. And in addition to Coleman, righthander Nolan Cain, who went 5-0 last year with a 4.01 ERA, was also a strong presence in the pitching staff in 2009.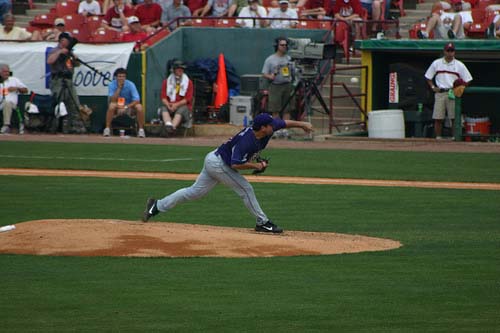 LSU Baseball Pitch
Thanks to bjmillican at flickr.com for the picture .
---