College Football Blogs
Reading great college football blogs are a fun and easy way to keep up with the latest news and developments in the ever-changing world of college football. Here's some of my favorite college football blogs.
My top college football blog is, of course, our own SEC Football Blog. On that page you'll find links to many of our other top Southeastern Conference Football websites and blogs.
fanblogs.com
Featuring the latest college football updates from all over the country, this College football site offers some of the wittiest and most entertaining College football writings and podcasts on the Web. Started in April 2003 by Kevin Donahue and Pete Holiday, Fanblogs.com is a weblog dedicated to college football. This site is exciting as it invites active participation from readers and is a true knowledge base.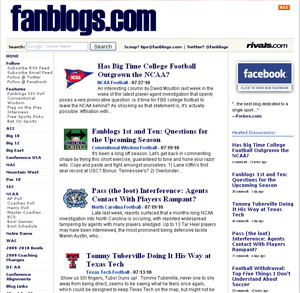 http://www.fanblogs.com
ncaafootball.fanhouse.com
The site provides the latest College basketball news, analysis, commentary, polls, scores, schedules, and stats throughout the season. Given the quality of content of the website I am sure you will love each and every second you spend on this site.
http://ncaafootball.fanhouse.com/
msn.foxsports.com/cfb
This is the site where you see people who have played real college football, blog and share their thoughts. Don't miss any action during this football season, for you have this very best site from the MSN clan, bringing you the latest news from the hot stove. Come back to watch the fun you had while watching a game. The videos take you to the same excitement level.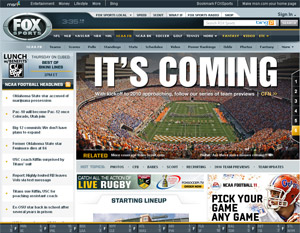 http://msn.foxsports.com/cfb
fantasycollegeblitz.com
As the name suggests, fantasy college blitz is about college fantasy football. The writers provide you some expert insights and opinions on managing your college fantasy football team. You do not have to hunt for another blog or site for winning ideas on Fantasy Football. And, Blitz radio offers some podcasts for the College Football buffs as well.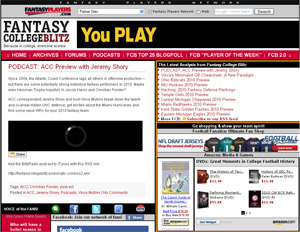 http://www.fantasycollegeblitz.com/
al.com/sec
This is a quality blog on South Eastern Conference College Football and aims at bringing all the SEC fans under one roof. The site is the largest single media company across Alabama crossing 2.6 million unique monthly visitors and more than 55 million page visits a month. The site design needs some improvement, but the honors they have received are outstanding.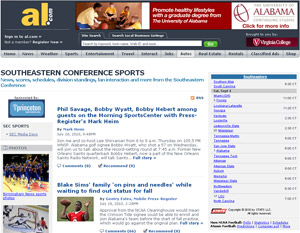 http://www.al.com/sec/
sundaymorningqb.com
They got this name for all the fun the writers have on Sundays, going to the site and experiencing the real passion from watching the game and the fans. The result is a detailed breakdown of all the weekend's action. This is another community from the very renowned SB Nation network.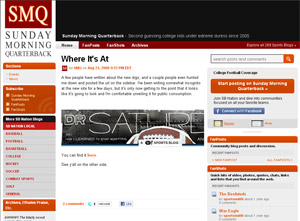 http://www.sundaymorningqb.com/
collegegameballs.com
CollegeGameBalls.com analyses football through interactive commentary. It contains excellent debatable material in the form of blogs and articles. Apart from covering the entire college football world, the site is home to the biggest collection of signs from ESPN's College Game Day. The sometimes funny and at others nasty comments from the readers and blog followers make for an interesting time.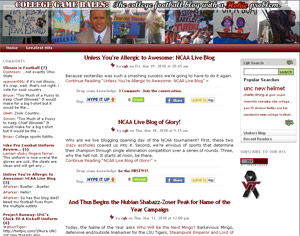 http://www.collegegameballs.com/
en.wordpress.com/tag/sec-football
This site on SEC Football is easy on the eyes. Few images and no fluff! The information is up to date and the content is professionally written. After all it's words that matter. This is sure to impress a lot of fans out there, looking for some authentic information on their favorite teams. I personally have high regards for this blog.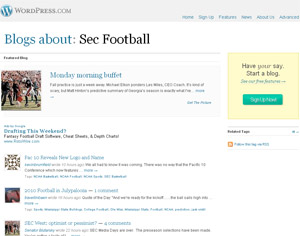 http://en.wordpress.com/tag/sec-football/
accsec.blogspot.com
If you follow both ACC and SEC games, this is the site worth visiting. The writer focuses on conferences from a historical perspective. Altogether it takes a distinctive approach on College Football.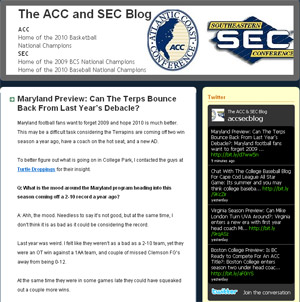 http://accsec.blogspot.com/
fansided.com/forums
Feed yourself with the unprecedented daily news coverage on this blog network for sports. Take part in the forums and discussions to add excitement to your browsing experience. This is your one stop destination to look for exclusive interviews from players, coaches, front office, media and writers.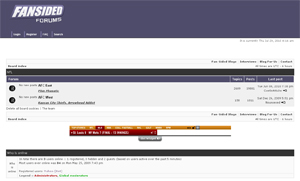 collegefootballresource.com
This is a very comprehensive online resource for all college football fans. The blog serves as a database of a huge number of good quality links all neatly organized. The blog at CFR is very influential in the college football circle and is known to be controversial as well which makes it that much more popular. The forum at CFR is abuzz with a gamut of well informed fans sharing their thoughts on college football.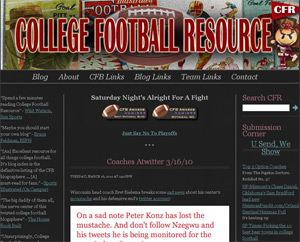 http://www.collegefootballresource.com/
heismanpundit.com
Hard hitting college football commentary and analysis from Chris Huston is what this website offers. Coming from a College Football background and showing his dedication and expertise in the subject, Chris Huston has managed to bring forth all his authority into his writings. The writer has compiled the 10 Heismandments or the rules to winning the Heisman Trophy. An interesting blog to follow!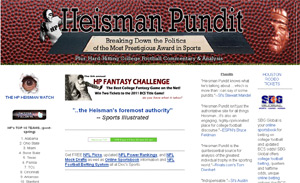 http://heismanpundit.com/
inthebleachers.net
Michael Felder has proved his amazing writing skills with this site. Though there is some excellent written content on college football, I believe that's not the forte of this blog. The blog has a huge database of podcasts and the author keeps them coming at an amazing pace. So if you are a college football enthusiast who prefers listening to audio rather than reading an article then this blog is for you.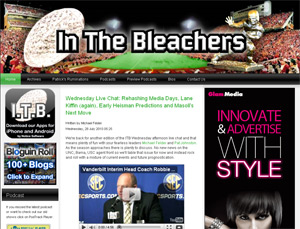 http://inthebleachers.net
danashunal.com
DaNashunal.com is a college football social site for hardcore fans. It features news, video, pics, an anything goes forum, database, arcade games, and digital trading cards. It's goal is to help fans maximize their enjoyment of the college football season.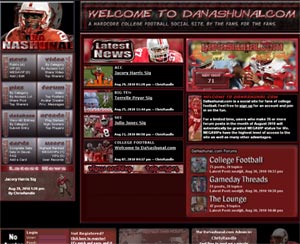 http://danashunal.com/
---
Find other great sports blogs at:
College Baseball Blogs
You will find team specific information, general discussions, game reviews, player profiles, interviews, schedules, news updates and much more in these resources.


College Basketball Blogs
This is one of the better college basketball blogs out there on the web. The blog covers scores, standings, statistics, players and rankings among a host of other things.
---
What do you think?


We'd love to hear your comments and/or opinions. If you submit them here, other visitors can read them, rate them and comment on them. An e-mail address is not required.

---
From College Football Blogs to College Sports Blogs | SEC Sports Blog | SEC Football | SEC Basketball | SEC Women's Basketball | SEC Baseball | SEC Track and Field | SEC Swimming and Diving | SEC Tennis | SEC Golf | SEC Gymnastics | SEC Soccer | SEC Softball | SEC Volleyball | Best College Sports Conference | College Football Bowl History | BCS Controversy | SEC vs Big Ten Debate | SEC Sports News | Current SEC Sports News | SEC Sports Pictures and Videos | SEC Sports Fan Forum | College Football Association | SEC Sports Fan Trips | College Sports Gift | Fathead | College Sports Tailgate Party Shop | College Sports Merchandise | College Sports Apparel | SEC Sports Fan Store | SEC Football Tickets |
---
Home Page

About Us | Contact Us | Site Search | Advertise | Terms of Use |
---