College Baseball Blogs
If you can't get enough of NCAA Baseball (especially SEC baseball) then you will love the college baseball blogs we follow avidly. They contain a whole lot of information on the latest happenings in the College Baseball world.
You will find team specific information, general discussions, game reviews, player profiles, interviews, schedules, news updates and much more in these top baseball blogs and websites.
So, here's our list of the best college baseball blogs.
collegebaseballblog.com
This is one of the oldest college baseball blogs that was started during the college world series in 2005. You will find a good coverage of the college baseball season on this blog. The blog employs staff that is passionate about the game and cover in excess of almost 100 games each and every season. Thus you will never have dearth of information about your favorite team or player.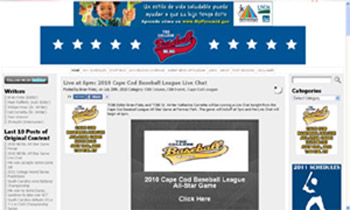 http://www.thecollegebaseballblog.com
redshomeplate.com
If you follow Cincinnati Reds baseball team then this blog is your one stop resource for all the information you will ever need. Game reviews, trades, rumors and gossips about the Reds makes this blog an interesting read. You can buy Reds merchandise and tickets from this blog. Overall a good blog dedicated to the Cincinnati Reds.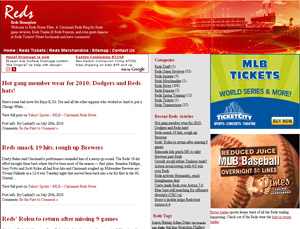 http://www.redshomeplate.com
baseballamerica.com
Evolved from the biweekly magazine Baseball America, Aaron Fitt, the lead writer, brings this blog to you and lists interesting aspects on College Baseball and features all the participating teams. Listen to and download College podcasts from this blog. You may shop for your favorite sports merchandise on the blog.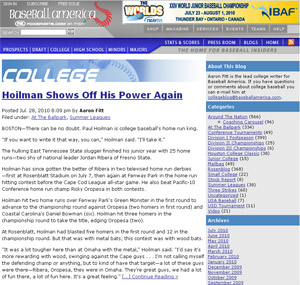 http://www.baseballamerica.com/blog/college
espn.go.com/college-sports/blog/_/name/ncaa_baseball
If you are looking for the latest news and notes on the Omaha College World Series, this is the site for you. ESPN provides extensive college baseball coverage through this blog from its eminent writers and columnists.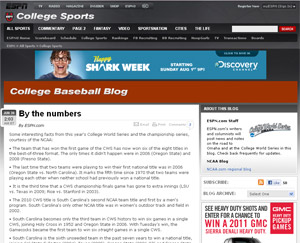 http://espn.go.com/college-sports/blog/_/name/ncaa_baseball
majorleagueblogging.com
Major League Blogging updates you on the hottest baseball news, especially that of the Major League. It's a place where college baseball fans discuss rumors, events or even provide feedback. The change in rules of the Major League Baseball is featured on the website. You can purchase game tickets and other baseball goodies from the site.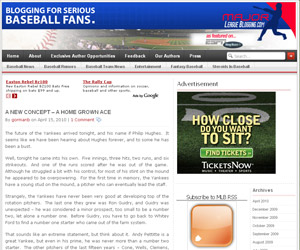 http://www.majorleagueblogging.com
midwestsportsfans.com
If you are someone supporting the Midwest sports teams, mainly Indiana University basketball, Chicago White Sox, and Cleveland Browns, stop hunting for other fan-centric sites. The blogs here discuss anything and everything relevant to Midwest sports fan. The sports betting information, game disputes and sports videos, all beef it up.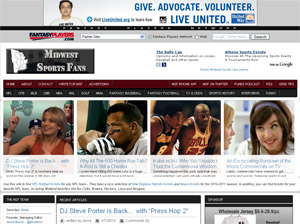 http://www.midwestsportsfans.com
minorleagueball.com
This prominent SB Nation blog site has taken a different approach to discuss the present, past and the future of Baseball. It features over 250 distinct team and sports specific sites and covers every major sports event in the US and Canada through the Minor League Baseball Community. The site has 40 writers, editors and researchers that live and breathe sports, covering all the essential baseball news for its fans. This is for those who crave for intelligent baseball content and like to interact among people who share a common interest.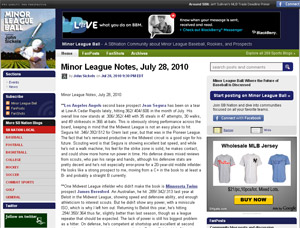 http://www.minorleagueball.com
yanksfansoxfan.com
The YFSF website is primarily dedicated to the fans of Boston Red Sox and New York Yankees. The site is a good mix of serious stories and tales in a lighter vein. The blog covers almost all aspects of the two teams. You will find history, predictions, statistics and lot more over here. And yes don't forget to check their store for your very own YFSF Gear.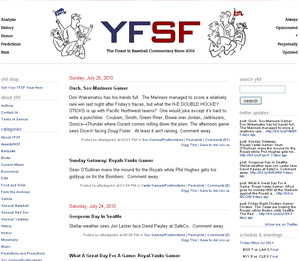 http://yanksfansoxfan.typepad.com
battersbox.ca
Founded by Kent Williams in the year 2001, Batter's Box is known to be one of the most admired sources of baseball information. You will not find any of the fluff floating around in other forums and blogs. The guys here mean business and have done a great job of providing excellent intelligent baseball commentary. The blog basically focuses on Blue Jay Major and Minor League clubs. If you are looking for some intelligent baseball discussion then you must check this out.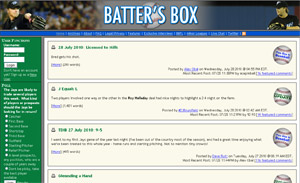 http://www.battersbox.ca
yardbarker.com/college_baseball
Looking for a hangout to discuss college baseball? Yardbarker.com may be the place for you. It has a nice mix of real life stories, gossips and rumors, photos, forums, quizzes and a host of other cool things related to baseball that will keep you entertained.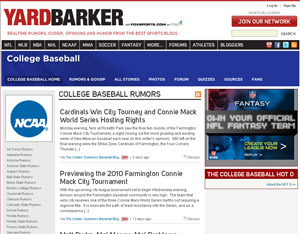 http://www.yardbarker.com/college_baseball
baseballmusings.com
Baseball Musings features podcasts and twitter feeds and updates on the latest College baseball games and schedules. The site offers the unique line up analysis of nine players you choose and the defensive charts for each player of a team by position. If you download the baseball musings toolbar, you get the latest baseball news and headlines delivered right to your browser, easing your research. This is a great baseball blog with a cool baseball podcast.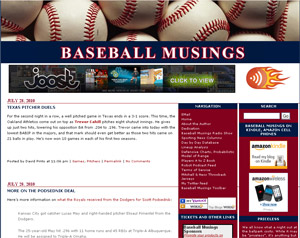 http://baseballmusings.com
chicagocubs-baseball.com
This blog is for the fans of Chicago Cubs looking for the latest news and commentaries. The site brings exclusive MLB news and allows you to take part in polls and also view the poll archives. Scour through the blog archives to dig out interesting blogs posted in the past.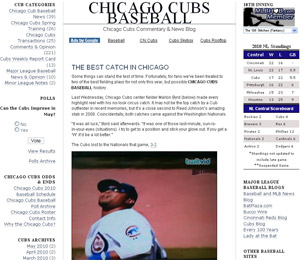 http://www.chicagocubs-baseball.com
nybaseballdigest.com
NYBD is a synopsis of New York baseball teams' news and rumors. Mike Silva runs the blog in his personal capacity and is ably supported by six other very knowledgeable baseball enthusiasts. The site includes the interviews of famous players from New York Mets and New York Yankees in the mp3 format that can be either listened right there on to or downloaded to be used at convenience.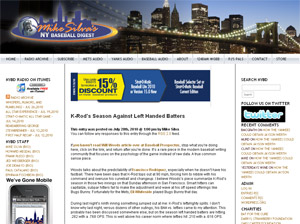 http://nybaseballdigest.com
sportingnews.com/baseball/teams/mets/blogs
Another blog dedicated to the New York Mets and their fans. As a Mets fan you can read, discuss, and present your opinions on the team. If fantasy baseball interests you then this site has quite a bit in store for you. Fantasy baseball option creates an uncommon and interesting browsing experience. The unique 5 star ranking system on this site ensures rewards and recognition for the active and contributing members. The more you participate, the more points you get and hence more ranking. Overall this is a fun blog to be associated with.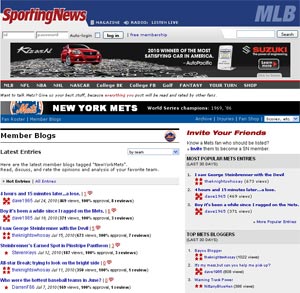 http://www.sportingnews.com/baseball/teams/mets/blogs
mlbtraderumors.com
MLB Trade Rumors is for the last minute College baseball rumor that you are looking for. It also features game updates and game schedules of the teams from around the country. The site focuses on trades and free agent signings. The team of nine quality writers brings you red hot news and analysis consistently, the reason for the blog's popularity among baseball players and fans of all ages.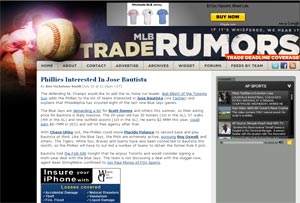 http://www.mlbtraderumors.com
---
Find other great sports blogs at:
College Basketball Blogs
This is one of the better college basketball blogs out there on the web. The blog covers scores, standings, statistics, players and rankings among a host of other things.


College Football Blogs
To stay up on the latest news and updates on college football you have to visit the top college football blogs. So here's the list of my favorite college football blogs for you.
---
What do you think?


We'd love to hear your comments and/or opinions. If you submit them here, other visitors can read them, rate them and comment on them. An e-mail address is not required.

---
From College Baseball Blogs to College Sports Blogs | SEC Sports Blog | SEC Football | SEC Basketball | SEC Women's Basketball | SEC Baseball | SEC Track and Field | SEC Swimming and Diving | SEC Tennis | SEC Golf | SEC Gymnastics | SEC Soccer | SEC Softball | SEC Volleyball | Best College Sports Conference | College Football Bowl History | BCS Controversy | SEC vs Big Ten Debate | SEC Sports News | Current SEC Sports News | SEC Sports Pictures and Videos | SEC Sports Fan Forum | College Football Association | SEC Sports Fan Trips | College Sports Gift | Fathead | College Sports Tailgate Party Shop | College Sports Merchandise | College Sports Apparel | SEC Sports Fan Store | SEC Football Tickets |
---
Home Page

About Us | Contact Us | Site Search | Advertise | Terms of Use |
---