Can a SEC Team Make a Run in the NCAA?
By Dennis Berry


It's been a couple of days since the NCAA Tournament Selection Committee released the 2013 Tournament bracket. People around the nation are pouring over their brackets during work trying to figure out who will win it all this year.

One has to wonder how many people have a SEC team making a deep run. This year they only have three SEC teams to look at. The Ole Miss Rebels, Missouri Tigers, and Florida Gators were the only teams to make it this year.

So let's see how each team might do in this year's field...

The Ole Miss Rebels are the 12th seed in the West Region and play the 5th seed Wisconsin Badgers. This is a good old SEC/Big 10 battle. This should actually be a pretty good game, one of contrasting styles.

Wisconsin likes to slow the pace down and hold on to the ball as long as possible. They only average 65.5 points a game. This is because they limit the other team's possessions and only give up 55 points a game on defense. Wisconsin is a dangerous team that made it to the Big 10 championship game by knocking out Michigan and Indiana before losing to Ohio State.

If you have followed any SEC basketball then you know all about Marshall Henderson. If not, you are about to get a heavy dose of him from CBS. Ole Miss punched its ticket by winning the SEC Tournament. Henderson was named the Most Outstanding Player.

The thing that Ole Miss is going to do is be able to pick up the tempo. They cannot win the game if they allow Wisconsin to slow the game down and play physical defense. If they can get out and run, they will have a great shot at scoring a "12 over 5" upset that we see yearly.

It sounds crazy but if Henderson is hot, it is not crazy to see Ole Miss in the Sweet 16.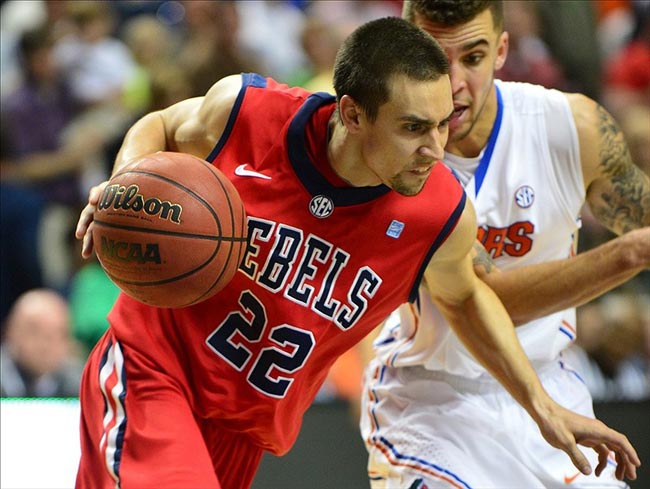 Mar 17, 2013; Nashville, TN, USA; Mississippi Rebels guard Marshall Henderson (22) drives against the Florida Gators during the championship game of the SEC tournament at Bridgestone Arena. The Rebels beat the Gators 66-63. Photo Credit: Don McPeak-USA TODAY Sports.
For the Missouri Tigers, they have probably the toughest road. They are slotted in an 8/9 match-up and drew a very tough Colorado State team.

Honestly who knows what to expect out of this matchup. The 8/9 match-up is one of the toughest in the NCAA to pick. Both teams are usually evenly matched talentwise.

Missouri should win this match up. They should be able to dominate the post and control the paint. If they do that, they should move on to Round 32. Once there they will likely run into the top seed, the Louisville Cardinals.

That will probably be as far as the Tigers go. It is just hard to see the Tigers being able to win this match up. You cannot trust them once games get tight as they have blown several close games this season.

Florida Gators drew a three seed in the South region. The Gators appear to have a good shot at getting to the Sweet 16.

They open up with Northwestern State in their opening game. While Florida should win this game, it will not be an easy out. The Demons won the Southland Tournament and received the automatic bid. They went 23-8 during the season and 15-3 in the Southland Conference. They like to push the ball and play an up tempo game. Their best player is DeQuan Hicks, who averages 14.1 points and 5.8 rebounds a game.

Florida should be able to shut them down and move on to the next round. There they will draw either Minnesota or UCLA. Florida is better than both of those teams and should be able to move on past them.

After the first weekend of the tournament, both Florida and Ole Miss should be in the Sweet 16.

What do you think?

We'd love to hear your comments and/or opinions. If you submit them here, other visitors can read them, rate them and comment on them. An e-mail address is not required.

By
Mo Johnson
, Copyright © 2006-2017 SECSportsFan.com