2012-13 SEC Basketball Wrap-up
By Dennis Berry
The 2012-13 SEC basketball season has come to an end. For the most part it was a disappointing year on the hardwood for the SEC. The conference as a whole did not perform as well as it has the past few years.

That was highlighted when only three teams made the NCAA Tournament. Those teams were Florida, Missouri, and Ole Miss. Missouri was knocked out in the second round by Colorado State. Ole Miss was able to upset Wisconsin in the second round, before losing to La Salle in the third round.

Only Florida was able to move on to the second weekend. They advanced to the Elite Eight for the third straight year, but lost for the third straight year. The Gators played in what can only be described as an uninspired performance against Michigan.

Three other teams made the N.I.T this year. Those teams were Kentucky, Alabama, and Tennessee. All three of those teams were right on the NCAA bubble, but were left out this year in favor of mid-major programs. Kentucky and Tennessee both lost in the first round of the tournament, while Alabama lost in the regional finals to Maryland.

So who did what this year in the SEC?

Starting with the bad, there were five teams that finished with losing records this year. Auburn (9-23), Mississippi State (10-22), South Carolina (14-18), Vanderbilt (16-17), and Georgia (15-17). That is not a surprising group. Going into the SEC you figured that those teams would be in the bottom half.

Auburn seemed to take a step back this year as well. Many figured that in Tony Barbee's third year the Tigers would take a step forward, but that did not happen. The Tigers went 3-15 in conference play and the year ended with a 10 game losing streak. The Tigers ended the year with 16 losses in their final 17 games. Barbee is 35-59 as Auburn's head coach.

Mississippi State was a mess going into this year, but they were able to win 10 games and not finish last in the SEC. Rick Ray did what should be considered a great job in his first year as Mississippi State's coach. The Bulldogs had a limited number of scholarship players available and fought injuries all year. It was not until late in the season that Ray had enough players to go five on five in practice. Still he won 10 games, did not finish dead last in the league, and won a game in the SEC tournament.

Frank Martin just finished his first year at South Carolina and he is probably happy for it to be over. The Gamecocks are still years away from competing. After going 10-3 in the non-conference part of the schedule, South Carolina went south in SEC play. They went 3-12 in their final 15 games. They hit the bottom when they lost in the SEC tournament to Mississippi State, a team they should have beat. 

Many knew that this year would be a struggle for Vanderbilt. It started out that way for the Commodores. They went 6-6 to start the year that included losses to Marist from the Metro Atlantic Athletic Conference. Once SEC play started it seemed like Vanderbilt would keep going south. After a loss at LSU, they were 8-13 and 2-7 in the SEC. Then they turned things around. They went 6-3 to end the season and won two games in the SEC Tournament.

Georgia lipped into conference play with a 6-7 record. Some of those losses came to Iona and Youngstown State. Once conference play began the Bulldogs started to play with confidence. They had a season high five game winning streak from January 26 to February 9. Then they won three of their final five games of the regular season – with wins against Tennessee and Kentucky. Georgia had the SEC Player of the Year in Kentavious Caldwell-Pope.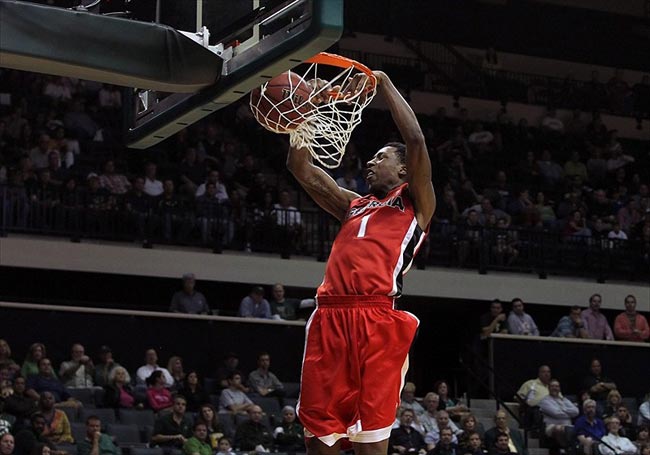 November 30, 2012; Tampa, FL, USA; Georgia Bulldogs guard Kentavious Caldwell-Pope (1) dunks during the second half against the South Florida Bulls at the Sun Dome. South Florida Bulls defeated the Georgia Bulldogs 64-53. Photo Credit: Kim Klement-USA TODAY Sports.

---

Then you have a team like Texas A&M. The Aggies finished the year with a 18-15 record, but they only went 7-11 during conference play. They were 10-3 heading into conference play and all three of their losses were to NCAA teams – Saint Louis, Oklahoma, and Southern. Then after winning their first two SEC games – Arkansas and at Kentucky – they struggled the rest of the way. The highlight of the year for the Aggies will be becoming the first SEC team to win at Rupp Arena against a John Calipari Kentucky team. That game, Elston Turner scored 41 points against the Wildcats.

LSU was another SEC team that was able to take advantage of a weak non-conference schedule and went 9-2 before league play, and then the Tigers lost their first four SEC games. In that losing streak were losses to Auburn and South Carolina. The Tigers were able to rebound and go 9-5 the rest of the way. While LSU fans had probably hoped for a better season, a 19-12 overall record is nothing to be upset in Johnny Jones' first year in Baton Rouge.

Now we can look at the teams that finished with winning records in league play. That starts with Arkansas. If you played the Razorbacks, you better not have done it in Fayetteville. The Razorbacks only lost once at home all season, and that was to Syracuse in November. They were 17-1 at home, but struggled on the road only going 1-9 away from Bud Walton Arena. If they could have gone .500 on the road, there is little doubt they would have been a NCAA Tournament team. 

Tennessee was another team that was right on the NCAA bubble. When you watched the Volunteers playing, especially during SEC play, they looked like a NCAA team. They play a physical game and were really good on the defensive end. What really hurt Tennessee was the first half of the season. They went 0-4 against Oklahoma State, Georgetown, Virginia, and Memphis. They did beat Final Four bound Wichita State at home though. They also had wins against Florida, Kentucky and Missouri. But they went 0-4 against Alabama and Ole Miss and did not win a game in the SEC Tournament. If they would have beat Alabama, that might have been enough to get them in.

It was an up and down first year for Missouri in the SEC. They had one of the best point guards in Phil Pressey and a great front court, but really struggled in close games. They started out 11-2 going into SEC play, and then they struggled on the road. They were 2-7 on the road in SEC play. Of those seven losses, four were by seven points or less. They could not find a way to win close games on the road in the SEC. The struggle to win close games came back to bite them again when they lost to Ole Miss by two points. Still they received an at-large bid to the NCAA tournament, but lost to Colorado State. 

For the second time in three years Alabama was a NIT team. The Tide started the year 6-0 and had wins against South Dakota State and Villanova, both NCAA teams. Then they hit a rough stretch. They went 1-5 in December. That included losses to Mercer, Dayton, and Tulane at home. They were able to rebound and go 12-6 in SEC play, but still suffered losses to Auburn and LSU. They never beat any of the three SEC NCAA teams. They were able to beat Northeastern and Stanford to reach the NIT regional finals, but lost at home to Maryland with a trip to the NIT Final Four on the line. This season was a step back for the Crimson Tide.
 
One of the more interesting teams in the SEC this year was Mississippi. What made them interesting? Marshall Henderson. The SEC's leading scorer was one of the main attractions this year. The Rebels were the talk of the SEC in late January. They were 17-2 and hosting Kentucky on ESPN. After that loss they would go into a funk. They would go 4-5 over their next nine games. They would get hot in March, though. They would win the SEC Tournament to secure a NCAA bid and then knock off Wisconsin in the second round. It was the first NCAA bid under Andy Kennedy after going to the NIT in five of his first six seasons.

Perhaps one of the most disappointing teams in the country was Kentucky. The defending national champions lost everybody from last year, but had reloaded with another top-recruiting class. This John Calipari team never clicked though. The team never showed any real fight. They were good at Rupp Arena, but really struggled on the road. The loss of Nerlens Noel really hurt the team, but they did rebound and have a chance at a NCAA bid; but losses at Arkansas and Georgia really hurt the Wildcats. Then when they had to win a game in the SEC Tournament, they laid an egg with a loss to Vanderbilt in their first game. Their season finally came to an end with a loss at Robert Morris in the NIT. There is a sentence most would probably never think they would see.

There is no doubt the class of the SEC was Florida. They were the most complete team and when they played well they could play with just about any team in the country. The Gators did struggle on the road in conference play, but they were dominating at home going undefeated. The Gators also struggled with the end of close games. They were 0-6 in games decided by six points or less. They failed to win the SEC tournament and then lost in the Elite Eight for the third straight year. It seemed like this team could break through to a Final Four, but it was not meant to be.

It was a down year for the conference, but right now next season is shaping up to be a much stronger year for the SEC.
2012-13 SEC Standings (Final)
| TEAM | CONF | GB | OVR |
| --- | --- | --- | --- |
| Florida | 14-4 | | 29-8 |
| Ole Miss | 12-6 | 2 | 27-9 |
| Alabama | 12-6 | 2 | 23-13 |
| Kentucky | 12-6 | 2 | 21-12 |
| Missouri | 11-7 | 3 | 23-11 |
| Tennessee | 11-7 | 3 | 20-13 |
| Arkansas | 10-8 | 4 | 19-13 |
| LSU | 9-9 | 5 | 19-12 |
| Georgia | 9-9 | 5 | 15-17 |
| Vanderbilt | 8-10 | 6 | 16-17 |
| Texas A&M | 7-11 | 7 | 18-15 |
| South Carolina | 4-14 | 10 | 14-18 |
| Mississippi State | 4-14 | 10 | 10-22 |
| Auburn | 3-15 | 11 | 9-23 |
Statistical Leaders
Points - Marshall Henderson, Ole Miss 20.1 ppg
Rebounds - Murphy Holloway, Ole Miss 9.7 rpg
Field Goal % - Murphy Holloway, Ole Miss .556
Assists - Phil Pressey - Missouri 7.1 apg
Free Throw % - Marshall Henderson, Ole Miss .883
Steals - Anthony Hickey, LSU 2.9 spg
3 point % - Erik Murphy, Florida .453
Blocked Shots - Nerlens Noel, Kentucky 4.4 bpg

2012-13 Awards
Coach of the Year - Billy Donovan, Florida
Player of the Year - Kentavious Caldwell-Pope, Georgia
Scholar-Athlete of the Year - Patric Young, Florida
Freshman of the Year - Nerlens Noel, Kentucky
Sixth-Man of the Year - Kyle Wiltjer, Kentucky
Defensive Player of the Year - Nerlens Noel, Kentucky

First Team All-SEC


Trevor Releford, Alabama – G
Erik Murphy, Florida – F/C
Kentavious Caldwell-Pope, Georgia – G
Nerlens Noel, Kentucky – F
Johnny O'Bryant III, LSU – F
Phil Pressey, Missouri – G
Jordan McRae, Tennessee – G
Elston Turner, Texas A&M – G


SEC All-Freshman Team


Michael Frazier II, Florida – G
Charles Mann, Georgia – G
Willie Cauley-Stein, Kentucky – F
Archie Goodwin, Kentucky – G
Nerlens Noel, Kentucky – F
Alex Poythress, Kentucky – F, 6-7
Craig Sword, Mississippi State – G
Gavin Ware, Mississippi State – F
Michael Carrera, South Carolina – F


Second Team All-SEC


Marshawn Powell, Arkansas – F
BJ Young, Arkansas – G
Kenny Boynton, Florida – G
Mike Rosario, Florida – G
Patric Young, Florida – C
Marshall Henderson, Ole Miss – G
Murphy Holloway, Ole Miss – F
Laurence Bowers, Missouri – F
Jarnell Stokes, Tennessee – F


SEC All-Defensive Team


Trevor Releford, Alabama – G
Scottie Wilbekin, Florida – G
Patric Young, Florida – C
Nerlens Noel, Kentucky – F
Anthony Hickey, LSU – G
Reginald Buckner, Ole Miss – F

What do you think?

We'd love to hear your comments and/or opinions. If you submit them here, other visitors can read them, rate them and comment on them. An e-mail address is not required.

By
Mo Johnson
, Copyright © 2006-2017 SECSportsFan.com