Week 2 Review and Week 3 Preview
SEC Football 2014
By Kory Kinslow

Most of the SEC played out of conference this week and for the most part played much weaker competition. They played well, as far as you could tell. Alabama looked very good in a game against Florida Atlantic. I think their Quarterback issue was solved with Sims playing very well. Missouri played well against a decent Toledo team and won by three touchdowns. Tennessee beat an Arkansas State team that has some good years in the previous few seasons. Tennessee is looking good this season. Mississippi State's offense looked good against UAB and they won. Kentucky beat an Ohio team out of the MAC, they need to improve. Florida hammered E. Michigan by 65.

Florida is looking like a contender in the East. Arkansas ran the ball extremely well against Nicholls and won 73-7. They looked better than last week and may be better than many think. Ole Miss took it to Vanderbilt. Vandy is struggling and Ole Miss has looked extremely good in a tough West division. South Carolina looked marginally better against a good East Carolina team. East Carolina is not an SEC team, however and the Gamecocks will need to get better. Auburn impressed again against San Jose State winning 59-13. LSU beat Sam Houston easily. LSU has continued to impress. Texas A&M also took on an out of conference team in Lamar and won by 70. A&M will be tough to deal with for anyone.

Missouri plays UCF this week. The Knights should give Mizzou a game, but I believe the Tigers come out on top.

Vanderbilt is at home against Umass and should get their first win.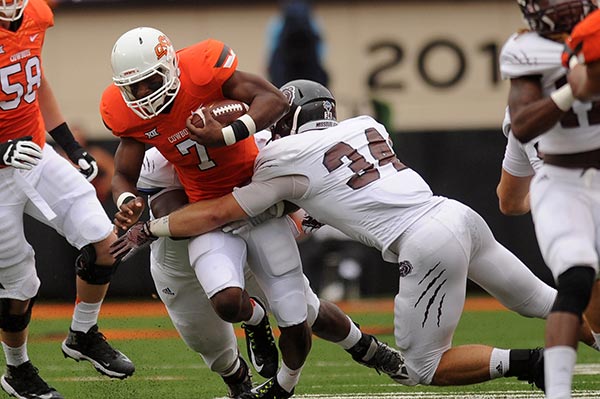 Arkansas will play Texas Tech in a game of complete contrasts. Don't be surprised of Arkansas pulls this one off, despite Tech maybe being favored.
Georgia plays at South Carolina. This will be a very desperate South Carolina team, but Georgia has proven this season that they may be the best in the East. I see a close game with Georgia coming out on top.

Ole Miss will be at home against LA-Lafayette and should win handily, if they continue to win look out for some big things out of the Rebs.

Mississippi State will play South Alabama. They should win this one handily, as they have played very well in their first two games.

Alabama should have no trouble with Southern Miss. Southern Miss does not get good play from the passing game and they will not be physical on the line enough against a very good Alabama team.

LSU looks to continue to win against UL Monroe. LSU may be the most overlooked team in the conference and should win easily.

Kentucky plays Florida at Florida. Kentucky may be playing well against lesser opponents, but I believe that Florida showed in that first game that they are very game and should take care of business in their second game.

Tennessee is 2-0, but plays the fourth ranked and also 2-0 Oklahoma Sooners. I don't think they have it in them to win it, but could easily play with this team for most of the game.

Rice comes to Texas A&M and has very little chance with an A&M team playing at the best that they can right now. I just hope A&M keeps the momentum going throughout the season.

What do you think?

We'd love to hear your comments and/or opinions. If you submit them here, other visitors can read them, rate them and comment on them. An e-mail address is not required.

Week 2 Review and Week 3 Preview SEC Football 2014 to SEC Football

By
Mo Johnson
, Copyright © 2006-2017 SECSportsFan.com