Two Teams Headed For A Downrush in 2015
Whether a win has helped revive a SEC team's reputation or popularity is not related to how it will perform in 2015. This is mainly so because the performance of many teams in the last quarter of 2014 has been inconsistent and shows that not all selections or moves have been right in this season.

Also, many players have decided to make a move to different grounds and change affiliations for want of better pays and field positions, while there are others exhausting their eligibility. Let us take a quick look as to which clubs are not looking to get lucky in 2015. This will help many of the fans focus on the performance of more promising teams.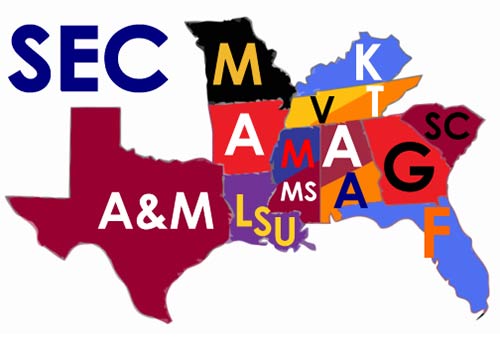 LSU:
Let us begin with a local favorite which somehow tried to stay alive in 2014 but failed in creating an impact.  This team lacks a quarterback and its coach is in dire need of some original fresh talent that is eligible and will stay with the team for long. It is not to be forgotten that LSU's quarterback position has been in marshy lands ever since 2007 with a few exceptions. If high school football needs some fresh faces, they need it right at LSU's quarterback position.
He coach has also announced the requirement of a defensive co-ordinator in the team. Apparently, he has failed at wooing John Chavis for too long in the act. LSU's highlight performance at the Music City Bowl, in which it lost to Notre Dame miserably, has been attributed to the fact that the team had not played in a day game for quite a while before the match. Followers were not impressed by this logic that should not be a factor to make a team win, because LSU has impressively won day games in the past. So in 2015, people have very low expectations from LSU and that is where the team fails its records. Will it be able to overcome the challenge in this year or will it take some time before a miracle happens? We will wait and watch.
Georgia:
The team is all set to lose some of its main players this year as they migrate to other teams. These include the following players:
Quarterback Hutson Mason
Cornerback Danmian Swann
Linebacker Amario Herrera
Linebacker Ramik Wilson
Receiver Chris Conley
Receiver Michael Bennett
Their offensive co-ordinator finished 20th or worst in NFL through his uncompetitive performance. All this record and movement looks too dull to promise action from Georgia this season. And predictions have it that the very first three months of fall are going to be the worst for the team. Let us hope Georgia finds good reason to make up for their losses through revived team spirit and planning.
They say
Life is a Gamble
. For these two teams, folding old cards and placing
higher stakes
in lesser confident hands are what seem to be the only options remaining this season. We always look out for those miracles and wish there is a surprise waiting for teams performing miserably. But as of now, schematic planning and few risks in teamwork alone will get them good performances. Here is wishing the best of luck to both the teams!