The SEC Getting Ready for Another Week of Big Match Ups
By Kory Kinslow
The SEC men's basketball standings have three clear cut tournament teams and then everybody else.  With Florida still being undefeated in SEC play, Kentucky getting a big win over the weekend, and Ole Miss emerging as the third team that seems to be a step ahead of most of the rest of the SEC, we see these teams being clear cut NCAA teams.  Florida and Kentucky should both be high seeds and Ole Miss is winning at a torrid pace, we see them getting a possible 4-6 seed in the tournament.
We have several other teams that could play their way into the tournament; teams you can bet on at BitBet.com.  Let's start with Georgia.  The Bulldogs came into league play with not much of a second look as a tournament team, but they continue to play well.  This past weekend did hurt their cause a bit though.  We may also see Missouri emerge as the fifth team.  They were very good in pre-conference play, and are starting to get their groove back as of this past week.  At 3-3 we have several other teams that could play their way in.
We have Mississippi State, LSU, Tennessee, Texas A&M and Alabama.  The two teams I see standing out here are LSU and Alabama.  LSU has the ability to out-rebound anyone and Alabama has a good amount of athletes and can run up and down the court with anyone.  Texas A&M started conference play hot, but have lost 3 straight and I don't see them recovering.  Tennessee has all the talent in the world, but seem to lack a unity to get them to the tournament.  Mississippi State is a team I can't get a hold on, but they will need some big wins to get in.  The other four teams have to win a lot of games.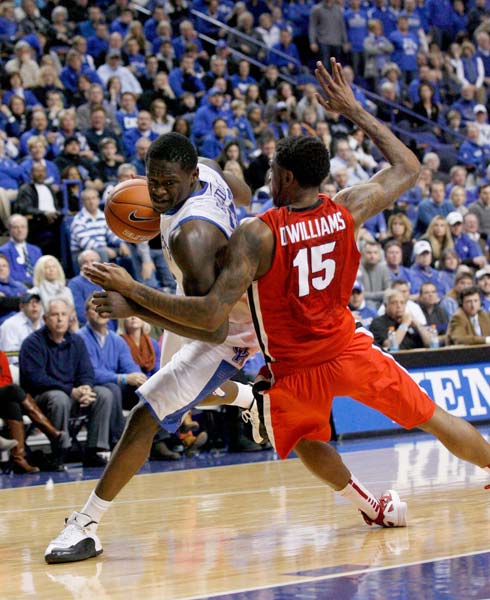 Vanderbilt is a team that can win, but probably won't.  They have a great coach that gets them a lot of wins and some good shooting, I just don't think they have the want-to to win enough games to get into the tournament.  Auburn and South Carolina have both yet to win a conference game.  I truly feel that they won't make it.  We now have the enigma that is the Arkansas Razorback Basketball team.  They are 2-4 in conference play, but have a win over Kentucky and convincingly beat an Auburn team that held their own against Florida.  The bottom line for Arkansas is they need to win their road games and continue to play well at home.
I see the SEC getting in 5 teams.  We have Kentucky, Ole Miss, and Florida that should all get in fairly easily.  The other two teams are up in the air.  This week will go a long way to determining the other two.  Arkansas plays both Missouri and LSU, if they were to win both of those games, it wouldn't be guaranteed, but it would go a long way.  Georgia needs to at least go .500 in their next games and they could be that fourth team, Missouri could do a lot on their resume by beating Arkansas and winning 2 or 3 more good games.
The only other teams I see as having a chance are LSU and Tennessee.  Both of these teams have good big men and rebounding, the question is, can they withstand some of these other teams that seem to be getting better as the season wears on.
What do you think?

We'd love to hear your comments and/or opinions. If you submit them here, other visitors can read them, rate them and comment on them. An e-mail address is not required.

The SEC Getting Ready for Another Week of Big Match Ups to SEC Basketball Blog
By
Mo Johnson
, Copyright © 2006-2017 SECSportsFan.com