The Saturday Edge's 2015 SEC Betting Prospectus
College football is less than three weeks away. The preview magazines have been written, the pundits have made their predictions and the teams are preparing for the 2015 season.
Season win totals have been posted and the opening lines for week one are already out, have you done your research? Are you ready to bet on some college football?
No need to worry, The Saturday Edge's 2015 SEC Betting Prospectus has compiled all the information you need to make an informed wagering decision for the coming SEC season. 
This is no ordinary college football preview magazine. While those are great, the prospectus is written specifically for individuals interested in betting on college football. 
This year's prospectus includes an abundance of handicapping "Nuggets", trends and the best wagering "spots" to look for throughout the season. The best part about The Saturday Edge's 2015 SEC Betting Prospectus is that it is 100% FREE. 
Just CLICK HERE to sign up for your copy.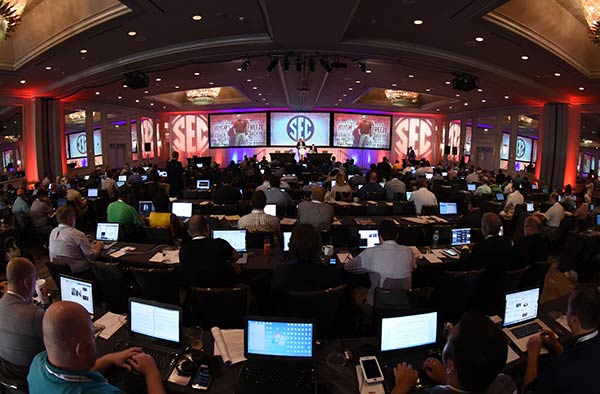 Examples include:
ALABAMA - This 2015 Alabama team looks like a perfect combo for some profitable UNDERS. They return 7 starters and a lot of talent on what should be an improved defense. They also will be breaking in an inexperienced QB on offense and lose their top play maker at receiver.

AUBURN - Head coach Gus Malzahn and Auburn are holding non-conference opponents to just 12.1 ppg in the regular season since '13 (opponent team total is 1-7 OVER/UNDER). When the Trend Applies in 2015: vs. Louisville, vs. SJSU, vs. Idaho.
LSU - LSU was 3-1 ATS in 2014 after a loss &they are 8-3 ATS over the past 5 years following a loss.
Most college football preview publications will focus on the coaches that are on the hot seat, the newest recruits, the top Heisman candidates and which teams are ready to challenge for the title. 
The Saturday Edge 2015 SECBetting Prospectus gives you all the team-specific information you need and includes information on season-win totals, projects how each team is likely to do against the spread (ATS) and if a team is likely to go OVER or UNDER the posted totals. 
GEORGIA – Georgia is 2-9 ATS as a dog in the last 5 years (Alabama, Tennessee, Auburn & Georgia Tech may apply in 2015) &they are 0-5 ATS as an away dog in the last 5 years (@Tennessee, @Auburn & @Georgia Tech may apply this season).
SOUTH CAROLINA – The Gamecocks were 0-3 O/U in 2014 after a bye &are 5-8 O/U in the last 5 years after a bye (Applies at Texas A & M on October 31st).
TENNESSEE – The Vols enter 2015 with high expectations and agreeably a much better football team (and coach) then they have had in several years. But keep in mind, the teams they beat last year were Utah State, Arkansas State, Chatanooga, South Carolina, Kentucky, Vandy & Iowa. Beating the three worst teams in the SEC East doesn't necessarily suggest to me that Tennessee is ready to step up and beat the better teams on their schedule.
This invaluable resource is a must read for all SECfootball fans and for anyone interested in betting on the nation's premier college football conferences. 
Get your FREE copy of The Saturday Edge's 2015 SEC Betting Prospectus today.
What do you think?

We'd love to hear your comments and/or opinions. If you submit them here, other visitors can read them, rate them and comment on them. An e-mail address is not required.

The Saturday Edge's 2015 SEC Betting Prospectus to SEC Football
By
Mo Johnson
, Copyright © 2006-2017 SECSportsFan.com