Teams Begin to Show True Selves
By Kory Kinslow

The SEC is beginning to shake out.  We can now see clear lines being drawn.  The two teams at the top will stay that way and make the NCAA tournament and probably make deep runs.  Florida just seems to be way ahead of the curve in this league.  Kentucky can beat any team in the NCAA on any given night.  They are young, do make mistakes, but have potential to be a Championship contender.
Ole Miss may have missed an opportunity, but Kentucky can play so well that it is not surprising that they easily handled the Rebels.  The Rebels should seal up an NCAA appearance with a couple of more wins in league play and a win or two in the SEC tournament.  After that we have several teams that all have capability.  The thing will be, who puts together a late run.  The LSU game should show whether or not LSU can make the tournament.  If they are to beat Georgia and then win a few more coupled with a good show in the SEC tournament then I think we will see LSU in the NCAA tournament.

I honestly believe there will be a fifth team from this conference in.  We have a lot of teams that are fairly evenly matched after this.  Ole Miss plays Missouri, Arkansas plays Vanderbilt, Tennessee plays South Carolina, and Texas A&M plays Georgia.  Ole Miss has too many weapons and good guard play for Missouri to pull that game off.  I think Arkansas breaks out of the funk and beats Vandy at Vandy.  Tennessee will probably handle South Carolina and Georgia will beat a reeling Texas A&M team.  So this leaves Arkansas with 4 conference wins along with Missouri and Texas A&M.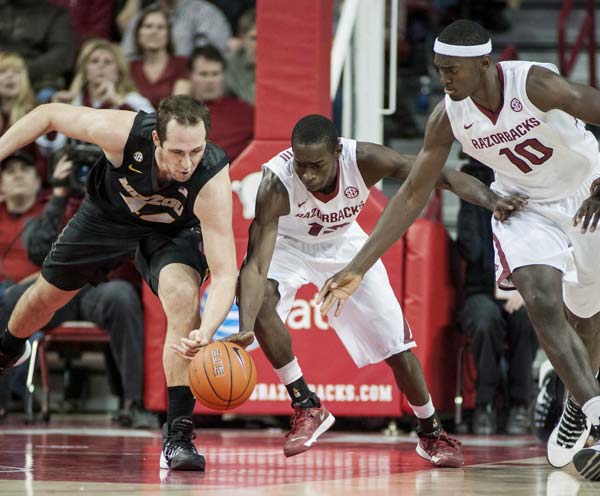 We will then have Georgia with 5 wins and Tennessee with 6 wins.  I truly feel we will see Florida, Kentucky, Ole Miss, LSU and Arkansas in the tournament.  You may ask how I come up with Arkansas?  The fact is that all season they have lacked a go-to player and Bobby Portis has proven he can be that man.  They have now found their answer to questions about who can score in a pinch.  They certainly play great defense and a style that most of the other teams can't keep up with.  I believe that they will win two or three league road games and at least two at another neutral court in the SEC tournament.

Combined with their current RPI mostly stemming from non-conference wins, they will find themselves a low seed in the tournament.  I feel the SEC will surprise some people in the NCAA tournament.  Florida and Kentucky have legit chances for the final four and we could easily see the other teams go as deep as the sweet sixteen.


What do you think?

We'd love to hear your comments and/or opinions. If you submit them here, other visitors can read them, rate them and comment on them. An e-mail address is not required.

Teams Begin to Show True Selves to SEC Basketball Blog

By
Mo Johnson
, Copyright © 2006-2017 SECSportsFan.com