South Carolina Will Win the SEC in 2014
by Kory Kinslow
The Western division has a lot of contenders this year. You have the usual with Alabama and LSU being good teams, but of course this year we worry about last year's Championship game contender in Auburn. We also can't count out the great recruiting class of Texas A&M. I feel that considering each team's schedule and pure strength on returners and recruiting, that you must feel that Alabama may come back into the lead for the SEC West this year.

LSU has done a nice job getting players to fit needs, but I just don't feel that they have what they need at the skill positions. Auburn brings back a good amount of players, but has a tough schedule and with the loss on the offensive line, I think year two for Coach Gus will be a tougher road. Auburn has to play South Carolina and Georgia out of the East, plus the murderer's row that is the SEC Western division.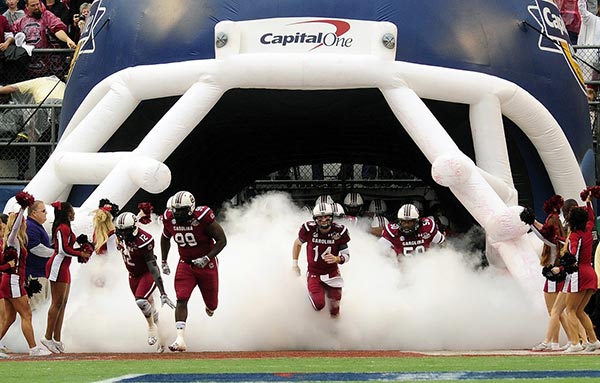 I see Alabama and the coaching and the stock pile of players they seem to have every year and simply don't see them being beaten enough times for them not to win this division. The schedule favors Alabama, as they don't have to play Georgia or South Carolina. Florida is not what they used to be and neither is Tennessee. The conference could be won because of the schedule. I see Alabama coming out of the West.
The Eastern Division is not as powerful and has fewer teams with much of a chance. I think in the East it comes down to Georgia and South Carolina. Vanderbilt might put up a fight, but with a coach in his first year, it doesn't look good. I still see Georgia as rebuilding, even though they will be able to run the ball very well. I wouldn't be surprised to see Georgia win it, but South Carolina is a much tougher out. Once again, it could come down to schedule. Georgia appears to be set as far as the schedule goes, with only having to play one of the major contenders from the West.
I would be a fool for failing to mention Missouri. They played very well last year and have a few returning, but lost an awful lot on defense. I just see this year as being the year that South Carolina and the Old Ball Coach breaking through and winning the SEC East and pulling off the upset in the championship game and winning the SEC crown.