SEC Week 7 Recap and Week 8 Preview NCAA Football 2016-2017 Season
By - Kory Kinslow

There were 3 games in week 7 involving only non top 25 teams. Mississippi State lost by a touchdown to BYU. The road loss drops State to 2-4. They continue to have problems replacing players from last year, especially Quarterback Dak Prescott. Vanderbilt beat Georgia 17-16. Georgia is not the same team we have seem in the past and can't run the ball as expected in the off-season. Vandy has certainly looked better than we may have thought previous to the season. Don't expect for either team to contend for the East title. LSU beat Southern Miss 45-10. They won again, without their Heisman hopeful who sits and will probably sit as long as it takes for him to heal for the draft. They played well on offense against a non-SEC school, with a non-SEC defense.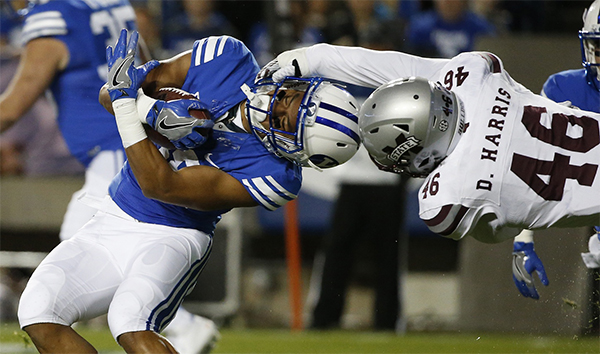 There were also 3 games in week 7 involving at least one top 25 team. Number 18 Florida beat Missouri 40-18 in the Swamp. Missouri does not look like the same defensive team as the past few years, while Florida continues to improve on the defensive end. Their offense has also gotten better. If the offense improves enough, expect for them to win or share the East title. Arkansas came back at home to beat Ole Miss. Arkansas outlasted Ole Miss in a 34-30 offensive battle. Arkansas and Ole Miss have played close 3 times in 3 years. This is becoming one of the biggest rivalries in the SEC West. Arkansas was ranked 22 and Ole Miss 12. Number 1 Alabama continued their winning ways toppling number 9 Tennessee 49-10 in Tennessee. Alabama just makes everyone they play look like a High School team. Tennessee is a good team and will still contend for the SEC East Championship, but will need some breaks and to step up after the big loss. Alabama continues their drive for the playoff.

Week 8 features three Top 25 battles:
#6 Texas A&M at #1 Alabama
While A&M has looked to be a contender, Alabama has been head and shoulders above the competition this year. If anyone can give them a game out of the SEC, you would think it to be A&M. A&M will have to come up with some explosive plays on offense and limit the short passing game of the Tide, while being able to stop the play action long passing game as well.
#17 Arkansas at #21 Auburn
Arkansas comes into Auburn off of a big win, but they will have to run the ball effectively against one of the Conferences best defenses. Auburn will have to play better on offense against an experienced and solid defense of Arkansas. This one should be a battle.
#23 Ole Miss at #25 LSU
LSU is on a 2 game winning streak with a new head coach. This game could depend on whether or not we see Fournette. Ole Miss plays with a big heart under Quarterback Chad Kelly and need to show that grit against this talented, but underachieving LSU team. This should be a close game with LSU riding high and Ole Miss wanting to come back from a tough loss. The coaching drama from LSU's former Ole Miss head coach returning to Ole Miss.
What do you think?

We'd love to hear your comments and/or opinions. If you submit them here, other visitors can read them, rate them and comment on them. An e-mail address is not required.

By
Mo Johnson
, Copyright © 2006-2017 SECSportsFan.com