SEC Teams Playing in the Post-Season
NCAA Tournament and NIT Previews
By - Kory Kinslow

The SEC was a lot deeper than most thought they would be. With 8 teams playing in the post season, 5 in the NCAA tournament and 3 in the NIT, the teams truly showed that the SEC is back on the map as a power in college basketball. The NIT features Vanderbilt, Texas A&M, and Alabama. The NCAA tournament will feature Kentucky, Arkansas, LSU, Georgia, and Ole Miss. It was certainly a good season for the SEC.

The NIT, as previously mentioned, has three SEC teams. Texas A&M is a 2 seed playing Montana to open things up. They should handle this team fairly easily, setting up a meeting with Central Michigan or Louisiana Tech. I believe they will face LA Tech and beat them as well. I truly believe that Texas A&M will end up in the final four of the NIT losing to Miami, who I think will win the tournament. Alabama will play Illinois, they should win this game, but have to play Miami in the second round and will be defeated handily. Vanderbilt got a tough draw with having to play St. Mary's in the first round. I think Vandy will lose in the opening round.
The NCAA tournament will be a bit more interesting. I see Kentucky having no problem winning the entire tournament. I think this will make a statement for the team  and the SEC as a whole. Kentucky got the number 1 overall seed, so will have the easiest path. Out of their region I only see Notre Dame that could possibly cause a problem, and that is just because they are a very hot team right now and are very talented. Kentucky will wear them down.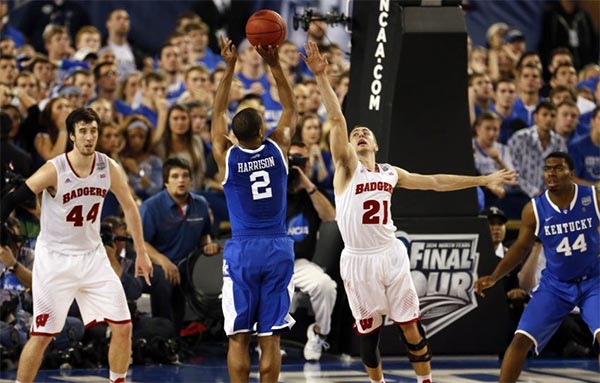 Arkansas starts off with Wofford. Arkansas will need to put them away early, if they do this then they should be able to win easily. If the Razorbacks continue to impose their tempo on teams, while still being able to pound it in to Portis, then they should have no trouble until Wisconsin. Yes, they have to beat UNC, but I believe the Razorbacks pose a style of play that UNC will not be ready for. They have a chance against Wisconsin with Portis being able to guard Kaminsky. I think this is the biggest match-up and whoever wins that match will win the game. If they could win that game their chances of getting past Arizona are not as great.
I think they make it to the sweet 16 and a max of the elite 8. Ole Miss has to play in the play-in game as an eleven seed against BYU. I think the style of Ole Miss will be favorable and they might win that game, but then fall to Xavier in the second round. LSU plays as the 9 seed against NC State to open things up. I believe they will win that game and give Villanova all they can handle before falling to them.
Georgia drew a ten seed and has to play Michigan State. I think this will be the most competitive of the first round games for the SEC. Georgia is a good team with a lot of solid players. They played well in the SEC tournament and almost beat Arkansas. They are a good match up against Michigan State. When I see a game that I think looks equal, I look at coaching experience. Coach Fox is a wonderful coach, but Izzo has so much experience, I believe that Michigan State will win in what could be an overtime game.
I have Kentucky winning the whole thing and the other teams at least playing great in their opening round game. I think that this season is going to be a year that brings the SEC some recognition and some of the recruits that we have lost to the other major conferences will start coming to SEC schools. I believe that within a matter of 3 years, Kentucky won't be going undefeated or close to it every year because the rest of the teams will catch up and that this season is where all of that has begun.


What do you think?

We'd love to hear your comments and/or opinions. If you submit them here, other visitors can read them, rate them and comment on them. An e-mail address is not required.

SEC Teams Playing in the Post-Season to SEC Basketball
By
Mo Johnson
, Copyright © 2006-2017 SECSportsFan.com