SEC March Madness 2016 Preview: Look Out For Kentucky!
By - Kory Kinslow

We have only three teams in the NCAA Tournament this year. I guess I can understand that, as the league may have been not as Nationally recognized this year, but I think there was at least one other team that deserved to be in. I truly believe that South Carolina had a good enough season and had the players to be in. I also feel that Georgia looked very good toward the end of the season. I would have liked to have seen one of these teams in. I know it's probably too much to ask for five teams, but I think that one of those teams should have and deserved to have been in the tournament. That being said we have three very good and too lowly seeded teams. Yes, I believe at least Kentucky and Vanderbilt should have been seeded one to two seeds higher and in my opinion, Texas A&M could have been a two seed.
Vanderbilt has to play an extra game and probably has the toughest road with the least talent. They are a good team with good bigs and they can shoot the ball very well. I think their defense is under rated as well. I believe they will beat Wichita State. I don't think that Wichita State can defend the big men of Vanderbilt. I also think they will be grossly out rebounded. This win will put Vandy playing against Arizona. I believe Arizona to be over rated and I think that Vanderbilt will once again out-shoot and rebound this team. I have them playing and losing to a very good Miami team after this. Miami will be a more athletic team and I just don't think that Vandy will have it in them to run with Miami. I also feel that Miami can rebound better than the previous two opponents.
Texas A&M starts off with Green Bay. No problem here, A&M wins it easily. I have them playing Texas after this and I think their experience and the fact that they have a better coach will sail them right through their arch rival. I have them playing Oklahoma next. I think that Texas A&M has great, not good, but great perimeter defenders and will be able to stop the Oklahoma guards from having a big game. I think Texas A&M will win this by double digits. Duke will come into the elite eight by beating Cincinnati, who I have beating Oregon. Duke is a great team, but I think that once again the defense of A&M will prevail. I really see Texas A&M as being a team that others shouldn't take lightly. I think that Allen of Duke will get frustrated and foul out as Texas A&M makes it's way to the final four.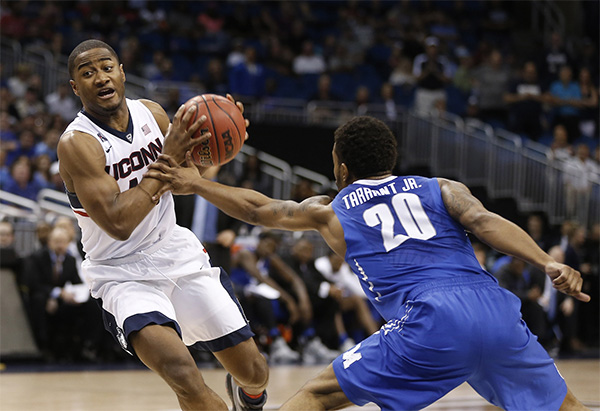 Kentucky is, apparently, horribly underrated. They should have been a 2 or 3 seed. That being said, it's more ammo for Coach Cal and the Wildcats. They start off with Stony Brook and they will absolutely blow them out. I then have them playing Indiana. Indiana will give them a very tough game, but I think the difference will be the emerging big men of Kentucky and the 'Cats win this one close. I believe they will then play UNC, which could easily be the Championship game if the seeding was done right. I still trust Kentucky's guards and believe that the big men will continue to improve through the tournament. I actually think that they will beat UNC worse than Indiana. I then have them playing against West Virginia. I always look at coaches and believe that Huggins will get his team to the elite eight this year. I think that the bottom part of the bracket is weak and that they can pull that out. I think Kentucky, however, will easily take care of them and go on to the Final Four.
I have a slightly unconventional Final Four. Out of the South I have my surprise team in Maryland. I believe that guard play does a lot in the tournament and they have it. They will play Texas A&M. I believe Kentucky will take on Virginia. This is where I see A&M falling. I think lack of experience in this type of situation will hurt them. I think Kentucky will out last Virginia in a close game. My championship is Maryland and Kentucky. Maryland will hang around for the first ten minutes and then I see the back court of Kentucky wearing them down and the big men begin to take effect. Kentucky will win by ten or more.
What do you think?

We'd love to hear your comments and/or opinions. If you submit them here, other visitors can read them, rate them and comment on them. An e-mail address is not required.

SEC March Madness 2016 Preview: Look Out For Kentucky to SEC Basketball

By
Mo Johnson
, Copyright © 2006-2017 SECSportsFan.com