SEC Has Best Record in March Madness
By Kory Kinslow

SEC (men's) basketball seems to get no respect. Well, that may be about to come to an end. Which conference do you think has the best record in the 2014 NCAA Basketball Tournament? ACC? Big East? Big Ten? No, no and no. It's the SEC with a perfect 6-0 record through the first two rounds. In fact, really the SEC is 7-0 as Tennessee had to win a "play-in" game to get into the field of 64.
Tennessee, Florida and Kentucky are into the "Sweet 16." No conference has more than 3 teams in that elite group.

I think we all expected Florida to play well, but are they even the most impressive of the teams? Keep in mind that Kentucky and Tennessee were both low seeds (8 and 11) and had to beat higher seeded teams to survive. Kentucky took out #1 (and previously undefeated) Wichita State. Kentucky has played like they are finally growing up. Tennessee has played so much better. There is no doubt that we all had it right when we thought that they would be either a great NCAA tourney team, or a possible NIT winner. Only weeks ago we were looking at Missouri and Arkansas being in the tournament, but alas, there hopes are in the NIT.

Florida is playing their normal, smart and defensive style of basketball. They have allowed an average of 50 points. They have played well enough on offense and made timely baskets. Wilbekin has turned out to be in the running for Best Player in that Region. The size of this team has worn others down on the inside. The ability to press and play half court offense is a dangerous mix for any team and won't stop with UCLA. Florida may have played Albany, but UCLA has played a thirteen seed who was off their game in Tulsa and a SF Austin team that beat an overrated VCU team by two points at a 12 seed. Their Region has had so many upsets and after defeating UCLA they will face Dayton or Stanford, and probably run ruff-shot over them.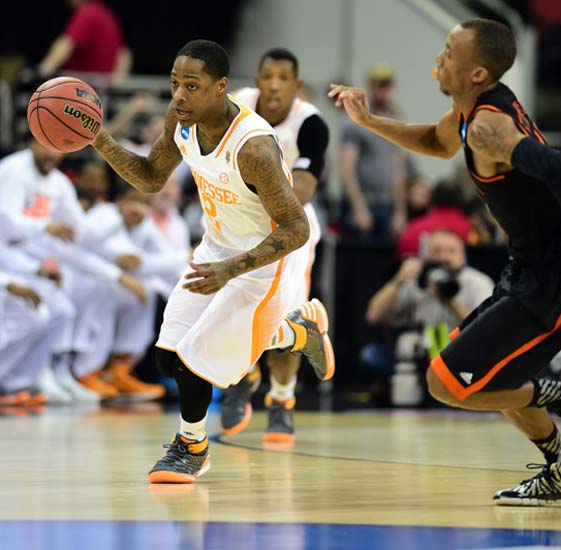 Kentucky came in as an 8 seed. They're a team that was ranked in the top 20 most of the year, but didn't win some key games during the late regular season, even though they seemed to peak in the SEC tournament and narrowly lost to Florida in the SEC championship. They handled their business against a game Kansas State team and came in and did what people thought they might against the undefeated Wichita State. Kentucky is now seasoned and the Freshmen are no longer like playing as such.

This is a team that is probably the most talented in the country. Kentucky being overlooked by Louisville would be a mistake. I don't think Pitino or his crew will, but if they listen to the hype they're already in the final four and would have been whether Kentucky won or not. This is the perfect opportunity for this generation of Wildcats to show their worth.

Tennessee has had the toughest road because they had to play in the "First Round". They won a tough "play in" game against Iowa, a team many thought wouldn't be in and Missouri might, but they were in anyway. Tennessee then went on and manhandled Umass and Mercer both. Mercer was able to handle Duke, but got mauled by an angry Tennessee team. Tennessee may be the perfect team to take out Michigan. They have size, strength, and McCrae on the outside scoring at will it seems. They can get it down low and then score, rebound, or kick it out for threes. Tennessee may be the most complete of the lower seeds left. Dayton is the other 11 seed left and they don't hold a candle to Tennessee.

What's next? Florida plays UCLA Thursday night; Friday night, Kentucky faces Louisville and Tennessee plays Michigan. Can't wait!!

How about the NIT? The SEC is looking strong there too going 4-2 so far.

Georgia beat Vermont, but couldn't fight off Louisiana Tech. I think we were all looking for a let down from Georgia after a disappointing end to the SEC season.

Missouri beat a good Davidson team, but Southern Miss turned out to be tough and it seems that the Missouri attack finally let down.

LSU beat San Francisco, but has to play the 1 seed SMU, who many believe should have been in the NCAA tournament. LSU has the talent to do it, it's just a matter of if they can play a smart ball game for forty minutes.

Arkansas beat Indiana State by twenty points, scoring 91. They had some young players step up and played the kind of ball they played in spurts throughout the season. They must play a team that defeated them in the opening season tournament in Hawaii, in Cal. The Golden Bears are a very good team and will be a test for the, seemingly hungrier than ever, Arkansas squad.

The SEC may be a football conference. But, right now fans of the Southeastern conference are loving basketball!


What do you think?

We'd love to hear your comments and/or opinions. If you submit them here, other visitors can read them, rate them and comment on them. An e-mail address is not required.

SEC Has Best Record in March Madness to SEC Basketball

By
Mo Johnson
, Copyright © 2006-2017 SECSportsFan.com