SEC Football Week 9 Review and Week 10 Preview
Week 9 Results

Mississippi State 28 – Kentucky 22

This one was about as much fun as watching Charlie Weis attack the spread at the post game team buffet.
Texas A&M 56 – Vanderbilt 24

A&M won in spite of Johnny Punkball.  And I like the classy move of video bombing Coach Sumlin's post game comments.  The great ones never punked it up like that, but them again, I have to cut him some slack since it really is not one of the great ones.

And for all those Aggie Homers who will object to that comment, Gino Torretta won a Heisman, so that should tell you something about how worthless that award has become.


Alabama 45- Tennessee 10

Let's face it.  Alabama is never going to lose another football game, ever again.


LSU 48 – Furman 16

Despite the lopsided score, Furman actually trailed only 20-16 at the Half before the depth and talent on the other sideline wore them out.


Auburn 45 – Florida Atlantic 10

In my best Ty Webb voice, "Well, hey!  Look at that!"  I wonder when the last time both Auburn and Alabama won by the same score?


Ole Miss 59 – Idaho 14

The Rebs built of their big win last week to go to 5-3 as Coach Hugh Freeze has Ole Miss back to respectability.


South Carolina 27 – Missouri 24 2 OT

The Gamecocks have crawled out of more coffins than Bella Ligosi.  The win opened up a whole new list of possibilities in the East as the race is once again wide open.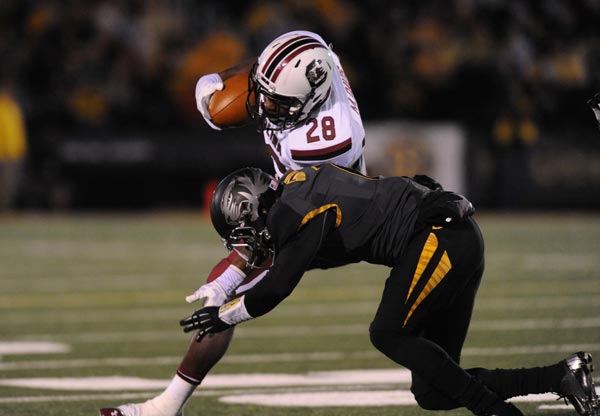 ---
Week 10 Games


Mississippi State at South Carolina

After an emotional victory at Missouri, USC is back in the title hunt in the East.

Only problem is Conner Shaw is not only banged up, but missed time this week with a virus.  Without him, the 'Cocks could not have gotten out of Columbia alive.

I smell an upset brewing in the other Columbia as the Bulldogs make it two straight and knock Carolina out of the race in the East.

Mississippi State 28 – South Carolina 24


Tennessee at Missouri

Despite blowing their season last week, Missouri still looks like the best team in the East.

Tennessee got an old school butt kicking at the hands of the champs last week, so they are looking to rebound.

The Vols will start freshman Josh Dobbs, and I think with the play making capabilities he brings, and the Tigers still groggy after blowing a 17 point lead in the fourth quarter last week, I smell upset #2 on the horizon.

Tennessee 31 – Missouri 28


Georgia vs. Florida (Jacksonville)

(Cue the theme music from M*A*S*H* here)  At this rate, UGA will have to suit up Herman Archie and the Gators will have to bring in Kerwin Bell due to all the injuries on both sides.

Between the two, Georgia will have more of their difference makers back, while Florida will only have pride and a hope of putting up enough points on the sieve known as the Bulldogs defense to keep this one close into the fourth quarter.

Georgia will prevail in the end,

Georgia 31 – Florida 14


UTEP at Texas A&M

The Aggies have a punk playing QB.  So that's why I am taking the Miners.  They might lose, but they will win the class battle by about a thousand points.

UTEP 1000 – Texas A&M 0


Alabama State at Kentucky

Somewhere in the distance I can hear Curly from The Three Stooges snoring…

Kentucky 38 – Alabama State 14


Auburn at Arkansas

After a strong start, Arkansas has gone down like the good ship lollipop.  Now Auburn comes to town, and they have improved nicely since an ugly loss at LSU.

I am quite sure this one will not be much of a story at the final gun.

Auburn 34 – Arkansas 14


Read Scott Sergent's outstanding new book:
What do you think?

We'd love to hear your comments and/or opinions. If you submit them here, other visitors can read them, rate them and comment on them. An e-mail address is not required.

From SEC Football Week 9 Review and Week 10 Preview to SEC Football Blog