SEC Football Week 8 Review and Week 9 Preview
Week 8 Games
Vanderbilt 31 – Georgia 27

I knew it was only going to be a matter of time before we all saw the demise of the once mighty Bulldogs.

You cannot have all those injuries, plus a defense that gives up over 30 points a game, and expect to keep winning.
Special teams was the demise of the Dawgs as a fake FG went for a TD and a botched snap on a punt with less than three minutes to play gave the 'Doores a golden opportunity they converted into the winning touchdown.

The highlight for me was listening to the Georgia announcers crying into their microphones during their post game show.  Scott Howard, the clown prince of radio, was unable to talk since he was stunned they lost to Vandy, a team I am sure he thinks is beneath his school's elitist status.

The Three Stooges, Howard, Eric Zeier, (Who is nothing but a Larry Munson wannabe as he beings every analysis of what the Dawgs are doing with the word We or Our), and some other clown who they must have called in from his job of slotting mail at the WSB mail room since Sideshow Bob must of called in sick that day, were complaining about the penalties, especially the targeting penalty that they were sure cost Georgia the game.

Well, let me educate you dunces about one thing.  One penalty does not decide a game.  If UGA were as great as Howard thinks they are, they would have overcome the play and won the game.  Great teams do that.  Do you see Alabama, Oregon, or Florida State lose games due to one penalty?

Grow up you and stop whining and crying like a bunch of bunch of five year olds when your team doesn't win.  I know there is a bit of homer in all team announcers, but you guys take it to a new low.  Then again, listening to those diaper genies giving their excuses for why their team didn't win was entertaining for me. I could have listened to that all night long.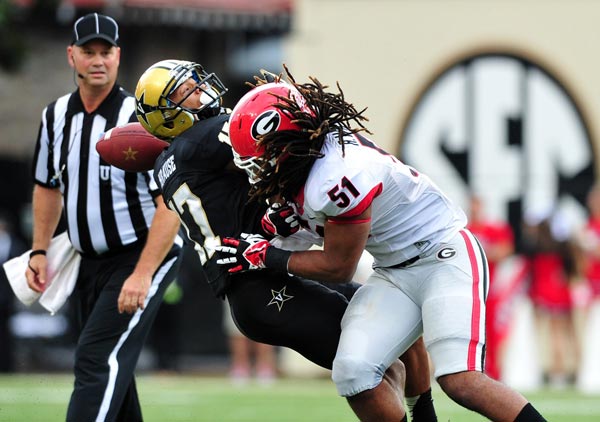 Tennessee 23 – South Carolina 21

It had been a LONG time since the Vols beat a Top 25 team, but they got it on Saturday as they defeated the same team they got their last Top 25 victory against  in 2009 as a last second FG tripped up #11 South Carolina 23-21.

I guess if Coach Steve Spurrier were focused on the gameplan, instead of his comedy stand up act, the 'Cocks might have escaped Knoxville with a win.

But alas, he let his alligator mouth overload his jaybird ass and USC got what they deserved.

If I were a player, I would tell him to shut the hell up and focus on what happens between the white lines, instead of at the Ha Ha Hole...


Ole Miss 27 – LSU 24

Ole Miss is headed in the right direction, and it took a little while but they got their victory over one of the big boys as they tripped up LSU on a last second FG.

This was ironic since they lost on a last second FG last week so it was poetic justice.

At least Les Miles had the stones to sit there in front of the cameras and admit it was his fault.  That is more than I can say for some of the previously mentioned idiots.


Auburn 45 – Texas A&M 41

Speaking of idiots, it looks like Johnny Punkball got his just due last week. Between that and listening to the Three Stooges, I was in heaven all afternoon!

If Manziel were as great as they say, wouldn't of he beat Alabama in September?  Wouldn't he have been strong enough to withstand the hit to his shoulder, instead of punking out since he didn't have the guts to hang in there when the going got tough against Auburn?

I said he was a punk.  Well there is your evidence right there.


Missouri 36 – Florida 17

Missouri is the Show Me State.  Well, they showed everyone on Saturday they are legitimate contenders in the SEC East.

With everyone else losing, the Tigers are on the fast track to the SEC Championship game.

Who would have thought that one in September?


Alabama 52 – Arkansas 0

Will Alabama ever lose again?  I don't think so…
Week 9 Predictions


Kentucky at Mississippi State

I forgot to get sleeping pills when I was at the store last night.  No worries, I will just watch this one and that should do the trick.

Mississippi State 24 – Kentucky 14


Furman at LSU

Just like Mississippi State endured the wrath of the Tigers after a loss, so will the Paladins.

By the way, what the hell is a Paladin?

LSU 70 – Furman 7


Florida Atlantic at Auburn

Auburn is headed in the right direction and should be there in the West when it is all said and done.

The Owls will be asking, "Whooooooooooo, was that who just put up 50 on us?"

Auburn 50 - Florida Atlantic 14


Idaho at Ole Miss

I have a feeling after last week, Ole Miss will "mash" Idaho pretty good…

Ole Miss 34 – Idaho 17


Tennessee at Alabama

The Vols are improving and eventually will get back to elite status one day.

Saturday will not be one of those days.

Alabama 35 – Tennessee 10


South Carolina at Missouri

I like the Tigers in this one since they are at home, and the 'Cocks are not really sure where they are now.

What's your comedy routine going to be this week, Spurrier?

Missouri 28 – South Carolina 14


Vanderbilt at Texas A&M

As I wrote before, I will never pick A&M again until Johnny Punkball leaves College Station.

And after last week's games, my prediction doesn't seem too far-fetched this week.

Vanderbilt 35 – Texas A&M 31


Read Scott Sergent's outstanding new book:
What do you think?

We'd love to hear your comments and/or opinions. If you submit them here, other visitors can read them, rate them and comment on them. An e-mail address is not required.

From SEC Football Week 8 Review and Week 9 Preview to SEC Football Blog