SEC Football Week 4 Review; Week 5 Preview
Vanderbilt 24 – UMass 7

Good to see the 'Doores Rip Van Winkle-ing it in Foxboro last Saturday night.  Vandy help a slim 10-7 lead going into the fourth quarter and had two 4th quarter TD's to ice the game.

Were the UMess fans chanting, "SEC! SEC! SEC!" like the Oregon fans did?  They should have since that was more of an embarrassment than the Vols loss last week.
Georgia 45 – North Texas 21

Another SEC team was uninterested in their game as UGA led 21-14 at the half and were tied at 21 in the 3rd quarter before a 24-point surge put the game away, but not until the fourth quarter.

Aaron Murray became only the second QB in SEC history to throw for 100 TD passes or more in the victory.  He also connected with Reggie Davis on a 98-yard touchdown that etched his name into the record books for the longest pass play in school history.

With LSU coming up, nobody could fault the Dawgs for looking past the Mean Green, who were held to seven yards rushing


Rutgers 28 – Arkansas 24

Well, the bubble finally burst for new coach Bret Bielema as the Hogs lost a 17 point second half lead in the loss.

Well, at least he has a hot wife to come home to…


Alabama 31 – Colorado State 6

A little bit of a let down in this one as the Tide stayed unbeaten in a sluggish 31-6 victory.

Scary thing is even when Alabama is not at their best, they still win by 25 points so it is interesting to think what might happen if they gave a crap about what happens on Saturday.  They will this week.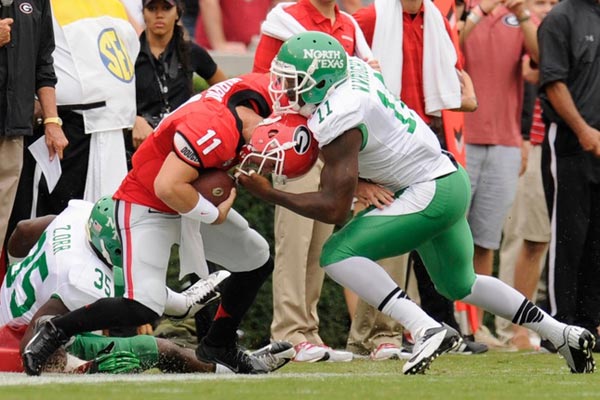 Florida 31 – Tennessee 17

The Gators made in nine in a row over the Vols on Saturday in the Swamp.

The best thing that could of happened to the Gators did as Jeff Driskell broke his leg, and Tyler Murphy came into the game and looked pretty darn good.

This was an ugly game all around as neither team looked impressive, especially Tennessee, who had six turnovers in the game.


Texas A&M 42 – SMU 13

Yeah, whatever.  Johnny Punk got another victory over a less talented team.  Where have I heard that one before this year?  Put him in against a real team and he loses.  Heisman Trophy front runner my can…


Mississippi State 62 – Troy 7

Bulldogs get a huge victory to right their sinking ship.  With a week off before LSU comes to town, they will find out real quick if the ship will be sunk by the time October plays out.


LSU 35 – Auburn 21

Jeremy Hill is a beast and I think he is now the scariest player in the SEC since Jadevon Clowney has been a pretty much been MIA for USC in '13.  LSU rushed for 227 yards, with Hill having 183 of these on his own.

What will he rush for when he sees Georgia's defense?


Missouri 45 – Indiana 28

Good to see another set of Tigers win again as Gary Pinkel's boys upheld the honor of the SEC with a victory over the Big Ten's Indiana Hoosiers.
Week 5 Games (Last Week 8-1 – Season 39-3)

South Carolina at UCF

This is the type of game Carolina needs to get their season heading in the right direction as they pretty much have to be perfect from here on in if they want to challenge for the SEC East, SEC and national title picture.

I think they will be ready, but after knocking off Penn State last week, UCF better have their undivided attention.

South Carolina 28 – UCF 21


South Alabama at Tennessee

The Vols will find the comforts of home very soothing after two butt kickings on the road.

I think the Jaguars will be a good test for the Vols, and are catching them when they are in a free fall kind of mood.

Both teams have beaten Western Kentucky this year so look for a good matchup.  The Vols will win, but it might take a while for the cobwebs to clear.

They had better get cleared soon because October is coming and that is the spookiest time of the year for the Big Orange...

Tennessee 24 – South Alabama 10


Arkansas State at Missouri

Good thing Gary Pinkel has all these patsies on the schedule before the SEC slate begins.  When doest heir season begin again?

Missouri 49 – Arkansas State 14


UAB at Vanderbilt

UAB won't be much of a test for the 'Doores, which is good since they have lost the two games against quality opponents.

Vandy will win, but it will be the last one until November...

Vanderbilt 35 – UAB 17


LSU at Georgia

Game Day comes to Athens for a huge battle between two SEC powerhouses.

LSU is unbeaten and looks to be rolling.  UGA has one loss but can still meet all of their goals by winning out.

Something has to give here.

That something is Jeremy Hill, who will prove to be the difference as LSU ends the Georgia dream of a national championship.  Heck, if the loss is bad enough, it could also mean they stay home for the SEC Championship game...

LSU 38 – Georgia 28


Ole Miss at Alabama

This is another great matchup as Bama hosts up and coming Ole Miss.

The key here is Alabama has been here before and knows how to win.  Ole Miss is improving and wants to win.  Big Difference.

Maybe next year in Oxford, but not this year in Tuscaloosa.

Alabama 34 – Ole Miss 24


Texas A&M at Arkansas

Hey Johnny?  You're gonna lose ... ....

Arkansas 28 – Texas A&M 21


Florida at Kentucky

Just as with Tennessee, Florida holds an even longer winning streak against Kentucky.  Jut as they ended a long losing streak to Tennessee a few years ago, UK has a 26 game losing streak to the Gators, which is the longest streak of one team over another.

Don't look for this one to be broken like the Tennessee streak did...

Florida 35 – Kentucky 20


Read Scott Sergent's outstanding new book:
What do you think?

We'd love to hear your comments and/or opinions. If you submit them here, other visitors can read them, rate them and comment on them. An e-mail address is not required.