SEC Football Week 13 Review and Week 14 Preview
Week 13 Results


Mississippi State 24 – Arkansas 17 OT

It was poetic justice that the Bulldogs won this one in overtime, since they have lost to Arkansas in the extra session three times, (1996, 2000 and 2010), so they relished this one.

The Hogs, who are still looking for their first SEC victory, had a chance to take the led late, but a fumble inside the Bulldogs 20 ended the threat in regulation.
 
Maybe the Razorbacks can turn it around against LSU in the season finale? Oh, sorry, my mind drifted there for a few seconds…


South Carolina 70 – Coastal Carolina 10

Speaking of yucks, and there was plenty in this game, South Carolina defeated long time rival and state wide little brother nemesis Coastal Carolina in a squeaker as 70 unanswered points in the last 60 minutes of the game was the difference.

"We own this state!" was heard from the Gamecocks dressing room after this tense struggle…


Alabama 49 – Chattanooga 0

The Little Debbie wagon pulled into Tuscaloosa on Saturday and left the Tide with a sweet taste in their mouth before knowing on an Iron bone this week…


Georgia Southern 26 – Florida 20

Another cupcake on the schedule.  When will these teams learn that Week 13 is not the time to schedule these games?  Why not schedule a tough conference game instead?

I am sure the conference will be ready to reprimand these guys for this embarrassing trend that sees one team completely destroy and humiliate another.

Georgia Southern, you should be a shamed of yourselves…


Vanderbilt 14- Tennessee 10

Oh sorry.  I forgot there was one more cupcake game in the SEC…


Georgia 59 – Kentucky 17

Oh, sorry.  I forgot about this one too…


LSU 34 – Texas A&M 10

The Punk got his ass handed to him and I could not be happier that he was exposed as the fraud that he really is.

Punky, you finally saw what it means to be a real football player against a real team.  10 points?  My Granma could score more than that, and she has been dead for 20 years.

So are your Heisman chances, and after looking like the front running, nothing happening flash in the pan that you really are, your NFL career too.

Why don't you do your money sign now?  Then again, all the cash you were given last summer should keep you out of the unemployment line for at least a few weeks since you won't be seeing a very long career in the pros.

Cue Nelson from The Simpsons laughing…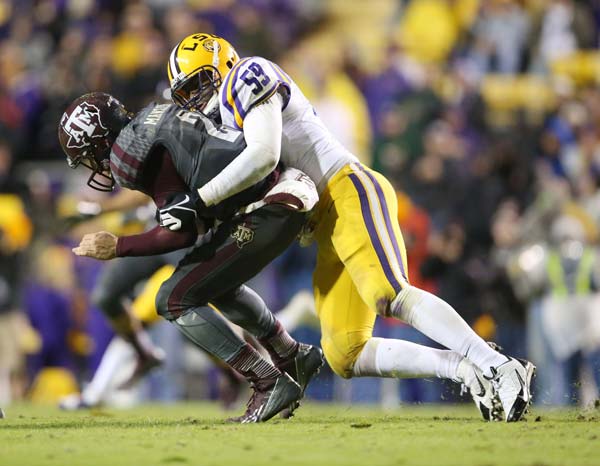 Missouri 24 – Ole Miss 10

Missouri took one step closer to the SEC Championship with a huge win on the road in Oxford.
Maybe more people will start believing in this team?

Wouldn't it be funny if Missouri wins and ends up a game better than USC to go to the championship game?  The people in Knoxville could boast, "Yeah, we only won one SEC game, but the one we did kept Spurrier from winning the East."

Well, Steve, I guess that is what you get for running your alligator mouth…
Week 14 Games


Ole Miss at Mississippi State

The Egg Bowl should not be much of a contest.

Ole Miss, despite losing last week, should win this one easily.  Dan Mullen will have egg on his face after this one is over.

Ole Miss 24 – Mississippi State 10


Arkansas at LSU

Nothing to see here.  Unless you like train wrecks.

LSU 49 – Arkansas 7


Florida State at Florida

Or airplane disasters…

Florida State 55 – Florida 0


Georgia at Georgia Tech

I know I have picked Tech a few times to upset the Dawgs, but this time, with Aaron Murray out and a defense that can't stop wind, playing at home, the Jackets finally get it done.

Georgia Tech 28 – Georgia 24


Tennessee at Kentucky

What happened to the Tennessee team that beat South Carolina?

Today, these guys couldn't pick the winner of a one horse race.

Kentucky couldn't pick the winner of a no horse race, so this one will be fun to watch.  Especially with a lot of bourbon next to you.

What the hell, Cats make it two in arrow over the Vols in Lexington.

Kentucky 21 – Tennessee17


Missouri at Texas A&M

You know which way I am going on this one.

I loathe Johnny Punkball and the disgrace he brings to the college football world.

It will be nice to see Missouri show that nothing happening punk what a real team looks like. And the real team will be going to Atlanta to play for the SEC championship after they leave Kyle Field.

Sorry, Spurrier, your mouth just cost your team a chance to win the SEC.  Sleep well, you wannabe standup comic…

Missouri 35 – Texas A&M 24


Clemson at South Carolina

The Unknown Comic himself welcomes their biggest rival to Columbia on Saturday in a very heated series that is reaching boiling point status due to both teams being great and successful at the same time over the past few years.

Carolina has played better as the year has gone along.  However Clemson has the better team, and are faster and stronger than the 'Cocks are.

The joke is on Spurrier this Saturday.

Clemson 38 – South Carolina 28


Wake Forest at Vanderbilt

That tremendous Vandy vs. Wake Forest rivalry is alive and well. I suppose.

Vanderbilt 31 - Wake Forest 17


Alabama at Auburn

The biggest game in the Iron Bowl series since the 1994 and 1971 battles will be played in Auburn this Saturday.

I have seen both teams play and observed the following.

Auburn can run the ball through a brick wall.  They just can't throw it to the wall.

Alabama is balanced one both sides of the line of scrimmage and has the best coach in college football.

I'm sorry Auburn, your team is a nice story, but nice stories don't beat teams that are far more superior to you.  You should have lost the Georgia game since that was a fluke.  Washington State had you beat in your own back yard.

What do you think the mighty Tide is going to do to your cute, fun, little option attack?

This one is going to be all Crimson after it is all said and done.  And it won't even be close.

Alabama 42 – Auburn 7


Read Scott Sergent's outstanding new book:
What do you think?

We'd love to hear your comments and/or opinions. If you submit them here, other visitors can read them, rate them and comment on them. An e-mail address is not required.

From SEC Football Week 13 Review and Week 14 Preview to SEC Football Blog