SEC Football Week 12 Review and Week 13 Preview
Week 12 Games


Ole Miss 51 – Troy 21

Gee, you talk about a mismatch, you had one in Oxford Saturday.

Ole Miss racked up 751 yards.  751!  That's like walking from Oxford to the other Oxford, in England, and back like 52 times.

And Troy?  They ended up with -13 yards rushing.  That's like walking backwards into your ottoman and busting your ass.  And it looks just as silly.


Vanderbilt 22 – Kentucky 6

Speaking of silly, I'll bet the Cats can't wait until basketball season gets here full time.

And speaking of full time, the Commodores are now full time members of the bowl parade as they clinched their third consecutive bowl game, which is a school record.

I am not sure how proud I would be about that record, but when you are Vandy, and you are on a football field, I would take all the good tidings I can get.


South Carolina 19 – Florida 14

The Gators are having the season from Hell, which I am sure makes the rest of the SEC chuckle since it has been 25 year since they have been this bad.

Carolina's Elliot Fry did his best Nick Mick-Meyer imitation by kicking 56 field goals, which they needed since they trailed at the half 14-6.

Good thing they had "Thunder Foot" Fry on the sidelines because…


Auburn 43 – Georgia 38

Georgia decided that games are only 59:30 seconds and thought they would play a little volleyball to finish up their night in Auburn, which ended their SEC East title hopes and gave them to Carolina on a silver platter.

On one of the most memorable and exciting plays in SEC history, Nick Marshall's prayer of a pass bounced off two UGA defenders who, instead of trying to knock the ball down on 4th and 18, tried to be heroes and intercept it.

The ball bounced into the hands of Ricardo Louis, who bobbled the ball before finally coming down with it and walked into the end zone.

The Tigers then withstood a final drive by Aaron Murray who ran out of time at the AU 20 to cap the Game of the Year in the SEC.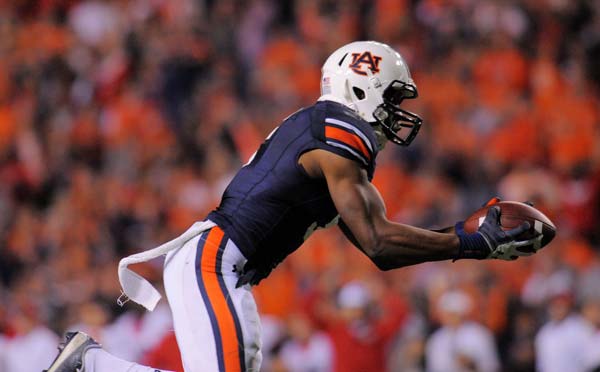 Alabama 20 – Mississippi State 7

Well, I hate to tell you this, but last Saturday was the final chance for anyone to beat the Tide as they had their stinker of a game and it was still enough to harvest another double-digit victory.

The only way another team can win the national championship is if Bama loses before they get there, since nobody will beat them in a championship game.

Mark it down, that was the final opportunity for any other team to hoist the crystal trophy.  It is coming home with Alabama in January for the third straight year, which is a feat that will never be duplicated or passed.
Week 13 Games


Mississippi State at Arkansas

I liked what I saw from the Bulldogs last week.  Too bad I didn't like what I saw from the Hogs two weeks ago.

Get out the sauce since there is going to be a pig roast in Fayetteville this Saturday.

Mississippi State 34 - Arkansas 7


Coastal Carolina at South Carolina

One of many snoozers before Rivalry Saturday in the SEC.  I am going to go out on a limb and say Carolina will with this one…

South Carolina 56 – Coastal Carolina 7


Chattanooga at Alabama

This one has about as much drama a watching a boil being lanced.

Alabama 63 – Chattanooga 0


Kentucky at Georgia

Dawgs get ready for Tech and can finally rest easy in an SEC Game.

Georgia 42 – Kentucky 14


Missouri at Ole Miss

Tigers cannot be stopped.  Even by the Rebels who are still a year away from being a force in the SEC.

Missouri 38 – Ole Miss 31


Vanderbilt at Tennessee

Last year the 'Doors gave Tennessee their worst beaten in almost a 100 years.

This year in Knoxville, they will beat them again, but it will be much closer.

Vanderbilt 28 – Tennessee 17


Georgia Southern at Florida

The Gators played as well as they could last week.  This week that should be more than enough to get them their final victory of the year.

Florida 35 – Georgia Southern 7


Texas A&M at LSU

If you have been reading my Blog all year, you know which way I am going in this one.

LSU will win.  And Johnny Punkball will still be a punk.

LSU 63 – Texas A&M 56


Read Scott Sergent's outstanding new book:
What do you think?

We'd love to hear your comments and/or opinions. If you submit them here, other visitors can read them, rate them and comment on them. An e-mail address is not required.

From SEC Football Week 12 Review and Week 13 Preview to SEC Football Blog