SEC Football Week 11 Review; Week 12 Preview
Vanderbilt 34 – Florida 17

For the first time since they played their very first game against each other in 1945, Vanderbilt beat Florida in Gainesville and it wasn't even close.

I don't think the Gators have quit on Coach Muschamp, but you cannot win too many games in any conference with a slew of injuries that have mounted up on both sides of the ball.

With Carolina and FSU on the docket next, I don't think there will be any post season plans in Gainesville this year.
Missouri 48 – Kentucky 17

It's official, Kentucky will go another year without a conference victory.  And for Missouri, this one was just a speed bump on the way to Atlanta to face mighty Alabama for the SEC Championship in a couple of weeks.


Auburn 55 – Tennessee 23

This is where I would usually write that tackling is not optional in the SEC, but the Vols didn't even come close to attempting a tackle, since their defender were so far away from the ball carrier on many occasions.

It was like watching Techmo Bowl when you called the perfect play and the other teams was yards behind your Bo Jackson or Ernest Byner (If you were played Cleveland, which outside of the Dawg Pound, not too many people would).

However, you read it here first, Auburn won't get out of Jordan-Hare alive since they are one dimensional, and when they play a team that can match their speed, and not worry about an non existent passing game, they won't be able to move the ball across the street.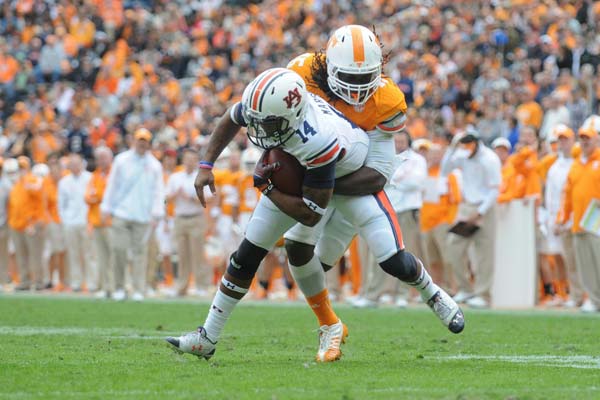 Ole Miss 34 – Arkansas 24

Ole Miss continues the ascension under Huge Freeze, while the Hogs watch Bret Bielema crash to earth, similar to the time they threw the Turkeys out of the helicopter during the WKRP Thanksgiving Day promo at the Pinedale Shopping Mall.

They both have hit the ground like bags of wet cement.


Georgia 45 – Appalachian State 6

Nice win for the Dawgs.  Too bad it is probably the last one they will have this year…


Texas A&M 51 – Mississippi State 41

Whatever.  Jonny Manziel is still a punk and I cannot wait until he leaves college for the pros. 

Do the names Michael Vick and Colin Kapernick ring a bell?  Well, this time next year, Punky Football is going to have his bell rung a few times and maybe then he will think twice about disrespecting the beautiful game of college football.


Alabama 38 – LSU 17

LSU had their chances to spring the upset and looked good in stages, but Alabama is just too good for them and anyone else they will come into contact with this year.

Like I said before, the Tide will never lose another football game as long as Nick Saban is the coach.  Ever.  Period.  End of the story.

If you don't believe me, tell me who is going to beat them?
Week 12 Games
Troy at Ole Miss

Rebs tune up for a MONSTER game next week as Missouri comes to town.

Ole Miss 55 – Troy 28


Kentucky at Vanderbilt

The victory last week should mean the 'Doores will end the year on a four game winning streak.

Number two comes this week in Nashville.

Vanderbilt 35 – Kentucky 14


Georgia at Auburn

Auburn is one-dimensional and has been studying the way the referees throw the ball to each other just to see what a pass looks like.  The last pass they threw had to have been from either Pat Sullivan or (GASP) Reggie Slack.

They have attempted only 16 passes in their last two games, and have run so effectively, they haven't needed to pass.

Georgia is also one dimensional, but it's on defense where they cannot stop the run.  Oh wait, they can't stop the pass either.

Look for a high scoring game, but in the end, the Dawgs are prone to mistakes and that will be the difference.

Auburn 42 – Georgia 38


Florida at South Carolina

Are the Gators still in the SEC?  Spurrier gets his jollies over this one.

South Carolina 31 - Florida 7


Alabama at Mississippi State

The only things certain these days are: death, taxes, Mississippi State unable to beat anyone they aren't predicted to, and Alabama winning by at least three touchdowns.

As Smokey said in The Big Lebowski, "Mark it, Dude." And Walter adding, "My friend, you are entering a world of pain," this one will be nothing but gutter balls for the Bulldogs.

Alabama 49 – Mississippi State 14


Read Scott Sergent's outstanding new book:
What do you think?

We'd love to hear your comments and/or opinions. If you submit them here, other visitors can read them, rate them and comment on them. An e-mail address is not required.

From SEC Football Week 11 Review; Week 12 Preview to SEC Football Blog