SEC Football Bowl Season Review
2014 - 2015 Season
By - Kory Kinslow

The Bowl season got off to a good start for the SEC. South Carolina played and beat Miami (FL) in a very close game. South Carolina got the SEC East started with a good bowl year. Texas A&M then beat West Virginia in a shoot out. Texas A&M may end up improving by a lot next year with a year's worth of experience under their quarterbacks belt. Arkansas then man-handled Texas. Arkansas made a big leap this season and looks to contend in the SEC West next season.
The 3-0 start would not be an omen of things to come, for the most part. LSU would lose to Notre Dame on the 30th. It was a very close game, but one that LSU should have won. Georgia did come up with a big win over Louisville in the next game. Georgia once again ran the ball exceptionally well, even with Gurley not playing. 
There would be a few losses after that. Ole Miss only managed to put up 3 points on TCU who scored 42. Ole Miss appeared to just not really want to be there. Mississippi State put up 34 on Georgia Tech. The only thing is, they let the unconventional triple option of Tech score 49. The SEC West was on a bad trend after this game. Auburn would subsequently lose to Wisconsin in overtime. This New Year's day loss was a sign of things to come for the SEC West.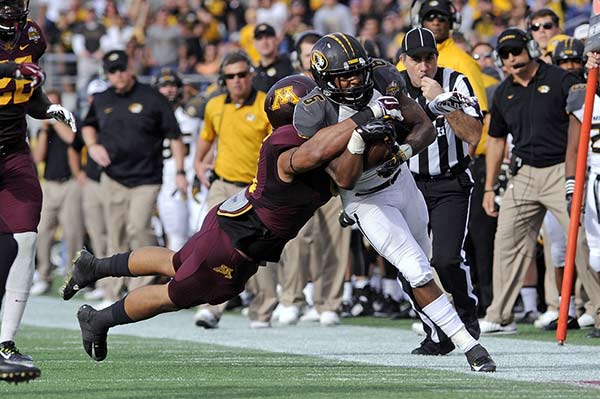 Missouri beat a good Minnesota team 33-17. Missouri also looks good for next year. The SEC East had a good showing in most of their bowl games. Tennessee would also win, beating Iowa handily 45-28. Tennessee has a very young team and looks very good for the next few years. Florida would finish things off for the SEC East with a big win over East Carolina by 8. They finished a good game and now it's on to new things for Florida. Lots of situations with the Gators, but they always seem to bounce back every few years.
Alabama was, perhaps, the most disappointing of all the SEC teams, as they were the lone representative in the College Football Playoff. The SEC pushed hard for a playoff in the past few years, seeing it as pretty much the only way to get two SEC teams into the Championship. What happened was not what any of us thought. The SEC would really have a down year all in all and Alabama would be the only team left to fend for the title.
They played former Florida coach Urban Meyer with Ohio State now. State had their 3rd string Quarterback playing, but you certainly couldn't tell. He lit up Alabama. Blake Sims would go 22/36 for Alabama with 237 yards, but 3 picks. Jones was efficient passing for Ohio State, but also had 43 yards on the ground. They also had Ezekiel Elliot run 20 times for an astounding 230 yards and two touchdowns. The Tide got shocked by this explosion. They held great running backs to very little yardage all year. Alabama simply got outscored. The big time defense didn't show up. It was 42-35 OSU. 
The SEC East actually finished 5-0. They appeared stronger in the end. The SEC West fell hard. The West won 2 out of 7 games in the post-season. It was Arkansas and A&M that won those two games, not one of the Nationally ranked teams. The SEC has some major work to do next season, especially the West. It appears the East has nothing but good things on the horizon!


What do you think?

We'd love to hear your comments and/or opinions. If you submit them here, other visitors can read them, rate them and comment on them. An e-mail address is not required.

SEC Football Bowl Season Review 2014 - 2015 Season
By
Mo Johnson
, Copyright © 2006-2017 SECSportsFan.com