SEC Football: 5 Week Three Storylines
By: Marcus Williams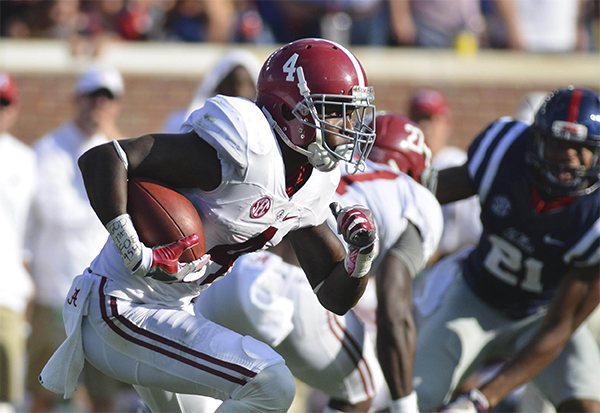 The SEC had an exciting and fun weekend, as eight SEC teams squared off against each other in week three. All these games were close and competitive, but did not feature one single upset. Here are five storylines to take away from the week three games.
What Will It Take To Beat Alabama?
The Crimson Tide were down 21 points at one point and gave up 43 points total on the road in a hostile environment, and still somehow won. The Crimson Tide turned a 21-point deficit into a 48-30 lead at one point. The running game was absolutely dominant, as freshman quarterback Jalen Hurts continues his fantastic start of his career, running for 146 yards, with sophomore Damien Harris adding on another 144 yards and a touchdown. Eddie Jackson also broke off an 85-yard punt return for Alabama by Eddie Jackson right before halftime and a 75-yard interception return for a touchdown by senior defensive lineman Jonathan Allen with five minutes remaining in the game.
Missouri's SEC Woes Continue
The Missouri Tigers went 1-7 against SEC opponents last year and continued that trend after losing a heartbreaker to the Georgia Bulldogs at home 28-27. On a fourth and 10 from 20 yards out with 1:30 left on the clock, freshman quarterback Jacob Eason showed unbelievable poise hitting junior standout Isaiah McKenzie for the game-winning touchdown. The Tigers played a great game, holding the lead for basically 56:30 of the game, but couldn't make the fourth down stop when it mattered the most.
A Healthy Leonard Fournette Is Still A Heisman Candidate
The LSU running back phenom missed LSU's second game against cupcake opponent Jacksonville after aggravating a sprained ankle against Wisconsin. The injury broke Fournette's streak of 19 straight starts. Fournette came back strong against SEC opponent Mississippi State, rushing for 147 yards and two touchdowns, including a 25-yard touchdown run in the first half. Fournette is 26th in the nation in rushing with his 285 yards in two games this season. Fournette could easily be in the top 5 in the country if he was healthy against Jacksonville State.
Texas A&M Continues Its Strong Start
The Aggies move to 3-0 on the season after handling the Auburn Tigers pretty easily on the road in a 29-16 win. Senior quarterback Trevor Knight passed for 247 yards and one touchdown, along with his 42 yards on the ground. Freshman running back Trayveon Williams iced the game with an 89-year old touchdown run with just under seven minutes left in the game. The Aggies have beat two respected programs in UCLA and Auburn this season and now will continue their five-game stretch of SEC opponents for the next month: #17 Arkansas, at South Carolina, #14 Tennessee, and then at #1 Alabama.
Ole Miss On The Ropes
The Rebels put themselves in a position to possibly be the #1 ranked team in the country but choked with big leads against Alabama and Florida State. The Rebels gave up a 22-point lead to the Seminoles in the season opener and then saw a 24-3 lead evaporate against Alabama at home. If they win one of those games, they are probably a top 10-15 team right now, but instead they now sit at #23 with now every game a must-win. They welcome #12 Georgia to town this week with their backs against the wall.