SEC Football 2016 Week 3 Review
By - Kory Kinslow

It's hard not to start off this article without mentioning Alabama. They are currently ranked number 1 and had a narrow win over Ole Miss. Alabama is now 3-0 and Ole Miss is 1-2. I don't see a lot of difference in the two teams, however. I don't know that Alabama will roll to another Championship if they don't improve on defense. Everyone wants to talk about the Quarterback, but 48 points is more than enough for Bama teams in the past. Ole Miss made a big time come back in the fourth quarter and nearly won this game. The Tide Defense is going to have to improve. I think that Ole Miss is going to win a lot more games, and while the two losses may knock them out of the playoffs, they will go to a very big bowl game and have a very good season.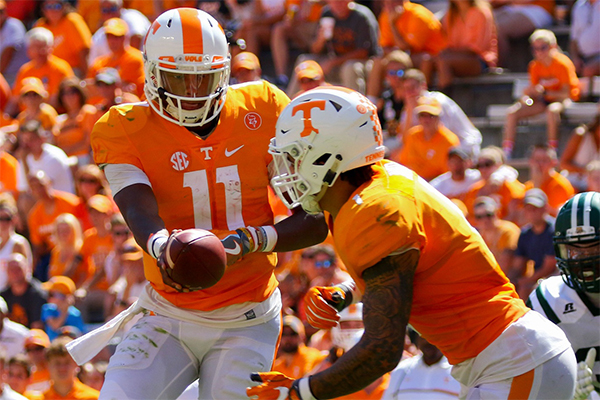 Tennessee won once again to move to 3-0. They defeated the Ohio Bobcats 19-28. Some would say that they should have won by more, but I think with each game they will grow with confidence and become the team we all thought they would be at the beginning of the season.
Georgia narrowly defeated Missouri. This game would send Georgia to 3-8 and Missouri to 1-2. The two teams both looked good and I think they will each do well in the division. Missouri is good enough to get to a bowl game if they can navigate a tough schedule and Georgia still has a shot at the SEC East title and a chance, although slim, at the College Playoff.
Texas A&M faced off against Auburn. The Aggies handled the Tigers easily. They won by a score of 29-16. A&M has a tough schedule, but could challenge Alabama. Auburn needs to right their ship quickly if they expect to do anything this season and keep their coach. Texas A&M moves to 3-0 and Auburn drops to 1-2.
LSU moved to 2-1 by beating Mississippi State who drops to 1-2. LSU looked better than weeks past at certain times and looked the same in others. Fournette looked good, but the passing game still needs to improve. Mississippi State is much better than many thought they would be, but the loss at Quarterback of Dak Prescott is still hurting them. They need to find an offensive identity if they expect to be above .500 this season.
Florida moved to 3-0 with a blowout win over North Texas. The Quarterback, Del Rio, got hurt and they need him if they expect to win the SEC East. The East has three great teams and it's going to be a photo finish to see who makes it to the SEC championship.
Arkansas beat Texas State by a score of 3-42. They move to 3-0 on the season and a young team looks better and better each week. If they can continue to improve on offense and the defense continues to play well, they may have a shot at some great things. I don't think they're ready to challenge the big boys of the SEC West, but watch out as they may upset one or two of those big time programs.
Vanderbilt got hammered by Georgia Tech and moved to 1-2. I think it's going to be another tough season for Vandy fans and they will struggle to win even 5 games on a tough schedule.
Kentucky won a shoot-out 62-42 over New Mexico State. Obviously their defense needs to improve and they may have a tough time in conference this season, but they are moving in the right direction and should be good in coming seasons.


What do you think?

We'd love to hear your comments and/or opinions. If you submit them here, other visitors can read them, rate them and comment on them. An e-mail address is not required.

SEC Football 2016 Week 3 Review to SEC Football



By
Mo Johnson
, Copyright © 2006-2017 SECSportsFan.com