SEC Football 2016-2017 Season Week 12 Review and Week 13 Preview
By - Kory Kinslow

There was only one top 25 match up in the SEC in week 12. Florida went into Tiger Stadium to play LSU in a game originally scheduled to be played in Florida a few weeks ago, but moved due to weather. This game had a lot of drama and a lot of emotion to it. There was a bit of a fight before the game, probably stemming from the cancellation and rescheduling of the game earlier in the season. Florida came in to the game battered and beaten missing many of their top defensive players, as well as their starting quarterback. LSU was looking to get a big win and possibly a spot in a New Year's 6 bowl game, while the SEC East Title and a spot in the SEC championship was on the line for Florida. Florida, ranked 23, won the game 16-10 over the number 16 ranked LSU. It was a game that was really dominated by the defense of Florida. Now we will see if they can put up any type of game versus Alabama in the championship game in Atlanta.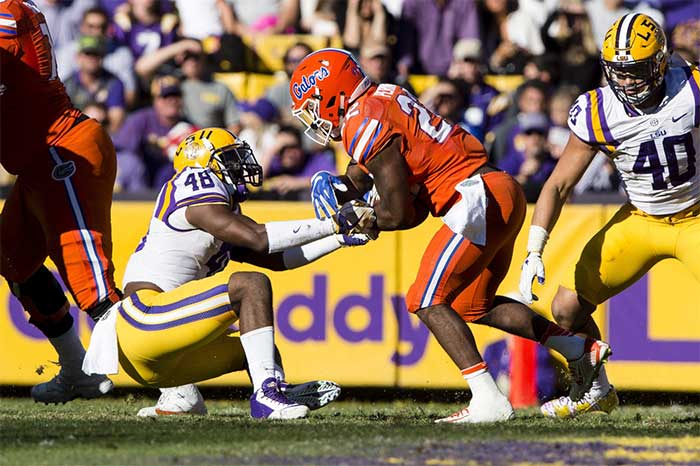 The SEC won all of the non-conference games on tap for week 12.  Alabama, Auburn, Texas A&M, Georgia, South Carolina, and Kentucky all handled smaller conference opponents this week.  It is looking like Alabama will have the 1 spot again and the rest of the teams that played non-conference foes should hold steady as well.
In SEC play, Vanderbilt crushed Ole Miss by a score of 38-17. The Freshman Quarterback couldn't pull of the magic for the Rebels and Vanderbilt looked really good in this one. Watch out for this Vanderbilt team for seasons to come. Vanderbilt and Ole Miss both have 5 wins and will be hoping for a 6th and a chance at a bowl game. Arkansas and Mississippi State played in a high powered offensive game, or you could look at it as a poor defensive game. Neither team appeared to be too high on tackling anyone. Arkansas' running backs had a big game and they won, 58-42. That puts Arkansas at 7-4 and Mississippi State at 4-7. State will not make it to a bowl game. Number 19 Tennessee hammered Missouri by a score of 63-37 to move to 8-3. They are 4-3 in league play. It has been a disappointing season for a preseason favorite to win the East in Tennessee, but they will get a good bowl game and look to finish the 2016 season strong.

Week 13 will see a lot of big match-ups in and out of conference.
In-Conference:
#16 LSU plays at #25 Texas A&M: This game is interesting to see if either of these two teams can compete for a New Year's Six bowl. It will have some big bowl game implications.
Arkansas at Missouri: It's a game for Missouri to look for their sixth win and a big game for Arkansas as far as recruiting for their future and their standing in the SEC and bowl game potential. Arkansas is looking to improve on last year's record and continue to improve with this young team.
Mississippi State at Ole Miss: Dissapointing seasons for both of these teams can be thrown out the window in this rivalry game.
#15 Auburn at #1 Alabama:  This game is always one of the biggest if not the biggest of the year for these two teams.  It's a matter of pride and bowl positioning for Auburn and Alabama looks to remain in the drivers seat in the CFP. 
#19 Tennessee at Vanderbilt:  Vandy is looking to get in a bowl game and Tennessee looks to improve their standing in the hunt for a big bowl game. 
Week 13 also gives us some big out of conference games: 
Out-of-Conference:
Georgia Tech at Georgia:  Georgia desperately needs a win in this big rivalry game, especially for recruiting in the state of Georgia.  
Kentucky at #5 Louisville:  Louisville is looking to keep up with the other teams in the CFP hunt, as they need a lot of help, if not they are looking for a New Year's 6 playoff game, while Kentucky looks to keep improving. 
South Carolina at #4 Clemson:  South Carolina could really use a big win over a top team, and Clemson may be ripe for the picking. 
#23 Florida at #17 Florida State:  Florida could use another big win for their bid to get the New Year's 6 bowl game out of the SEC.  This win and a good game against Alabama could just do it.
What do you think?

We'd love to hear your comments and/or opinions. If you submit them here, other visitors can read them, rate them and comment on them. An e-mail address is not required.

SEC Football 2016-2017 Season Week 12 Review and Week 13 Preview to SEC Football

By
Mo Johnson
, Copyright © 2006-2017 SECSportsFan.com