SEC Football 2016-2017 Season Week 10 Review and Week 11 Preview
By - Kory Kinslow

Week 10 was a big week in the SEC. There were some upsets, some close games, and some big surprises. There was only one match-up with both teams ranked, but two other ranked teams were beaten by un-ranked SEC opponents.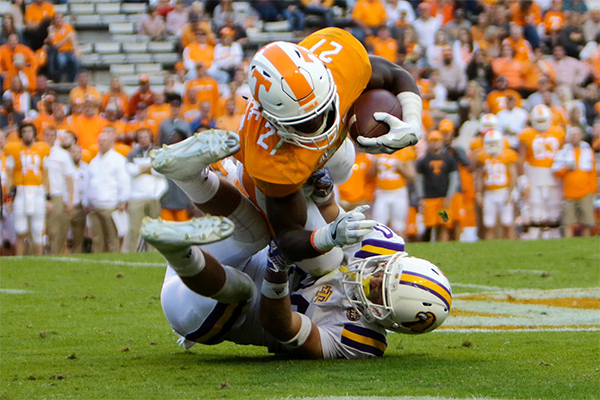 Tennessee and Ole Miss both faced non-ranked teams from outside of the conference and both teams won. Tennessee won 55-0 against Tennessee Tech. This may be the kind of game this team needed to get back on track after a rough first part of the season and the transfer of one of their best players. They looked good on offense and any time you can shut out an opponent has to feel good. Ole Miss beat Georgia Southern 37-27, but Quarterback Chad Kelly was injured. We will hear more about his condition in the coming days. If he is able to come back, then they should be good for a bowl game.

There were two match-ups of un-ranked SEC teams. Georgia beat Kentucky 27-24. If Kentucky had pulled out the victory they would be first in the SEC East, but the loss knocks them back half a game of Florida. South Carolina beat Missouri 31-21. This brings Missouri to 5-4 on the season, while knocking Missouri to 0-5 against SEC opponents.
Three ranked SEC teams faced un-ranked SEC teams. Two of these teams were upset. The biggest of these games was the upset of 4th ranked Texas A&M to Mississippi State. Mississippi State played their best game of the season behind the tough running of Nick Fitzgerald who had 182 yards on 20 carries. A&M was a surprise to be ranked 4th by many and now will fall out of that spot after the 35-28 loss to the Bulldogs. Arkansas hammered 11th ranked Florida on CBS. The 31-10 win may bring Arkansas back into the top 25 next week and will hurt Florida, who remains at the top of the SEC East. Auburn beat Vanderbilt 23-6. Auburn's Pettway had 173 yards rushing and kept the Tigers consistent as they started the game without their starting Quarterback who came in late to save the game for Auburn.
The big game of the day was the 10-0 win of Alabama over LSU. LSU played a great game defensively, but could never get anything going on offense. Alabama will remain number 1 and there's no telling where LSU will be ranked after this one. It showed their true weakness on offense when Fournette can't run the ball. Jalen Hurts continued to carry the offense for the Tide leading in rushing and passing. The Freshman showed that he is clutch and will continue to be a force to be reckoned with.
Notable games in week 11 are Tennessee at home against Kentucky. This game has big implications in the SEC East. LSU also plays at Arkansas, which could write the story of the season for both teams in a major rivalry game in the SEC West. South Carolina plays at Florida, which could be a big game if Florida loses. The SEC East is still up for grabs and Tennessee, Kentucky, Florida, South Carolina and Georgia are all still in contention. Georgia has a tough game against a ranked Auburn team. It's a huge week in the SEC East, so be watching what these teams do. Don't forget about Auburn, as they still control their own destiny in the West.
What do you think?

We'd love to hear your comments and/or opinions. If you submit them here, other visitors can read them, rate them and comment on them. An e-mail address is not required.

 SEC Football 2016-2017 Season Week 10 Review and Week 11 Preview to SEC Football
By
Mo Johnson
, Copyright © 2006-2017 SECSportsFan.com