SEC Football 2014
Week 8 Review and Week 9 Preview
By - Kory Kinslow

The SEC ended the week with 4 of the top 5 ranked teams. All 4 of these teams are from the SEC West. South Carolina won against an inferior opponent in Furman. They may be the most disapointing team in the SEC East, but with that side not fairing as well, they could make a run to get into the championship game, believe it or not. Texas A&M got crushed by a very determined Alabama team. I really have little to say other than A&M played their worst and 'Bama played their best game. Georgia beat Arkansas fairly easily. Their backup running back, Chubb, ran for 202 yards. This guy is for real and so is Georgia.

Arkansas was outplayed in the first half and while making it a two touchdown game, it could have been much worse. Tennessee disappointed as well with a big loss to Ole Miss. It may just be that Ole Miss is that good, but I think we all thought we'd at least see a better showing from the 'Vols. Missouri handed it to Florida. I wouldn't be surprised if we see a new Gator coach next season. Kentucky went to where dreams come to die, and I guess that saying was true, for this game anyway. They got rolled by the LSU Tigers.

In week 9 Arkansas gets to play UAB. Arkansas can't seem to get a win in the SEC, but they've been good against weaker non-conference opponents. I'm sure they'll set the tempo with the running game and take this one, but nothing with the Hogs is going to be set right until they win a game in Conference.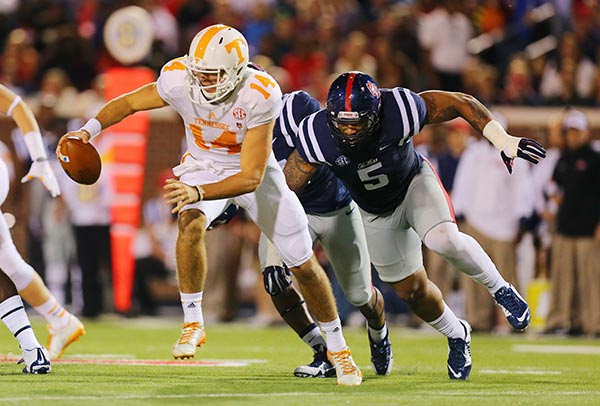 The Mississippi State Bulldogs head to Kentucky to defend their number 1 ranking. Kentucky has improved, but not enough to take out the Dogs. I believe State wins by at least two touchdowns in this one.

Vanderbilt travels to Missouri. I hate to even pick a team in this one, but I guess I will say Missouri. They have had moments of greatness, but far more of mediocrity. Vanderbilt, however, has shown little in conference play. Missouri by a touchdown.

Ole Miss will travel to play LSU. I think that the third ranked team in the country will come away with a hard earned victory. It will be a very tough game as LSU has been up and down and I believe that they will be up for this one. Ole Miss has proven themselves so I'm going to say they pull away by ten in the fourth quarter.

South Carolina has to travel to play Auburn. I don't see this ending well for USC. I think that the Gamecocks will lose by seventeen. Auburn is hitting their stride and they will be a tough win for anyone.

Alabama heads to Rocky Top to play Tennessee. Tennessee will hang around for a quarter or so, but Bama wins big and continues last week's momentum by at least three touchdowns.


What do you think?

We'd love to hear your comments and/or opinions. If you submit them here, other visitors can read them, rate them and comment on them. An e-mail address is not required.

SEC Football 2014 Week 8 Review and Week 9 Preview to SEC Football
By
Mo Johnson
, Copyright © 2006-2017 SECSportsFan.com