SEC Football 2014
Week 7 Review and Week 8 Preview
By - Kory Kinslow

It was yet another wild week in the SEC. We start with Kentucky easily handling UL Monroe and becoming more of a threat in the East. Georgia played well without their star running back and hammered Missouri. This win helps Georgia out a lot and shows weaknesses in Missouri's game. Tennessee needed to get some momentum in the East and got a big win over Chattanooga. While Chattanooga may not be the best of teams, the confidence may be what Tennessee needed to get them back on track. LSU had a close game with the Gators.

Florida drops it's second SEC game while LSU wins it's first. LSU will go to a bowl game, but I don't think they're anywhere near what we thought they were at the beginning of the year. Vanderbilt barely beat a decent Charleston Southern team, but it's definitely a down year for Vandy. Alabama just barely overcame a good Arkansas team. Alabama is not the team I would have thought at the beginning of the year. They need to win out and get some major help by the rest of the SEC to get into the SEC title game and then into the final four.

Mississippi State proved their worth and beat Auburn fairly convincingly. They scored 21 points in the first quarter giving them an early edge. They came out ready and that was a big part of the difference. Ole Miss continued their winning ways, beating Texas A&M easily. I'm not sure if this game showed how good Ole Miss is(which they are) or how A&M has fallen off a bit this year. At this point the East still appears to be Georgia's to lose. The West is still open, but the two Mississippi teams are beginning to pull away, putting a big target on the Egg Bowl at the end of the season.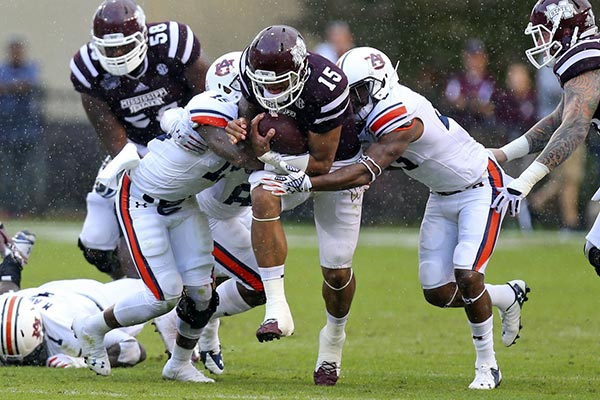 Week 8 is going to be a little less dramatic, with still a couple of games that are promising to be good. South Carolina will play Furman and if any team needs a blow out win it's USC. They have not played up to potential and if they have any chance of winning the East they need to get back into a groove. Alabama will play Texas A&M and I see no reason that Bama shouldn't take it to Texas A&M. The Aggies have shown a lack of a running game and the in-experience at the Quarterback spot is starting to show.

Georgia plays Arkansas, in a game that could be very good. I think that Arkansas is due after playing two games very close in SEC play against good opponents and outplaying Auburn for a half. Georgia better not let this be their trap game. Tennessee plays number 3 ranked Ole Miss. Tennessee is a decent team, but I think the Rebs have shown us they can handle about anyone. If Wallace plays the way he has been and the defense continues to fly around the field, Ole Miss will run away with this one easily.

A very intriguing game is Missouri and Florida. Both of these teams need a win badly and have fallen off the SEC radar, but with the East being the way it is, a win here could put them back amidst talks of winning this division. Kentucky plays LSU. Convention says to pick LSU, but I really like what Kentucky is building with this team in the East and in another upset this week, I say Kentucky takes this one.


What do you think?

We'd love to hear your comments and/or opinions. If you submit them here, other visitors can read them, rate them and comment on them. An e-mail address is not required.

SEC Football 2014 Week 7 Review and Week 8 Preview to SEC Football

By
Mo Johnson
, Copyright © 2006-2017 SECSportsFan.com