SEC Football 2014 Week 2 Preview
Alabama will play Florida Atlantic on Saturday. I obviously don't think they are in trouble of losing this game, but a better performance from the Quarterback position is needed. The entire team needs to play better, but they need to have more big play ability and start working on getting the all down field in order to compete in a very good SEC West.

Missouri will play Toledo. Missouri should walk away with this one easy and continue to make their resume better. They need to show that their defense is still good enough to compete with Georgia in the East, but if South Carolina doesn't improve, they may be more of a competitor than previously thought.

Tennessee was impressive in week one, but Arkansas State comes to town with a pretty good team. The talent level should be in Tennessee's favor, but they don't need to overlook Arkansas State. I think that Tennessee could compete more this year based on week 1.

Mississippi State should make short work of UAB. This game may be competitive early, but I think Mississippi State's defense and ability to throw the ball should wear down UAB.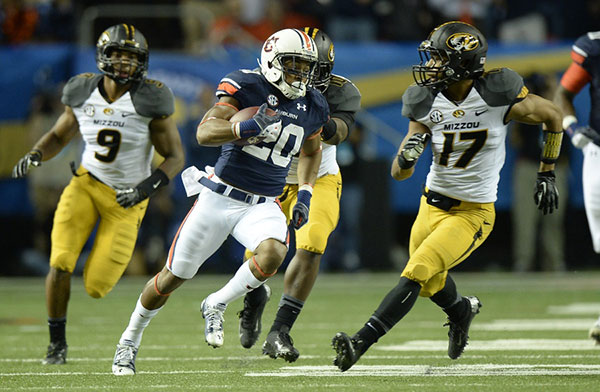 Kentucky will play Ohio on Saturday. This should be a winnable game for an improved Kentucky team. I think they can win this one, but they will still struggle in the East, but give some teams a better game than previously thought.

Florida will make short work of Eastern Michigan. Florida is a team on the rise. They didn't get to play against Idaho, but I think we can safely say that they will be improved and be able to compete with some teams this year. They may not all be wins, but they will play much better.

Arkansas plays Nichols State. Arkansas should win this one easily. I don't know if Arkansas is ready for a bowl, but if they play the way they did in the first half against Auburn more consistently, they could give some teams some major problems this year. They are building the type of team that can contend two or three years down the road.

Ole Miss comes into Vanderbilt looking to take advantage of a down Commodore team. The Rebels didn't look great last week, but I believe this is a team that will improve each week and can readily beat Vanderbilt.

East Carolina comes to town to play South Carolina. This one is harder to call because we don't know if the team with all the potential in the world that we thought we would see from the Gamecocks will show, or the team that got hammered  by A&M last week will show. They need to block better and play better on defense. I think they will win this one, but better improve as they move into playing some Eastern Division foes.

Auburn will make short work of San Jose State. They handled Arkansas in the second half and can do the same to San Jose State. They are a good team that is well coached and is very hard to prepare for.

Lamar will get slaughtered by Texas A&M. The Aggies are riding high off a big win over SEC power South Carolina and should play even better against a short handed and less talented Lamar team.

LSU will play Sam Houston State. I think we all got a big shock in the first half against Wisconsin when it seemed that LSU wasn't the team we thought they could be, but the big and fast wide receivers, good quarterback play, and all around talent showed in the second half. If they play like that the entire game, every game, they should be in contention in the West. Sam Houston State better watch out for a very good LSU team.

What do you think?

We'd love to hear your comments and/or opinions. If you submit them here, other visitors can read them, rate them and comment on them. An e-mail address is not required.

SEC Football 2014 Week 2 Preview to SEC Football

By
Mo Johnson
, Copyright © 2006-2017 SECSportsFan.com