SEC Football 2014
Week 13 Review and Week 14 Preview
By - Kory Kinslow

In week 13, we mostly saw what we thought we would. Florida, Georgia, South Carolina, Auburn, Alabama all handled the cupcake portion of their schedule with relative ease. Mississippi State, also easily handled Vanderbilt. We did have two good conference games. One game a major upset and the other a game that was a good, close, hard fought game.
The hard fought game was Tennessee playing at home against Missouri. It looked like Tennessee might could take this game for a while, but Missouri proved to be as good as their ranking showed and won 29-21. The big upset of the week, pitted an unranked Arkansas team against the 8th ranked Ole Miss football team. The quarterbacks for both teams were hurt early, with Bo Wallace returning to the Ole Miss lineup and Brandon Allen being sidelined for the entirety of the second half.
Wallace and Mississippi could never get anything going on offense. The Arkansas defense looked great for a second straight week and the Razorbacks won 30-0. The first unranked team to ever blank ranked teams two weeks in a row.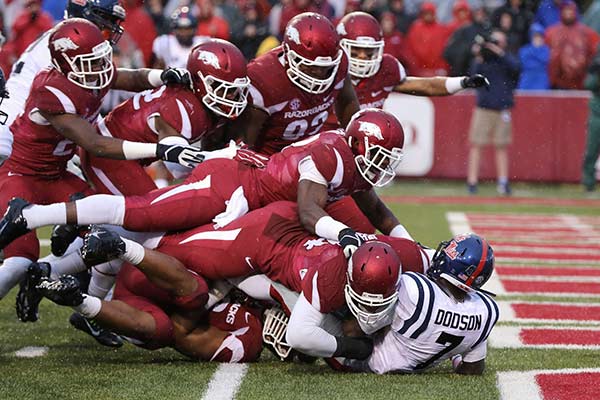 The first game of the week in week 14 pits LSU going to Texas A&M. With both teams trying to salvage a little bit in a disappointing season you can bet on a dog fight. I think that LSU comes away with this one. Next up we have 6-5 Arkansas playing 9-2 Missouri. Missouri still has a lot to play for, but the Razorbacks have proven that playing for pride is very important to them. I think Arkansas wins this one by at least 14.
South Carolina plays Clemson. I would love, for the sake of the conference, for South Carolina to win this one. I believe that Clemson will walk away with a close win though. Georgia Tech plays Georgia in a game that will feature a lot of running. I think the defense of the Bulldogs is the difference and they win by ten. Kentucky plays Louisville this week as well. We have a lot of instate rivalry games and this one will have Louisville taking the developing Kentucky team.
Florida plays Florida State in a game many would think would be a blow out. I've seen the Seminoles get taken down to the wire by worse teams than Florida and I think this will be the same. Florida State takes it with a last minute drive. The Egg-Bowl is this week and I think that Mississippi State takes a reeling Ole Miss team by two touchdowns. Tennessee plays Vandy and should win easily. The big game with Auburn and Alabama will be close in the first half, but I believe Bama pulls away big in the second half and wins by 17.
What do you think?

We'd love to hear your comments and/or opinions. If you submit them here, other visitors can read them, rate them and comment on them. An e-mail address is not required.

SEC Football 2014 Week 13 Review and Week 14 Preview to SEC Football
By
Mo Johnson
, Copyright © 2006-2017 SECSportsFan.com