SEC Football 2014
Week 12 Review and Week 13 Preview
By - Kory Kinslow

It was a big week in the SEC, no doubt! South Carolina beat Florida in Overtime. Florida appears to be looking for a new coach. Mississippi State was ranked number one, but got knocked off by 5 in a thriller against Alabama. Alabama appears to, once again, be the class of the SEC West. Tennessee got another big win toward getting themselves into a bowl game by beating Kentucky. Auburn got absolutely hammered by Georgia, but Georgia loses Gurley to injury. You have to wonder what this means for Georgia.
Missouri may have assured themselves of getting into the SEC Championship game and still only having two losses by beating Texas A&M. Then we had another upset with Arkansas shutting out LSU 17-0. Arkansas finally put two halves of football together and the played the style they want to play. They are now one win away from becoming bowl eligible and you have to think that LSU is reeling with two losses in a row.
The new rankings come out and Alabama comes all the way from 5 to 1. Ole Miss is trying to hang in at 8. Mississippi State ends up staying in the playoff at 4. Georgia gets back up to 10, helping the outlook of the East. Missouri rises to 20 and Auburn goes to 14.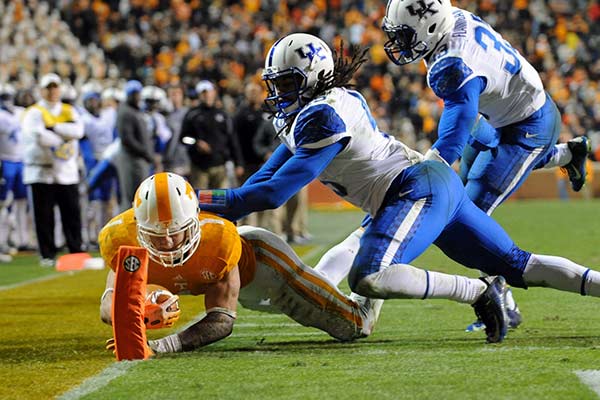 In week 13 Florida plays Eastern Kentucky in a game they should win, that would make them bowl eligible. You just have to wonder what the mind set of this Florida team will be. Georgia plays Charleston Southern. They need to sure up the running game and avoid any more injuries. South Carolina hosts South Alabama. This is another bowl eligible type game with them sitting at 5 wins. They need this one and they need it bad.
Ole Miss has to travel to Arkansas. This could be a trap game, but I believe that Ole Miss has the defense enough, just enough, to beat Arkansas. I could be wrong and Arkansas could man up needing one win for bowl eligibility, but I think that Ole Miss looks to stay in the hunt for the playoff. Alabama hosts West Carolina in a tune up game. They just need to avoid injuries and get a good game in. Samford plays Auburn and Auburn should come away with this one easily. They better not be looking down or down the road. They need each game for bowl appearances sake.
Missouri and Tennessee will square off in, what I think, might be the most competitive game of the week. I think Tennessee is a team in the East like Arkansas is in the West. They are hungry and improving. Missouri better watch themselves if they want to stay at two losses and get to the championship of the SEC. Vanderbilt plays Mississippi State. I think we will see a blow out here, not just because of talent level, but I believe that the Bulldogs know that they need to beat teams with this type of record very convincingly!


What do you think?

We'd love to hear your comments and/or opinions. If you submit them here, other visitors can read them, rate them and comment on them. An e-mail address is not required.

SEC Football 2014 Week 12 Review and Week 13 Preview to SEC Football
By
Mo Johnson
, Copyright © 2006-2017 SECSportsFan.com