SEC Football 2013: Week 6 Review; Week 7 Preview
Alabama 45 – Georgia State 3

Pretty routine for the Tide as they pummeled Georgia State.
 
That reminds me of the old Richard Pryor bit when he talks about Muhammad Ali and Jerry Quarry.

"Het Jerry, your fighting Ali," and Quarry says, "AWWWOOOOOOWWWOOOO"

"Hey Panthers, you have to go back to Tuscaloosa!"

"AWWWOOOOOWWWOOWOWWOOOOOOO!!!!!"


Auburn 30 – Ole Miss 22

Bit of a surprise on the Plains as Auburn knocked off Ole Miss, who must be feeling a little bit of the above mentioned Jerry Quarry phobia.

"Hey Rebs.  You're playing a team from Alabama this week."

"AWWWOOOOOWWOWWOWOWOOOOOOOO!!"


Georgia 34 – Tennessee 31 OT

For the second week in a row, Georgia wiggled off the hook as they scored a late touchdown to tie the game, then win it in the extra session to beat the upset minded Vols.

Can Aaron Murray finally get some love?  I really hope the UGA fans appreciate him now since he has pulled the Dawgs bones out of the fire for the second straight week.  If the fans don't -- I KNOW the folks betting on Georgia do.

However, with all the injuries, and a slew of tough teams remaining, how many more times can he do it?


Florida 30 – Arkansas 10

The Gators once again showed why they, and not South Carolina as I thought at the beginning of the year, represent the biggest threat to Georgia defending its Eastern Division crown.

Tyler Murphy is making the most of his opportunity as he threw for 240 yards and three scores, and Solomon Patton, all 5'9 of him, was the tallest Gator on Saturday night with six catches for 124 yards and two TD's.

Don't look now, but Florida is 3-0 in the SEC and 4-1 overall.  It is looking like a very special early November weekend in Jacksonville...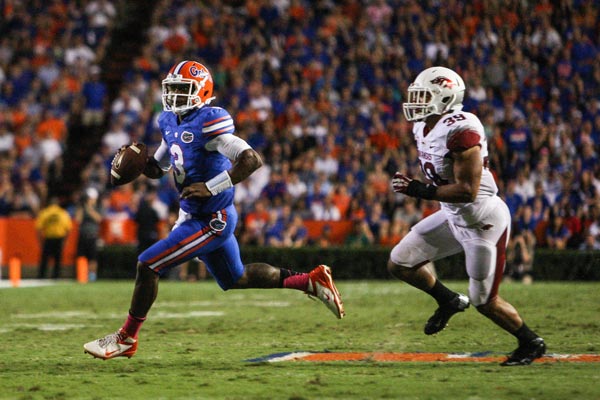 LSU 59 – Mississippi State 26

Even Ronnie Millsap could see that one coming...


Missouri 51 – Vanderbilt 28

However, nobody saw Missouri's demolition of bad boy James Franklin and the mighty Commodores.  (Coach Scooter just got a teehee after writing that one).

James Franklin (no the other one) threw for 278 yards and four scores as the Tigers opened up leads of 20-0 and 30-7 in the first half.

In fact, Mizzou scored more than the star QB on prom night with a couple bottles of Boone's Farm...


South Carolina 35 – Kentucky 28

Ever see those videos on stadiums that implode?  How it all starts to come apart little by little before collapsing in one giant heap?
 
Well, ladies and gentlemen, let me introduce you to the South Carolina Gamecocks!

Everyone thought Jadevon Clonwey would be the best player this year, and a possible Heisman Trophy candidate, but that has not happened.  It has not happened since they can't get the kid on the field.  Heck, they can't even get him to try to get on the field.

Maybe he is saving himself for the NFL, but if Carolina is going to save their season, he had better stop acting like a clown, and start acting like the Clowney we all expected.
Week 7 Games (Last Week 5-2 Season 50-7)


Missouri at Georgia

Mizzou is 5-0, but really has not been tested yet.

Georgia is unbeaten in SEC play, has had a slew of comebacks and is battle tested.

As much as I like Missouri's chances with all the Bulldog injuries, plus the fact UGA cannot keep having to comeback late in games, being in Athens will help, and it should be enough to shade the Tigers in a HUGE SEC East game.

Georgia 35 – Missouri 31


W. Carolina at Auburn

No sweat for the Tigers in this one as they should knock out the Catamounts early, and continue as nice turnaround season.
By the way, what the heck is a Catamount? Sounds like an SUV made by KIA...

Auburn 45 – Western Carolina 14


Alabama at Kentucky

You know the Lexington Chamber of Commerce loves to see the Tide Nation roll into town.  After they leave, the city has enough money to pay its bills until the year 2045.

Too bad the Wildcats will be the ones paying on Saturday.

Alabama 49 – Kentucky 10


Texas A&M at Ole Miss

A&M is better, but I still think Johnny Dumbo is a punk.  So I am picking Ole Miss.

Ole Miss 28 – Texas A&M 21


South Carolina at Arkansas

Somewhere in the distance I hear P.O.D. signing, "BOOM! Here comes the BOOM!  Ready or not, here comes the boys from the South..."

Arkansas 28 – South Carolina 17


Florida at LSU

I really like what Florida has done this year, especially Tyler Murphy stepping up and leading the Gators to a tie for first place in the East.

Unfortunately, they have to go to Death Valley, where the Tigers are close to unbeatable.

I see a very close, low scoring game as both defenses should impose their will.

The difference will be on offense, as the Zack Mettenberger will make the one play that Tyler Murphy does not.

LSU 17 – Florida 10


Bowling Green at Mississippi State

Bowling Green rolls into Starkville with a 5-1 mark and is catching the Bulldogs at a time when they just got swatted on the nose by a rolled up copy of the Zack Mettenberger Tribune.

The Falcons remind me of my Uncle Soup's old Ford Falcon that he used to push, er, drive over to our house for Sunday dinner.  It wasn't pretty, but it got him where he needed to go.

I see similar things happening in Starkville on Saturday.

Bowling Green 31 – Mississippi State 28


Read Scott Sergent's outstanding new book:
What do you think?

We'd love to hear your comments and/or opinions. If you submit them here, other visitors can read them, rate them and comment on them. An e-mail address is not required.

Return from SEC Football 2013: Week 6 Review; Week 7 Preview to SEC Football Blog