SEC Football 2013 Week 3 Review; Week 4 Preview
Week 3 in the SEC saw an old power affirm its dominance of the league, while a rebuilding former power saw what a real football team looks like first hand.

I am in a Big Lebowski mood right now, so let's review this like we were watching the greatest movie of all time.  And by the way, the rug in my office really ties this blog together...
Louisville 27 – Kentucky 10

Maude: What happened to your face? Did Teddy Bridgewater do that as well?

Mark Stoops: Ah, no that was the play calling of Charlie Strong. A real reactionary.


Arkansas 24 – So. Mississippi 3

The Dude: Look man, I've had a long night and I hate the Eagles, Man!


Oregon 59 – Tennessee 14

The Big Lebowski: Your revolution is over, Mr. Jones. Condolences. The Vols lost. My advice is to do what your parents did; get a guy like Peyton Manning and Al Wilson, sir. The Vols will always lose. Do you hear me, Butchie?  The Vols will always lose!


Alabama 49 – Texas A&M 42

Malibu Police Chief: Alabama draws a lot of water in this conference Manziel.  You don't draw ****.

Now we have a nice quite football conference here, and I aim to keep it that way.  So I don't like your name.  I don't like your face.  I don't like your behavior, and I don't like you.  Do I make myself clear?

Stay out of the Top Ten Manziel.  Stay out of the spotlight, deadbeat.  Keep your ugly, Goldbrickin' A** out of the SEC Western Division race.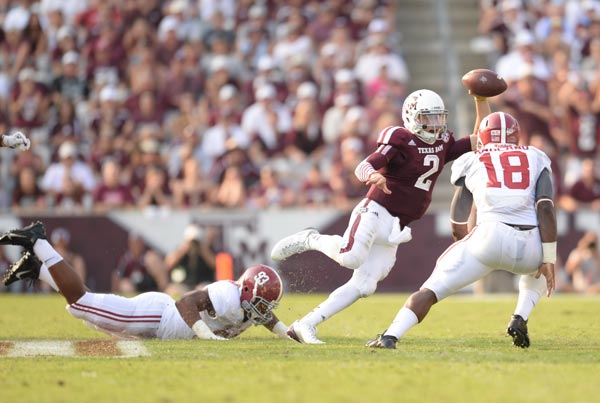 LSU 45 – Kent State 13

Walter Sobchak: Call the medics, Golden Flashes. I'd go myself but I'm pumping blood. Might pass out. Rest easy, good buddy, you're doing fine. We got help choppering in.


Auburn 24 – Mississippi State 20
 
Donny: Are these the Georgia Bulldogs, Walter?

Walter: No, Donny, these men are the Mississippi State Bulldogs.  There's nothing to be afraid of.

Donny: Are they gonna beat us in the fourth quarter, Walter?

Walter: No, Donny. These men will give up a late touchdown to lose the game like always...


South Carolina 35 – Vanderbilt 25

Walter Sobchak: Whereas what we have here? A bunch of eggheads wearing their 20th different helmet in the last two years, running around yelling Anchor Down and trying to find the end zone.  This is not a worthy adversary.


Ole Miss 44 – Texas 23

The Dude: Do you find them much, these, high profile coaching jobs?

Younger Cop: Sometimes. Wouldn't hold out much hope for Mack making it to the 2014 season though.

Older Cop: Or the Creedence.
Week 4 - Last week: 8-0 Season: 31-2

Vanderbilt at UMass

Walter: Look, just because we lost to South Carolina last week and are bereaved, that doesn't make us saps!
 
Well, Walter, knowing it's Vandy, I think it does.  However, they roll this week over UMass, who plays like Uli Kunkel, the Nihilist passed out in the pool with the Jack Daniels bottle floating next to him.

Vanderbilt 45 – UMass 17


North Texas at Georgia

Walter Sobchak: The man in the silver britches, Dude. Worthy adversary.

Donny: Who's in the silver britches Walter?

Walter Sobchak: Shut up, Donny.

Georgia 56 – North Texas 14


Arkansas at Rutgers

The Bielema abides. I don't know about you but I take comfort in that. It's good knowin' he's out there. The Bielema. Takin' 'er easy for all us sinners. Shoosh. I sure hope he gets the Hogs to 4-0.

Arkansas 28 – Rutgers 21


Tennessee at Florida

Coffee Shop Waitress: Excuse me, fans. Could you please keep your voices down? This is a family stadium.

Walter Sobchak: Oh please, dear? For your information, the Supreme Court has roundly rejected prior restraint.

Yes it will be loud, and the Vols have not quite recovered from their trip out west...

Florida 28 – Tennessee 17


SMU at Texas A&M

The Dude: Oh boy. How ya gonna keep 'em down on the farm once they've seen A&M's Defense?
 
Good thing the offense scores some points...

Texas A&M 35 – SMU 27


Colorado State at Alabama

Darkness warshed over the Rams - darker'n a black steer's tookus on a moonless prairie night. There was no bottom.

Alabama 49 – Colorado State 14


Troy at Mississippi State

Do you see what happens, Troy? Do you see what happens when you lose a game in the final ten seconds? (Proceeds to smash up what he wrongly believes is Troy's new Corvette).  This is what happens, Troy! This is what happens when you lose to Auburn in the last ten seconds of the game!


Auburn at LSU

Auto Circus Cop: (The Dude asks the Auto Circus Cop if there is any chance that Auburn beats LSU in Baton Rouge) Upset the #6 team in Death Valley?  Yeah, sure. I'll just check with the boys down at ESPN.  They've got four more analysts working the game. They got us working in shifts!

[laughs]

Auto Circus Cop: Auburn...

[laughs as he walks away]

Auto Circus Cop: That's funny....

LSU 31 – Auburn 14


Missouri at Indiana

Really, Dude, you surprise me. They're not gonna beat us, they're not gonna do anything on offense. What can they do? They're a bunch of amateurs, and meanwhile, look at the bottom line: Who's sittin' on a possible 3-0 start? Am I wrong?

Missouri 24 – Indiana 10


Read Scott Sergent's outstanding new book:
What do you think?

We'd love to hear your comments and/or opinions. If you submit them here, other visitors can read them, rate them and comment on them. An e-mail address is not required.