SEC Football 2013 Week 2 and 3 Review and Preview

Week 2 Results
Kentucky 41 – Miami (Ohio) 7

Kentucky got its first victory for new coach Mark Stoops and went on to dominate the Redhawks.

Before a crowd of over 54,000, who were told that there would be a basketball game before the Wildcats kicked off, UK held Miami to only eight first downs and a whopping total of 23 yards passing.

I think I have had more yards than that when I threw my remote control at the TV when I turn on the CBS Game of the Week and see "The Clown" Gary Danielson.
Missouri 38 – Toledo 23

In an interesting twist, Missouri coach Gary Pinkel beat the school that has already enshrined him in the school's Hall of Fame, and holds the record for most wins there.

They probably will be throwing his bust out by Monday morning...


Mississippi State 51 – Alcorn State 7

The Bulldogs were never challenged in this one as they had a 37-0 halftime lead, and then just mailed it in for the final 30 minutes.

Alcorn had only six first downs and 28 yards rushing.  Hey, I hear there is an opening for an offensive coordinator in Lorman, Mississippi...


Ole Miss 31 – SE Missouri State 13

Coming off an emotional victory the week before, Ole Miss got what they wanted and that was a patsy to ease them into Week 2 and avoid an emotional letdown as they cruised to an easy victory over the Redhawks.

Gee, between Miami (Ohio) and SE Missouri State, I have a feeling there must have been a bounty on Redhawks last Saturday.  And they way those two went down, you could say they had met with "Fowl" play...


Texas A&M 65 – Sam Houston State 28

Johnny "The Punk" Manziel racked up more numbers to inflate his stats and ego as the Aggies routed another nobody last Saturday.

However, the Sam Houston State Bearkats, who must have got the spelling of their mascot from an Arena Football League team, did have their moments.

Timothy Flanders, (Ned's son from Springfield) was ok-ily doak-ily rushing for 170 yards and two touchdowns.  His second TD brought the Kats back to trail only 30-21. But the depth of an SEC team was too much to allow an upset.

If a team like Sam Houston State can rush for 240 yards, what do you think Bama will do next week?


Auburn 38 – Arkansas State 9

Even though the Tigers won this one easily, giving up 422 yards is not exactly something to feel real good about BEFORE you play your first SEC game this week...


Vanderbilt 38 – Austin Peay 3

Austyn Carta-Samuels Cougar Mellencamp rushed for two touchdowns and threw for one in the Vandy victory.

The 'Doores led only 3-0 at the end of the first 15 minutes, but five touchdowns in the second 15 sealed the deal.

For the Governors, you have to be happy to know you beat Vandy 3-0 in the second half.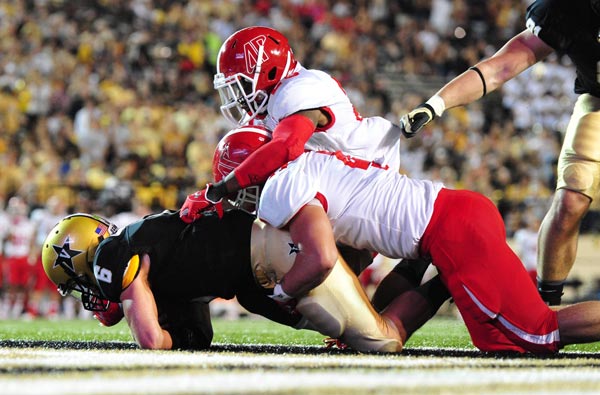 LSU 56 – UAB 17

I picked this one 56-10 Tigers and was almost right as LSU dominated the Blazers.

(Cue the cheesey porno music) Zack Mettenberger threw for a single game school record of five touchdown passes as LSU amassed 445 total yards in the demolition.

Here's one for you: Mettenberger had more touchdown passes (5) than incompletions (3).

Known as having a powerful rushing offense, seeing Cam Cameron's passing game just made defensive coordinators all over the SEC much more worried.


Arkansas 31 – Samford 21

Closer than a lot of people thought it would be as Samford took a 21-17 lead into the fourth quarter and played the Hogs tough for 60 minutes.

Arkansas coach Bret Bielema was quoted as saying after the game, "We are not ready to compete in the SEC."
 
That sounds encouraging...


Tennessee 52 – Western Kentucky 20

The Hilltoppers gave out gifts like a department store Santa Claus as five turnovers on six plays in the first quarter doomed their chances of knocking off an SEC team for the second week in a row.

In all WKU gave the ball away seven times, two of them were pick sixes, and overshadowed the fact they outgained the Vols 236-84 and held the ball for 20 of the first 30 minutes in the game.

I had to chuckle listening to Andre Ware who either played too many games without his helmet, or was paid a visit from the Peachtree TV executives during timeouts.

When the game was 24-3, Ware said, "This game is not over.  There is so much time to play so don't go anywhere."

Then at 31-3, "I still think the Toppers can come back.  They have a lot of time and have the offense to score some points.

If ignorance is bliss, then Ware must have been overjoyed Saturday afternoon in Knoxville.


Miami (FL) 21 – Florida 16

As predicted, Florida's offense moved like a snail with a torn meniscus as they squandered about 500 billion chances in the red zone in losing to bitter rival Miami.

I am beginning to wonder about the big bad SEC since this makes two straight weeks losing to an ACC team.  And I am not talking about Duke beating Vandy, or Wake Forest beating Kentucky.  It's Georgia and Florida we are talking about here.

Way to uphold the pride of the conference, Gators...


Georgia 41 – South Carolina 30

Jadevon Clowney?  Have you seen him?  He wears #7 and everyone predicted he would be a major destructive force on the line this year.  Ring a bell?  No he hasn't done that to anyone so far this year...

UGA got the victory it needed to erase last week's disappointment and put them back in the drivers seat in the SEC East, the SEC overall and the national title picture.

Did you see the post game handshake from Spurrier and Richt? That exchange went quicker than Charlie Weis heading for spread at the post game locker room buffet.
---


Week 3 Preview (Last week 12-0, Season 23-2)

Louisville at Kentucky

Gee, I really feel sorry for all the Kentucky fans these days.  Louisville won the national championship in basketball.  They won the Sugar Bowl in January.  And now they are going to win the state championship for the third year in a row.

It used to be UK fans would just have to wait until November for revenge on everyone else, but these days, they can't even look forward to that.

Louisville 35 – Kentucky 14


So. Mississippi at Arkansas

Arkansas was happy to get past Samford last week, and this week they get a team that lost to Texas State in Week 1.

I'm sure Jill Ireland and Scott Backula must have had career games that night for the Fighting Armadillos...

Arkansas 35 – So. Mississippi 7


Kent State at LSU

I feel like Maramalard from Animal House.  "...And there you are...Kent!" 

I am sure LSU will make sure the Golden Flashes help themselves to punch and cookies before kicking their cans off campus...

LSU 58 – Kent State 0


Vanderbilt at South Carolina

Both teams lost their SEC openers, so this is a must win.  After last week, it is tough to pick the 'Cocks, but with an offense that was able to move the ball, I think the defense might just decide to show up this week.

South Carolina 24 – Vanderbilt 14


Ole Miss at Texas

What a perfect time to make a trip to Austin.  The Horns got plastered by BYU and fired their defensive coordinator in the process.  Can Mack Brown be too far behind?

The Rebs have some momentum after the last two weeks, while Texas is wondering what the hell just happened.  I think it will give Ole Miss the edge on the road.

Ole Miss 31 – Texas 28

 
Mississippi State at Auburn

The conference opener for both teams sees a rebuilding Tiger team going up against a Bulldog team that lost its QB, Tyler Russell, to a concussion in the opener.

I like the direction Auburn is going, while the Bulldogs are a mess.  Even if they get Russell back, I don't see them doing much else.

Auburn 28 – Mississippi State 7


Tennessee at Oregon

The Vols had some good news this week as they went to 2-0 and saw former coach Lame Kiffin drop a home game to Washington State.  Good thing he wasn't coaching in Knoxville when that happened.

I am sure the Big Orange Nation had a good chuckle over that one, but it will be the last time they will be laughing for a while...

Oregon 59 – Tennessee 16


Alabama at Texas A&M

The headline game in the SEC finds defending national champion Alabama traveling to College Station to play Texas A&M, the only team to beat the Tide last year.

Did you see Texas A&M Aggies President Dr. R. Bowen with his Aggie Maroon bow tie doing the Johnny Manziel gestures? What a doofus.  You would think the president of the university would have better things to do then to act like a punk by imitating a punk.
 
Bama coach Nick Saban had a recording of last year's game looped on the TV's located in the weight room, so his team could watch their demise over and over again all year long.  I am sure he reminded them of their surprise loss every day as well.

With that motivation, and having Johnny Punk on the other side of the ball, who will be more valuable as a QB than A.J. McCarron, since Punkie Brewster is sure to implode sooner or later, I see Alabama getting its revenge.

And mark my words.  It won't even be close.

Alabama 42 – Texas A&M 21


Read Scott Sergent's outstanding new book:
What do you think?

We'd love to hear your comments and/or opinions. If you submit them here, other visitors can read them, rate them and comment on them. An e-mail address is not required.