SEC 2017-2018 Football Preview

An Outlook on College Football's Toughest Conference
By - Kory Kinslow

The SEC is coming off of one of it's toughest seasons in recent memory. Alabama played as predicted, but the rest of the teams took a step back in the 2016-2017 season.
The big bowl games were few and far between. A lot of the promise that seemed to be there at the beginning of the season never seemed to come to fruition and many of the teams fell flat.
There is a lot of promise for the 2017-2018 season due to great recruiting jobs, returning players with promise, and a stable of coaches and assistant coaches that is unmatched by any of the other power conferences.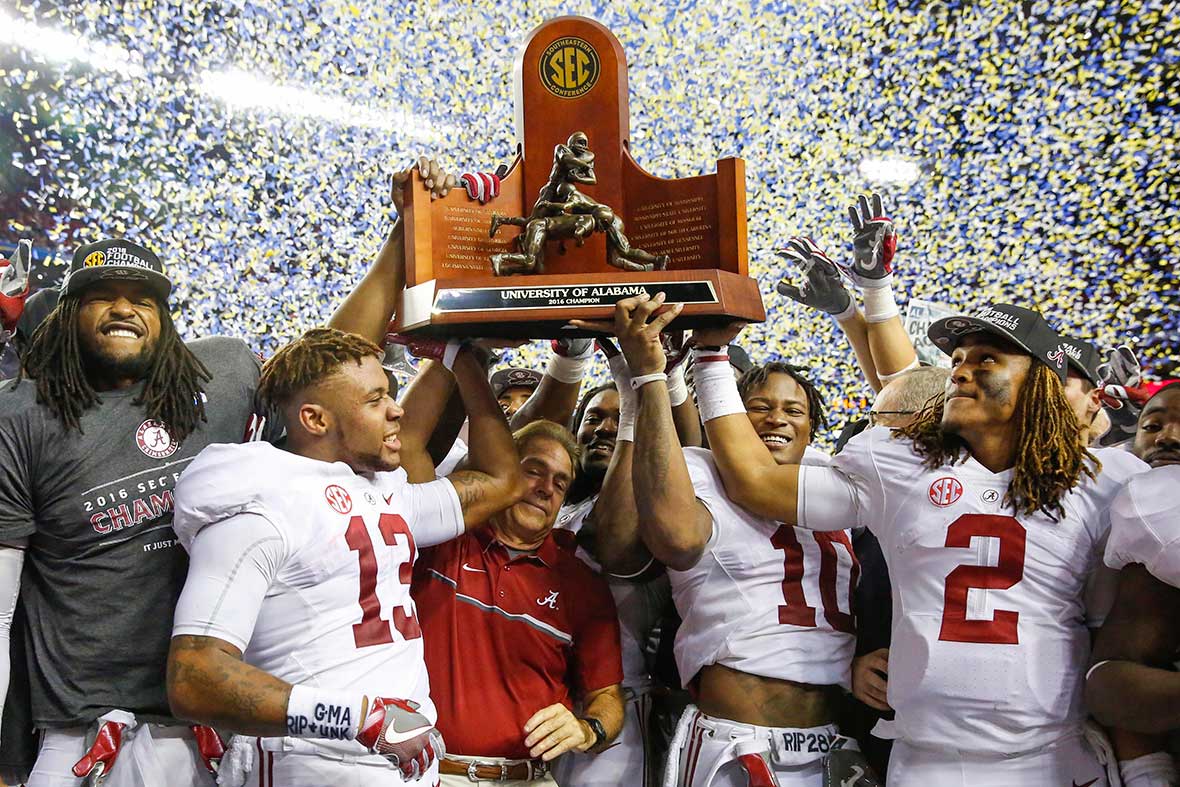 SEC East:
Georgia is the team to really look out for in the East. I truly believe that with the return of running backs and quarterback, topped with the 3rd best recruiting class, this could be a team that competes for the SEC and National Title. This should be a year with two teams in the Final Four and one of them will be this Georgia team if they live up to the returning and new talent.
For me second place in the East is a toss up between Florida and Tennessee. Florida has the 13th best recruiting class and Tennessee the 15th. If those players develop then both of these teams will make some big jumps. Tennessee lost some great players and will have to see what they have at Quarterback. Florida will make some changes and should be a big time team and tough on both sides of the ball.
Kentucky had a great season for Kentucky last year. They far exceeded expectations and had a pretty good recruiting class. If they can run the ball better and start beating some of the bigger teams in the conference I think fourth in the East is a good spot for them.
South Carolina is a big question for me. They have a very good recruiting class, but players top replace. I trust in their coaching and I believe that they are going to give some of the elite teams a handful this season. Watch out for this team.
Vanderbilt didn't have the greatest of recruiting classes and does lose quite a bit of talent on both sides of the ball. They will need to play a bit over their heads if they are going to be competitive.
Missouri has lost a lot of talent and hasn't seemed to be able to replace it. They simply don't seem to be re-stocking from the types of teams they had two or three years ago. This could be a rough season for the Tigers.
SEC West:
Alabama will be on top of the SEC again. They should be able to win the West, but it won't be like last year. The competition in the West is much tougher. They did have the top recruiting class and have quite a few players returning, of course they had quite a few drafted to the NFL as well. It's not a rebuild, it's a reload type of thing for this team. They should go as far as the new offense will take them.
LSU is looking like a team that could contend in the West. Coach O has brought in the 7th ranked recruiting class along with a brand new attitude that the fan base seems to really like. They lost one running back, but may be playing with one that is just as good returning from last year. They are loaded on both fronts and are going to be hard to deal with.
Auburn is always a question, I put them at third because of the promise of some young players along with the 9th ranked recruiting class in the Nation. I believe that they have enough returning to build on and some young players that will step up and provide valuable play for the Tigers. 
Arkansas is not far behind Auburn and I believe that they will beat some teams that will be caught by surprise this year. They could have the best Quarterback in the league and have returning running backs, if injury doesn't keep them from playing, that will provide the ground and pound attack they love so much. If the defense and it's new coaches will step up, watch out for the Hogs.
Mississippi State had a top 25 recruiting class. This is a good sign for the future, but as far as this year, they're going to need some major player development. I think there's a good chance that they finish above .500, but past that, I just don't have a good read on this team. They're going to have to win with some new players and I never trust that.
Texas A&M lost quite bity from last year, but do have the 11th ranked recruiting class. They may end up depending on a Freshman Quarterback, and we know how they depend on quarterback play in Aggie land. It could be a tough season for Aggie fans as they develop a new crop of players.
Ole Miss had the 36th ranked recruiting class and is very hurt by this scandal around the program. I truly hope that they are cleared and that things settle down there. They're replacing a quarterback, but got good play from their backup who remains with them, at the end of last season. They are a team that could beat a few good teams because of their offense, but they need to prove themselves on the defensive side to compete with the big boys in the SEC.
What do you think?

We'd love to hear your comments and/or opinions. If you submit them here, other visitors can read them, rate them and comment on them. An e-mail address is not required.

SEC 2017-2018 Football Preview to SEC Football
By
Mo Johnson
, Copyright © 2006-2017 SECSportsFan.com