SEC 2015 Men's Basketball
Tournament Preview

By - Kory Kinslow

The SEC has proven to be more powerful than the analysts thought at the beginning of the season. It appears, by all accounts, that the SEC should produce 5-6 NCAA tournament teams. The SEC tournament should be very exciting. Teams will be trying to prove that they should be in the NCAA. I believe that we will see a couple of upsets, but there is one constant that has been proven throughout the season and that is that Kentucky is the best team in the country.

The way it looks right now, Kentucky and Arkansas will get the top two seeds. I believe that the depth and style of play of these two teams with extra rest will prove to be too much in a tournament setting for the other teams. I truly believe that we will see a Kentucky versus Arkansas final with Kentucky winning in the end.
I believe that Ole Miss and LSU will be the only threats to either of these two teams. Watch out for upset wins by teams such as Tennessee, Florida, or Alabama. Texas A&M, and Georgia could make a deep run, but I don't believe they have the style of play to keep up with Arkansas and Kentucky.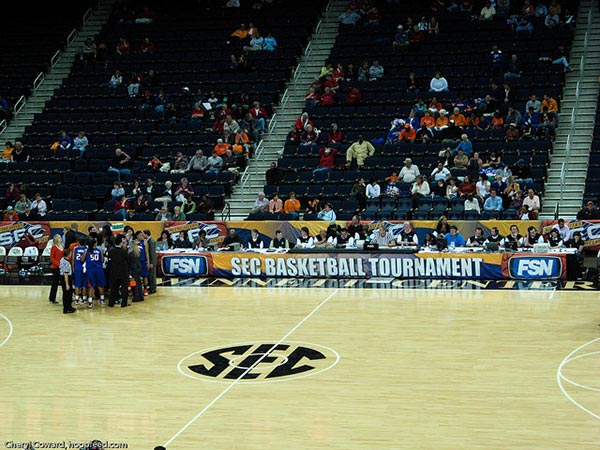 I think the upset minded teams could take out A&M and Georgia, which is why I don't list them as teams to give the Razorbacks or Wildcats trouble. I truly think the extra rest, depth, and fast pace will keep anyone from beating the two favorites.
Kentucky should handle Arkansas again in the final, unless the Razorbacks can catch fire from the 3-point line. This will be one of the most competitive and exciting SEC tournaments in years because of the number of teams needing to play well for the tournament committee. Let's all remember that it's March and that anything could happen!


What do you think?

We'd love to hear your comments and/or opinions. If you submit them here, other visitors can read them, rate them and comment on them. An e-mail address is not required.

SEC 2015 Men's Basketball Tournament Preview to SEC Basketball

By
Mo Johnson
, Copyright © 2006-2017 SECSportsFan.com