Record 8 SEC Teams in AP Top-25
How great is the SEC? For the first time ever in the history of the AP Poll, the conference has put eight teams in the Top 25 in the regular season.

What are all the haters going to say now?


Week 7 Results


Missouri 41 – Georgia 26

Well, the train has finally derailed just outside Sanford Stadium, but all things being considered, it was not really the Dawgs fault. When you lose so many players to injury, plus you have a defense that is giving up over 30 points a game, sooner or later, the roof is going to cave in.

(In my best Outlaw Josey Wales voice) Well, looookie here, Benny, I see the Missouri Tigers all alone in first place.

Who would have thought that at the beginning of the year?


South Carolina 52 – Arkansas 7

Well, I was wrong about the 'Cocks as they dismantled the Hogs. Maybe the implosion reservations I made last week need to be looked at again?


Auburn 62 – Western Carolina 3

I think things just got a whole lot better on the Plains. We will get a better idea of just how far they have come next week.


LSU 17 – Florida 6

Neither of these two teams could move the ball across the street. However, LSU was able to move it just a little further up the road than Florida did…


Alabama 48 – Kentucky 7

ZZZZZZZZZZZZZZZZZZZZZZZZZZZZZZZZZZZZZZZZZZZZZZZZZZZZZZZZZ


Mississippi State 21 – Bowling Green 20
I knew Bowling Green would give the Bulldogs a good game and even thought they would pull off the upset. If I were Dan Mullen I would be watching out for a one way trip to the pound since these mutts are close currently being stalked by the dog catcher.


Texas A&M 41 – Ole Miss 38

Whatever. Johnny Manziel is still a punk…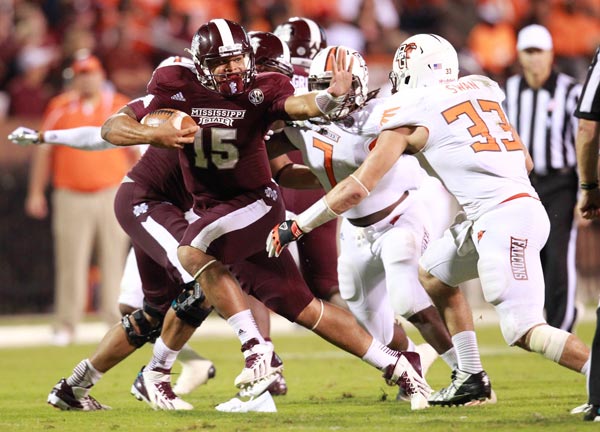 Week 8 Games (Last Week 3-4, Season 53-11)


Georgia at Vanderbilt

I am sure all the Anti-Mark Richt fans will be coming out of the woodwork this week, but injuries and a young defense are things not even Bear Bryant could have solved.

Now, the Dawgs travel to Nashville where they usually get a tough fight from the 'Doores. Last year, UGA sunk the good ship lollipop 48-3, so there should be some feeling of payback.

At the end, Georgia is a better team with better coaching and it is these games they always win, especially if they get Todd Gurley back. Don't throw dirt on their casket just yet. If you ever wanted to bet on football, bet on the Dawgs in this game.

Georgia 38 – Vanderbilt 28


South Carolina at Tennessee

The Vols have a lot riding on this one as they want to show the SEC that the effort against Georgia was not a onetime deal. They will get what they are asking for as the Gamecocks come to town and if they could spring the upset, Butch Jones should be named Coach of the Year in getting the Vols to this point.

I predicted a USC implosion last week, but having Clowney and Shaw back changed a lot of people's minds. Now, with a tremendous tailback like the underrated Mike Davis running like a madman, and also knowing that UGA lost last week, the SEC East back within reach.

I don't think they are going to drop the ball a second time.

South Carolina 35 – Tennessee 21


Florida at Missouri

The Cinderella story in the SEC so far this year has to be the Missouri Tigers. Everyone thought that after an easy run through the early part of their schedule, they would sober up once they got into SEC play and they would be swatted back to the pack in the East. Ooops!

With their win at Georgia, they control their own destiny in the SEC and can take one step closer to winning the division if they can knock off perennial power Florida.

The Gators have a brick wall for a defense, and given the fact Mizzou lost their QB, James Franklin, is it possible the Tigers won't even be able to get the ball even into Gator territory, let alone put up enough points to steal this one.

Backup QB Maty Mauk, who is extremely talented, will have the hopes of their entire state on his shoulders, but in the end defense wins championships, and Florida knows how to win these kinds of games.

Florida 17 – Missouri 10


Auburn at Texas A&M

Johnny Manziel is still a punk. And I will never predict another A&M victory as long as he is punking it up at Kyle Field.

Auburn 28 – Texas A&M 27


LSU at Ole Miss

Ole Miss had the Punkmeiser Manziel on the ropes last week, and if it weren't for him being the biggest punk in the world, they would have won the game. That's a buzz kill that should extend this week.

LSU comes to town next and unfortunately for the Rebs, the Tigers are way better than the Aggies and that spells trouble.

LSU 49 – Ole Miss 28


Arkansas at Alabama

Wake me up when this one is over will ya? Alabama's games are about as suspenseful as watching Terry Funk give some jobber about 56 pile drivers.

Alabama 49 – Arkansas 0


Read Scott Sergent's outstanding new book:
What do you think?

We'd love to hear your comments and/or opinions. If you submit them here, other visitors can read them, rate them and comment on them. An e-mail address is not required.

From Record 8 SEC Teams in AP Top-25 to SEC Football Blog