Final NFL Draft Preview
With the 2014 NFL Draft starting on Thursday, we're finally going to get to find out where the top prospects will end up for this upcoming season. This includes many SEC prospects, including those you were rooting for when you were betting on SEC football. If you feel like this draft season has gone on forever, you're not alone; the draft was pushed back three weeks due to scheduling conflicts at Radio City Music Hall.It's scheduling conflicts like this that has caused the NFL to consider moving the draft out of its longtime home in New York.
All that's for future drafts. For the next week, everyone will be paying attention to the current draft, and the top prospects.
Have you not been following along for the past month and a half, and have missed out on what your team needs, and which players are good? Have no fear, we're here with a handy cheat sheet for you. We'll tell you which teams are looking for which position, who the top players at that position are, and about where they should fall in the draft proper.
There's a degree of subjectivity in the draft grading process, of course—some people, for example, consider Fresno State quarterback Derek Carr a first-round pick, while others have him go as late as round four. That's what makes the draft so exciting, though. Let's take a quick, cheat-sheet-style glance at who teams will be targeting come Thursday night and through the weekday.
Quarterback
Teams most in need: Houston, Jacksonville, Cleveland, Oakland, Minnesota
Top 5 prospects:
Blake Bortles, UCF—1st round pick
Johnny Manziel, Texas A&M—1st round pick
Teddy Bridgewater, Louisville—1st round pick
Tom Savage, Pittsburgh—2nd round pick
Jimmy Garoppolo, Eastern Michigan—2nd/3rd round pick
Plenty of teams in need for a quarterback, but there'll be a scramble for the top few names. This is why players like Derek Carr and AJ McCarron could slip into earlier rounds; there's a shortage of gameday-ready players at the position.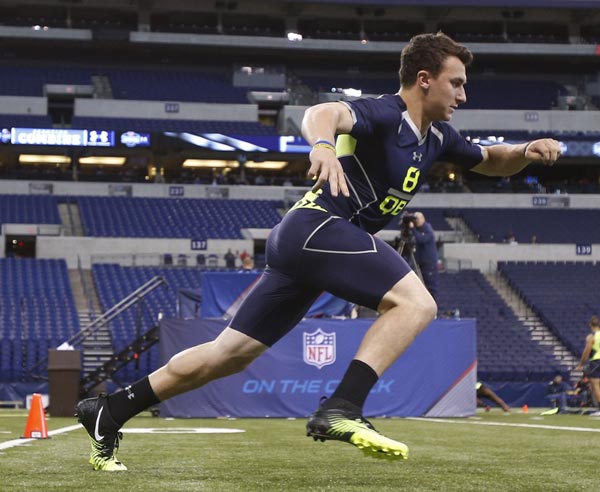 Running Back
Teams most in need: Tennessee, Jacksonville, NY Giants, Baltimore, Atlanta, Chicago, New Orleans, Dallas, Arizona, Carolina.
Top 10 prospects:
Carlos Hyde, Ohio State—2nd round pick
Bishop Sankey, Washington—2nd round pick
Jeremy Hill, LSU—2nd round pick
Tre Mason, Auburn—3rd round pick
Charles Sims, West Virginia—3rd round pick
Devonta Freeman, Florida State—3rd round pick
Andre Williams, Boston College—3rd/4th round pick
De'Anthony Thomas, Oregon—3rd/4th round pick
Dri Archer, Kent State—4th round pick
Terrance West, Towson—4th round pick
Bad year to be the Tennessee Titans, who need to find a replacement for the departed Chris Johnson. There should be plenty of value on days two and three, however, for teams willing to wait a bit.
Wide Receiver
Teams most in need: Detroit, Baltimore, NY Jets, Kansas City, Seattle, Cleveland, Tampa Bay, Buffalo, New Orleans, Carolina, San Francisco, Pittsburgh, St. Louis, Philadelphia, Arizona.
Top 15 prospects:
Sammy Watkins, Clemson—1st round pick
Mike Evans, Texas A&M—1st round pick
Odell Beckham Jr, LSU—1st round pick
Brandin Cooks, Oregon State—1st round pick
Marqise Lee, USC—1st round pick
Cody Latimer, Indiana—1st/2nd round pick
Kelvin Benjamin, Florida State—2nd round pick
Davante Adams, Fresno State—2nd round pick
Jarvis Landry, LSU—2nd round pick
Jordan Matthews, Vanderbilt—2nd round pick
Bruce Ellington, South Carolina—2nd/3rd round pick
Paul Richardson, Colorado—2nd/3rd round pick
Martavis Bryant, Clemson—3rd round pick
Brandon Coleman, Rutgers—3rd round pick
Allen Robinson, Penn State—3rd round pick
This is a fantastic year to be looking for a wide receiver, as the pool is one of the deepest it's been in years. This class has the talent to challenge the '96 receiving class as best of all time. 1996 saw Keyshawn Johnson, Terry Glenn, Marvin Harrison, Eric Moulds, Muhsin Muhammad, Terrell Owens, Joe Horn and Jermaine Lewis all have Pro Bowl careers in the NFL. This class could be every bit as good.
Tight End
Teams most in need: New England, Buffalo, Green Bay, Atlanta, NY Jets.
Top 5 prospects:
Eric Ebron, North Carolina—1st round pick
Austin Seferian-Jenkins, Washington—2nd round pick
JaceAmaro, Texas Tech—2nd round pick
Troy Niklas, Notre Dame—2nd round pick
CJ Fiedorowicz, Iowa—3rd round pick
Eric Ebron should be one of the most interesting players to watch during the first round of the draft. On a pure talent perspective, he's one of the top 10 players available in this year's draft. There isn't a team who desperately needs a tight end, however, so it'll be interesting to see when his pure talent overcomes team needs. I could see him going as early as number 9 to Buffalo or as late as number 29 to New England. His rise or fall could have a cascade effect on the rest of the draft.
Offensive Tackle
Teams most in need: Atlanta, NY Giants, St. Louis, Miami, Arizona, Carolina.
Top 5 prospects:
Greg Robinson, Auburn—1st round pick
Jake Matthews, Texas A&M—1st round pick
Taylor Lewan, Michigan—1st round pick
Morgan Moses, Virginia—1st round pick
Zack Martin, Notre Dame—1st round pick
This year's an off-year for tackles, compared to last year's draft. To get to five first-rounders, I had to include Martin, who projects as more of an interior lineman in the NFL. With six teams potentially looking for first-round tackles, one or two of them will find themselves odd-men out after Thursday night.
Offensive Guard/Center
Teams most in need: Tampa Bay, Buffalo, Jacksonville, Atlanta, Miami, New England, San Francisco, Green Bay, New Orleans, Seattle.
Top 10 prospects:
Xavier Su'a-Filo, UCLA—2nd round pick
Marcus Martin, USC—2nd/3rd round pick
Weston Richburg, Colorado State—2nd/3rd round pick
Brandon Thomas, Clemson—2nd/3rd round pick
Trai Turner, LSU—3rd round pick
Gabe Jackson, Mississippi State—3rd round pick
Russell Bodine, North Carolina—3rd round pick
John Urschel, Penn State—3rd/4th round pick
Cyril Richardon, Baylor—3rd/4th round pick
Lots of teams with needs on the interior, but not a lot of top players to fill those needs. You're looking at Su'a-Filo or converting Zack Martin if you're looking for potential first-round selections in the middle of your offensive line, and that's pretty much a stretch as it is. I'd expect New England and San Francisco to end up with the top two centers, Martin and Richburg. After that, it's all up in the air.
Defensive End
Teams most in need: Minnesota, NY Giants, Pittsburgh, Dallas, Cincinnati, Atlanta, Detroit, Buffalo, Baltimore, San Francisco.
Top 10 prospects:
JadeveonClowney, South Carolina—1st round pick
Stephon Tuitt, Notre Dame—1st/2nd round pick
KonyEaly, Missouri—1st/2nd round pick
Dee Ford, Auburn—1st/2nd round pick
Scott Crichton, Oregon State—2nd round pick
Kareem Martin, North Carolina—3rd round pick
Jackson Jeffcoat, Texas—3rd round pick
Chris Smith, Arkansas—3rd round pick
Marcus Smith, Louisville—3rd/4th round pick
Taylor Hart, Oregon—4th round pick
After arguably the best player in this class in Clowney, the defensive end position cools off a little bit. There's some serious value to be found in the 20th-40th pick selection, however, meaning teams like San Francisco or Cincinnati could hit a big-time name without reaching much. If you're stuck in the middle of the round, though, you're probably missing out on Clowney and yet would have to significantly reach for the next tier. It's a rough spot to be in.
Defensive Tackle
Teams most in need: Dallas, Chicago, Miami, Cincinnati, San Diego, New England, Oakland, Tampa Bay, NY Giants, Seattle.
Top 10 prospects:
Aaron Donald, Pittsburgh—1st round pick
Timmy Jernigan, Florida State—1st round pick
Ra'Shede Hageman, Minnesota—1st round pick
Louis Nix III, Notre Dame—1st/2nd round pick
Dominique Easley, Florida—2nd/3rd round pick
Daquan Jones, Penn State—2nd/3rd round pick
Brent Urban, Virginia—2nd/3rd round pick
Caraun Reid, Princeton—3rd round pick
Shamar Stephen, Connecticut—3rd round pick
Kelcy Quarles, South Carolina—3rd/4th round pick
It's a great draft for people clogging up the center of your defensive line. While rumors have the Cowboys seriously considering taking quarterback Johnny Manziel, I think they'd be better off adding to their defensive front with a player like Donald. Chicago and New England could also be early defensive tackle selectors come draft day.
Linebacker
Teams most in need: New Orleans, Houston, Washington, Tennessee, Arizona, Green Bay, San Diego, Denver, Cleveland, Oakland.
Top 10 prospects:
Khalil Mack, Buffalo—1st round pick
CJ Mosley, Alabama—1st round pick
Ryan Shazier, Ohio State—1st round pick
Anthony Barr, UCLA—1st/2nd round pick
Jeremiah Attaochu, Georgia Tech—1st/2nd round pick
Demarcus Lawrence, Boise Stat—1st/2nd round pick
Chris Borland, Wisconsin—2nd round pick
Kyle Van Noy, Brigham Young—2nd/3rd round pick
Adrian Hubbard, Alabama—3rd/4th round pick
Telvin Smith, Florida State—3rd/4th round pick
It's a tale of two positions at linebacker. If you're looking for a pass-rusher on the outside, you're spoiled for choice. Eight of the top 10 prospects ply their trade on the outside, and that ratio continues through the first five rounds of the draft. If you're looking for the next Ray Lewis on the inside, however, your choices are limited. C.J. Mosley is as good as anyone in the draft, and Chris Borland shows promise, but you're probably waiting until day three if you're looking for anyone else.
Cornerback
Teams most in need: Washington, Pittsburgh, Cincinnati, San Diego, Indianapolis, San Francisco, Denver, Detroit, Philadelphia, Tennessee.
Top 15 prospects:
Darqueze Dennard, Michigan State—1st round pick
Justin Gilbert, Oklahoma State—1st round pick
Kyle Fuller, Virginia Tech—1st round pick
Jason Verrett, TCU—1st/2nd round pick
Bradley Roby, Ohio State—1st/2nd round pick
Lamarcus Joyner, Florida State—2nd round pick
Stan Jean-Baptiste, Nebraska—2nd round pick
BashaudBreeland, Clemson—3rd round pick
Philip Gaines, Rice—3rd round pick
Keith McGill, Utah—3rd round pick
Marcus Roberson, Florida—3rd round pick
Vic Hampton, South Carolina—3rd round pick
Pierre Desir, Lindenwood—3rd/4th round pick
Aaron Colvin, Oklahoma—3rd/4th round pick
Jaylen Watkins, Florida—4th round pick
Day two should be a cornerback feeding frenzy, with as many as 11 cornerbacks well within range to be taken in rounds two and three alone. The first round would be even more cluttered if Washington and Indianapolis still had their first-round selections; as it is, there should still be a massive run on the position in 20s.
Safety
Teams most in need: Chicago, Green Bay, Philadelphia, Oakland, St. Louis.
Top 5 prospects:
Ha Ha Clinton-Dix, Alabama—1st round pick
Calvin Pryor, Louisville—1st round pick
DeoneBuchannon, Washington State—2nd round pick
Jimmie Ward, Northern Illinois—2nd round pick
Terrence Brooks, Florida State—2nd/3rd round pick
The winner of the best name in the draft goes, unquestionably, to Hasean "Ha Ha" Clinton-Dix, but he's not just a great name—he's the top player at his position. There's a significant drop-off after Brooks, all the way down to the fourth round, so if your team needs a top safety, they'd better take one sooner rather than later.
What do you think?

We'd love to hear your comments and/or opinions. If you submit them here, other visitors can read them, rate them and comment on them. An e-mail address is not required.

Final NFL Draft Preview to SEC Football Blog

By
Mo Johnson
, Copyright © 2006-2017 SECSportsFan.com