Did You See That Tennessee - Georgia Finish? Wow!
By - Kory Kinslow

Week 1 came with some thrills, but few surprises. We saw all of the highest ranked or favored teams win, but some of them won in some very interesting ways.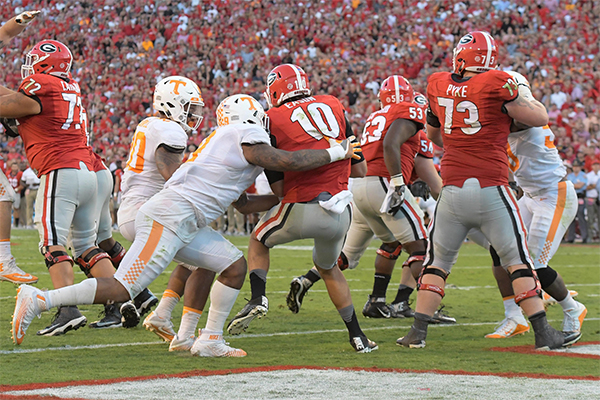 The game of the week has to go to Tennessee and Georgia. I've got to say I was really looking forward to this one, to see who will be truly competing for the SEC East. I also wanted to see if Tennessee was for real. For much of the game, Georgia was in control, but Tennessee came storming back. They had one possession, one play really at the end of the game to win and that they did. A long touchdown from Dobbs and Tennessee won the type of game they would have lost in past years. They look for real and go to 5-0 and 2-0 in the SEC. Georgia dropped to 3-2 and 1-2 in the SEC. 

Alabama easily beat Kentucky despite a week of distraction with their back-up Quarterback deciding to transfer before the end of the year. The Freshman Starter, Hurts, would still through for over 250 and 2 touchdowns in another Alabama blowout victory. Alabama will go to 5-0 and 2-0 in the SEC. Kentucky drops to 2-3 and 1-2 in the SEC.
Arkansas would easily drop Alcorn State going to 4-1 and 0-1 in the SEC. They stay in the top 20 with the win. Florida won a surprising close game with Vanderbilt, but did manage to come away with a win. Florida goes to 4-1 and 2-1 in the SEC and Vanderbilt goes to 2-3 and 0-2 in the SEC. Auburn crushed Louisiana Monroe and goes to 3-2. LSU hammered Missouri in their first game with their interim coach. It was very strange not to see Les Miles there, but it's a reality SEC fans and LSU fans especially will have to get used to. LSU goes to 3-2 and 2-1 in SEC play while Missouri drops to 2-3 and 0-2 in the SEC. Ole Miss would go to 1-1 in the SEC and 3-2 overall by beating Memphis convincingly. 
Texas A&M pulled out a big win with a great second half and rise to 9 in the polls. They beat South Carolina and go to 5-0 and 3-0 in the SEC. South Carolina would drop to 2-3 and 1-3 in the SEC.
At the end of the week the SEC has 3 teams in the AP top ten.
Alabama(1)(1 coaches)
Texas A&M(8)(7 coaches)
Tennessee(9)(9 coaches)


They also have 3 other teams from 11-25
Ole Miss(14)(14 coaches)
Arkansas(16)(17 coaches)
Florida(18)(18 coaches)


Week 16 will prove to be big tests for these teams, as is every week in the SEC.
There are two top 25 clashes in the conference.
1 Alabama at 16 Arkansas
9 Tennessee at 8 Texas A&M
It should prove to be another great week of football in the SEC with some other big games in conference of teams that are searching for quality wins!


What do you think?

We'd love to hear your comments and/or opinions. If you submit them here, other visitors can read them, rate them and comment on them. An e-mail address is not required.

By
Mo Johnson
, Copyright © 2006-2017 SECSportsFan.com