Biggest Winners and Losers from the NFL Draft
We are just over a month gone from the 2014 NFL draft and after the dust has settled, it is time to assess who were the true winners and losers going into pre-season. Who made the best acquisition? Who shocked the world with picks that could come back to haunt them? We find out, as the odds on each team's NFL fortunes could depend on it, when the new season starts up in September.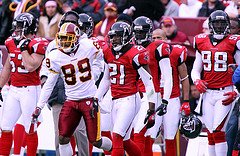 Winners - Arizona Cardinals – Picking John Brown
Third round pick John Brown looked a risky bet at first glance, but the Arizona Cadinals' newest wide receiver has already earned public praise from his coach Bruce Arians, who said that Brown was making a lot more progress than most rookies. Combine this with the fact that many defence's will have their eyes on fellow receivers Larry Fitzgerald and Michael Floyd and we may have a surprise package for the Cardinals as they go into next season.
Winners - Atlanta Falcons – Picking Jake Matthews
Matthews was the overall sixth draft this year, as the Falcons wasted no time in snapping up the offensive tackle. It's fair to say Jake has pressure to succeed on his shoulders, given his footballing family. Hall of Famer Bruce Matthews is his father, and Clay and Casey Matthews, both current pros, are his cousins. Matthews does have ability on his side however, as he proved a dominant force at Texas A&M during his college years and he could have easily have been drafted inside the top five.
Losers – Cleveland Browns – Picking Johnny Manziel
While Manziel himself is a great acquisition for the Browns, they simply made too much of an investment in the quarterback to allow themselves the opportunity to enhance the rest of the side. Manziel gives the Browns hope that they can achieve something this season, but the 22nd overall draft pick will likely soon see that help may be hard to find this season and that he will have to become the driving force in what is considered to be an unbalanced side. It is hard not be nervous though, as Manziel has recently been
drafted by the San Diego Padres
, which could prove to be a fall-back plan should football not work out.
Winners - Cincinnati Bengals – Overall Draft Performance
The Bengals, as usual, enjoyed a successful day at the draft and a month on, they still look like winners. Darqueze Dennard has proved to be a hit win fans and pundits alike, as he was expected to go a lot sooner than his eventual 24th pick, while Jeremy Hill and Will Clarke will also prove to bre strong additions for Cincinnati, given they have strengthened areas of the field where they were previously lacking in depth.